Chocolate Peppermint Cupcakes Recipe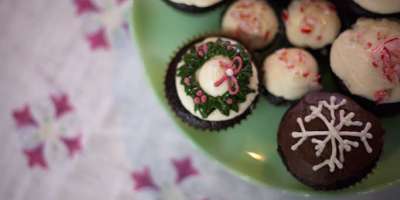 The irresistible combination of chocolate and peppermint are sure to make these delicious cupcakes a hit at your next holiday party. This recipe was created by Short Street Cakes, a family-owned bakery specializing in all-natural, handcrafted, down-home Southern desserts.
Ingredients for cupcakes
2 ¼ cup flour

1 ½ cup sugar

¼ cup dark cocoa

¼ cup light cocoa

½ Tbs baking soda

1 tsp salt

¾ cup vegetable oil

½ Tbs vanilla

½ tsp peppermint extract

1 ½ cup hot or warm coffee

⅛ cup vinegar
Method
Sift flour, sugar, dark cocoa, light cocoa, baking soda and salt.

Add the vegetable oil, vanilla and peppermint extract.

Mix into paste.

Slowly add the hot or warm coffee.

Scrape down bowl thoroughly and mix again.

Add and mix in the vinegar.

Quickly pan cupcakes and move into oven.

Bake the cupcakes at 325° for about 15 minutes or until knife comes out clean.
Ingredients for Buttercream Icing
4 oz butter

2 c. Powdered Sugar

2–4 Tbsp Half & Half
Method
Whip together.

Place icing in piping tube and apply to cooled cupcakes.
Yield: 2 Dozen Cupcakes