Caramel Pecan Sticky Bun Cookies Recipe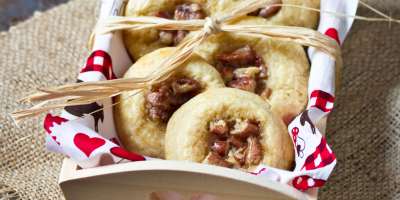 This sweet and salty dessert recipe offers a unique twist to your typical cookie. Crafted by Red Rocker Inn for the annual Black Mountain Bed and Breakfast and Inn Christmas Cookie Tour, you'll have a hard time saving these treats for holiday guests.
Ingredients
Cookies:
1 cup butter, softened

½ cup granulated sugar

½ cup dark corn syrup

2 egg yolks

2 ½ cups all-purpose flour

½ teaspoon salt

Grated rind of one small orange
Filling:
½ cup powdered sugar

¼ butter

3 Tablespoons dark corn syrup

½ cup chopped toasted pecans

2 egg whites, slightly beaten with 2 tsp water
Method
In large bowl, beat 1 cup butter and sugar until light and fluffy. Add ½ cup corn syrup and egg yolks; blend well.

Stir in flour, salt, and orange peel; mix well.

Cover with plastic wrap and refrigerate one hour for easier handling.

In small saucepan, combine powdered sugar, ¼ cup butter, and 3 Tablespoons corn syrup; bring to a boil.

Remove from heat. Stir in pecans. Allow to cool slightly but keep warm for easier handling.

Heat oven to 375°.

Lightly grease cookie sheets.

Shape dough into 1½ inch balls and place 2 inches apart on greased cookie sheets.

Bake 5-6 minutes and then remove from oven.

Brush cookies lightly with egg white mixture.

With spoon or finger, carefully make deep impression in center of each cookie; fill each with ½ teaspoon filling. Don't use too much or it will run over!

Return to oven and bake an additional 4-5 minutes or until light golden brown.

Cool 1 to 2 minutes before removing from cookie sheets. Cool completely.
Yield: 2½ dozen cookies.