Biltmore Blooms
Biltmore Estate Events for Spring 2022
Biltmore Blooms 2022: April 1 – May 26, 2022
Welcome spring in high style at Biltmore with more than 100,000 flowers blooming in gardens fit for a Vanderbilt. At Biltmore Blooms, the estate's annual festival of flowers, the color and fragrance of orchids and thousands of spring bulbs steal the show. New for Blooms this year from May to July, linger a bit longer on Friday evenings—the gardens will be open later for enjoying sunset strolls among the blossoms.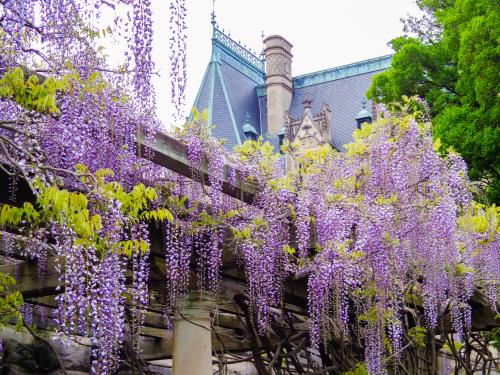 When George Vanderbilt decided to build his 250-room family home in the mountains of Western North Carolina, he hired renowned landscape architect Frederick Law Olmsted (also known for his role in designing New York's Central Park) to help his estate make a statement. Biltmore Blooms celebrates the natural progression of blooms dictated by Mother Nature and arranged by Olmsted and by the estate's current team of expert gardeners and horticulturists.
Dazzling Daffodils Begin the Show
As the spring season officially gets underway, a sea of bright yellow daffodils brighten the Walled Garden. Planted around the daffodils are pansies of every color you can imagine. The color contrast provides a gorgeous feast for the eyes.
Opulent Orchids on Display
Visitors to the estate can experience nearly 1,000 orchids in full bloom, showing off their tropical colors and exotic look. Check out the Conservatory to see a wide variety of species, but also take a look inside Biltmore House.
Tulips, Azaleas Take Center Stage
As the season progresses, nearly 80,000 tulips, transform the four-acre Walled Garden into a can't-miss floral paradise. The tulips bloom in purple, pink, white and orange and last 3-4 weeks before making way for later season blooms in the shrub and azalea gardens.
From here, native azalea species, rhododendron, roses and other vibrant annuals and perennials burst into bloom.
Special in 2022 - Monet & Friends - Life, Light & Color
As you explore the gardens this season, experience an immersive exhibition at Biltmore's Amherst at Deerpark, exhibition space that serves an homage to Claude Monet and the Impressionist painters of the mid-19th century through the early 20th century.
Impressionists' masterworks come to life in a breathtaking display of light, color and sound. Paintings are projected on an enormous scale, illuminating the bold brushstrokes of Claude Monet, Camille Pissarro, Pierre-Auguste Renoir, Paul Cézanne, Edgar Degas and more.
Certain Biltmore tickets include the exhibition, while others do not. You can review the Biltmore Blooms ticket options on Biltmore's website.
Savor the Season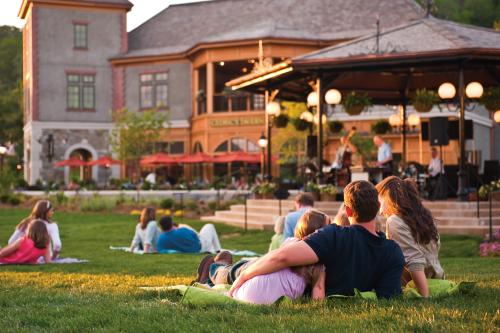 For those looking to enjoy the outdoors or a fine glass of wine amid the splendor of spring blooms, continue to explore Antler Hill Village. America's most-visited winery offers daily tastings of its limited release spring wine, as well as the Vine to Wine Tour that takes oenophiles to the estate's vineyard and ends with a grand tasting.
Antler Hill Village photo courtesy of The Biltmore Company.
Updated March 31, 2022