Beer Festivals in Asheville, N.C.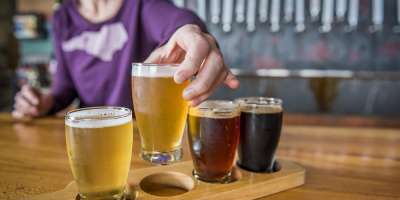 There's plenty to celebrate in Beer City USA, and Asheville certainly rolls out the red carpet for its favorite brews. From the musically-inclined Brewgrass Festival, to the nine-day celebration of Asheville Beer Week, the parties are as unique as the breweries themselves. Festivals are a great way to introduce yourself to a variety of beers and to pick out that one ale, lager, stout or porter that will keep you coming back for another pour. And Asheville isn't afraid to share the love — festivals welcome regional brewers from across North Carolina and the Southeast.  
*Please note: In 2022, events may be altered, postponed or cancelled as organizations and businesses follow state and local social distancing guidelines. Please check back frequently for updates.
Brew Horizons Beer Fest, (Dates TBA)
The Brew Horizons Beer Fest gives you the chance to enjoy craft beverages form a variety of Western North Carolina's best breweries and cideries. You'll be able to taste artisanal food and experience arts and crafts vendors, sustainability education areas and live music. The festival is organized by the nonprofit Green Built Alliance, which also hosts the annual CiderFest NC each fall, and serves as a fundraiser for the Blue Horizons Project community campaign.
NC Small Batch Festival, April 2, 2022 (12-5 p.m.), Hi-Wire Brewing River Arts District Beer Garden
Specialty beers get their chance to shine at this festival at Hi-Wire Brewing. Local breweries have the chance to show off their creative spirit and see if certain beers have what it takes to make their full-time lineup. No styles are off-limits as long it is a one-off product. Good food and good music also are highlights of the event.
Asheville Beer Week, May 27-June 5, 2022, Multiple Locations
Be a part of this festival which dedicates nine full days to celebrating all things beer in Asheville. Taste great local craft brews, pair beers with a smorgasbord of delicious food, and learn about brewing at events around town. More than 40 breweries participate.
Beer City Festival, May 2022 (Dates TBA), Pack Square Park
Asheville Beer Week features the popular Beer City Festival in Pack Square Park, which celebrates the local brewing industry with taps from dozens of breweries and plenty of live music. 
Burning Can Festival, August 2022 (Dates TBA), Oskar Blues REEB Ranch
In nearby Brevard, Oskar Blues brewery hosts a two-day outdoor beer and music festival. The event also raises money for the brewery's nonprofit foundation, Can'd Aid. More than 50 breweries participate. Outdoor events like BMX bike riding, river paddling, and a beer relay trail run have been part of the lineup in past years.
The fall version of New Belgium's traveling beer, music and bicycles festival which offers a one-of-a-kind way to raise money for local non-profits. In 2020, the festival goes virtual. 
North Carolina Beer Month, October 2022, Multiple Locations
With nearly 40 area craft breweries, Asheville is the perfect place to enjoy North Carolina Beer Month. Choose from a number of local celebrations throughout April.   
Brewgrass, (Dates TBA), Salvage Station
Brewgrass has shifted its focus to the burgeoning music scene in Asheville. Your ticket gets you access to the great music. A curated list of  beers, ciders and ginger beers will be available for purchase. 
Sierra Nevada Oktoberfest, (Dates TBA), Mills River
In 2020, the celebration goes virtual. In the past, Oktoberfest was a festival when you could wear your lederhosen and hoist a stein in celebration! Sierra Nevada's Oktoberfest featured great food, costumes, dancing, music and more. The annual celebration typically drew thousands of beer lovers!
Asheville Oktoberfest, (Dates TBA), Pack Square Park 
Brush up on your keg-rolling skills for this fest, which transforms downtown streets into a traditional German party featuring tastings from local breweries. Live "oompah" music and local foods complete this fall tradition.
CiderFest NC, October 2022 (Dates TBA), Salvage Station
CiderFest has to be one of the sweetest fall festivals. Since it began in 2013, CiderFest has become North Carolina's premier hard cider tasting event. In 2020, the event will take place throughout October with small group gatherings and virtual experiences. The CiderFest Tours are small-group curated tours of three Asheville cideries that will be offered in partnership with local business Leap Frog Tours. 
Burnpile Harvest Fest, (Dates TBA), Burial Beer Co. taproom
Burnpile celebrates the harvest season with seasonally-inspired beers from more than 20 breweries. Many beers are brewed just for the event. The festival also features a strong lineup of live music performances.
New Year's Eve Keg Drop, December 31, 2022, Thirsty Monk South (Biltmore Park)
In New York City they drop a ball, in Asheville (Beer City USA), we drop a keg! Join in this fun tradition to see a two-story golden, lighted keg descend at midnight to ring in the New Year. The keg drop party is free to attend.
Top photo by Emily Chaplin. Keg drop photo provided by Thirsty Monk.
Updated January 12, 2022