Beer Boom! 8 New Ways to Imbibe in Asheville in 2016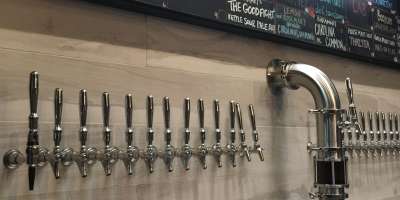 The opening of New Belgium's Asheville brewery in April 2016 was some of the biggest craft beer news to hit Asheville in recent years, and that's saying something in Beer City USA! With nearly 40 breweries in the Asheville area, there are festivals, new releases, and expansions happening every month, and 2016 shaped up to be one of the most exciting years yet. Here are eight breweries that made headlines in 2016.
New Belgium Liquid Center Opening
Notable 2016 Dates: Brewery began bottling in April; Liquid Center (Tasting Room) Opened May 2; Brewery's 25th anniversary party August 27, 2016 at Asheville location
The French Broad River has a new tenant, and this 150,000-sq. ft. brewery. The experience "feels like home, a place you can sip a pint after riding the greenway, kick back on the cantilevered deck and take in the flow of the river and the neighboring River Arts District." The event lawn is a great place "to spread out a blanket, grab a bite from a food truck and be swallowed by beautiful Asheville blue skies," New Belgium's Susanne Hackett said.
Highland Brewing Adds Rooftop Patio and Canning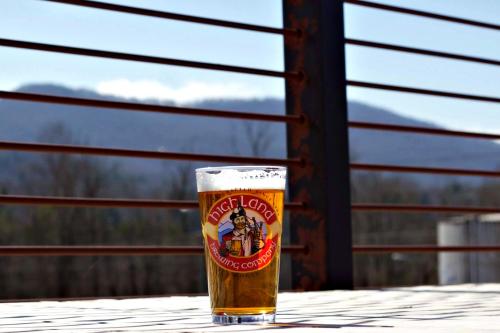 Notable 2016 dates: April 15 —Early's Hoppy Wheat Release; April 24—Location of Carolina Mountain Cheese Fest hosted by WNC Cheese Trail; Spring—Rooftop Patio to open and first cans released.
Highland needs little introduction. As Asheville's oldest brewery, they too are growing, debuting their first canned beer early in the spring on the new rooftop patio. "We're evolving—providing more of what we want in beer, brand, location and guest experience," explains Jennifer McLucas, Marketing Director.
Burial Beer Co. Expansion
Notable 2016 dates: Third Annual Sharpen the Blades Saison Fest Saturday, April 30 featuring 35 NC breweries
Starting as a nanobrewery in 2013, Burial is all grown up now with the recent purchase of a 2-acre, 6-building plot in Biltmore Village that was once part of the Civilian Conversation Corps supporting construction of the Blue Ridge Parkway. This historical location will have a garden, restaurant, and 2-story taproom and become their main production facility. The small brewery in South Slope will transition into brewing wild, sour, and barrel-aged brews.
Zebulon Artisan Ales Opens with Cork and Cage, Bottle-Conditioned Only Beers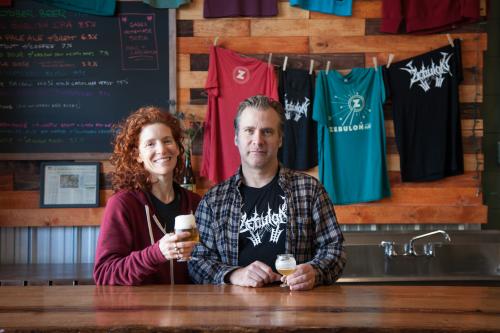 Notable 2016 Dates: Tasting room only open Fridays and Saturdays from 1-6pm
Quirkiness is key to thriving in Asheville, and Zebulon has it in spades with Belgian and French saisons, fruited sours, historical and mythological beer styles. Owners Mike and Gabe Pickard-Karnowski chose to open their farmhouse style brewery and taproom in Weaverville because "it's Asheville's hat! It's super cute, supportive community has made us feel right at home," Gabe says.
Green Man Brewery Expands
Notable 2016 Dates: The "Greenmansion" is now open!
Green Man deserves massive credit for being the first brewery to open in Asheville's Brewery District back in 2006. A decade later, they've taken operations to the next level with a huge expansion next door. This "Greenmansion" houses premium packaging equipment and allows for increased fermentation space, production, and ability to expand their specialty program. A top-floor tasting room and ground-level Brewtique with a bottle shop, growler stations, merchandise space and bar round out the space.
Ben's Tune Up Adds Beer to Sake Operations
Notable 2016 dates: Ben's Beer Release Party April 21
Asheville's only sake brewery now offers Ben's Beer to enjoy in their downtown beer garden with an amber, pale, and stout as first drafts.
Bhramari Brewing Opens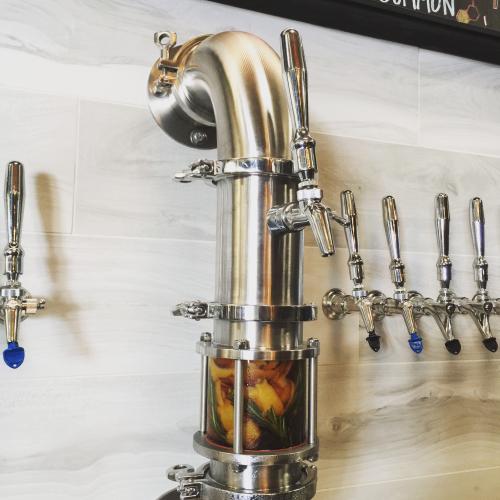 Notable 2016 dates: Full line of beers to be available by April
This gorgeous brewpub features wood accents, a built-in randall (an infusing chamber attached to the tap to add specialty flavors), and funky light fixtures to fulfill the team's desire to "create a space that we wanted to spend a lot of time in. We incorporated the industrial look, but we also wanted this cavernous space to feel warm and comfortable," says Allison Simpkins, Marketing Director.
Hi-Wire's Second Location
Notable 2016 dates: Free tastings throughout the state during NC Beer Month
Hi-Wire also has one-foot downtown and the other in Biltmore Village in order to up production and experimentation capabilities. Both taprooms offer flagships, seasonals, and one-offs.