Baked Eggs in a Nest Recipe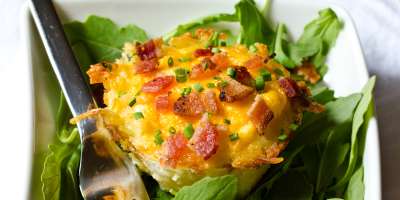 Start your morning off right by combining your favorite breakfast dishes into one. This easy Baked Eggs in a Nest recipe incorporates baked eggs inside a potato "nest" crust and easily feeds a large gathering with minimal effort. This recipe was created by the North Lodge on Oakland.
Ingredients
2½ cups hash brown potatoes
1 tbs dried onions
1 tbs chopped chives
2 tbs parmesan cheese
3 tbs. margarine or butter, melted
1 tsp. salt
8 eggs
2 strips crumbled bacon
1 cup cheddar cheese
Method
Heat oven to 375°.
Toss potatoes with margarine or butter, egg, onion, chives, parmesan cheese and salt.
Press about 1/3 cup potato mixture firmly in bottom and up sides of 8 greased muffin cups.
Bake 20 minutes.
Remove from oven.
Carefully break 1 egg into each potato nest.
Sprinkle approx. 1 Tbs cheddar cheese on each egg.
Place 1 Tbs crumbled bacon on each egg.
Bake 15 to 18 minutes longer or until eggs are desired done-ness.
If necessary, loosen edges of nests with knife.
Lift to serving plate with 2 forks.
Yield:
8 Servings