Asheville, N.C. 2018 Fall Foliage Report and New Fall Adventures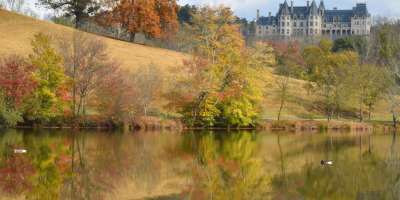 Asheville, N.C., in the beautiful Blue Ridge Mountains, is known for having one of the longest and most colorful fall foliage seasons in the world.
Thanks to a large variation in elevation and unmatched biodiversity in the Asheville area, that long color season extends from late September (at the highest locations like Grandfather Mountain and Mount Mitchell) to early November (lower elevation spots like Chimney Rock State Park). 
Throughout the season, see our guide to fall in Asheville for weekly color reports, a fall color map and leaf schedule, and interactive 360-degree views showing where to find the most colorful fall leaves.
In 2018, Asheville offers you new ways to experience fall including the "oldest" new hotel in Asheville, restaurant openings by four James Beard chefs, falconry at Biltmore and new gin, saké and cider tasting rooms. 
2018 Fall Foliage Report: Conditions are Favorable for a Colorful Asheville, N.C. Fall Season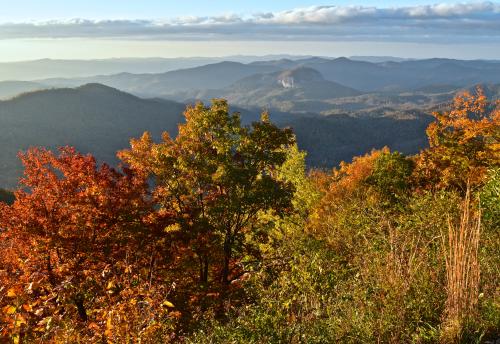 A warm and wet 2018 has biologists and fall color experts reporting that the Blue Ridge is well-positioned for a colorful autumn with plenty of healthy leaves and no drought.
"The idea that heavy spring or summer rain dilutes fall color is false," said Dr. Howard S. Neufeld, professor of biology and "fall color guy" at Appalachian State University. "The trees along the Blue Ridge won't be stressed heading into September."
"September is the key time frame that determines the vibrancy of fall color," said Dr. Beverly Collins, a biology professor and fall foliage forecaster at Western Carolina University. "Sunny days and cool nights are what create a beautiful fall show across the Blue Ridge."
With the area primed for a long and healthy fall color season, Asheville, N.C. offers a slate of new adventures.
What's New For Fall 2018 in Asheville 
Adventures and Tours:
Food Experiences:
Breweries:
The Beverage Scene:
Photo Credits: Top photo and fall color photo near Looking Glass Rock by Jason Tarr. Equestrian photo courtesy of World Equestrian Games. Rooftop, Urban Orchard and Addison Farms Vineyard photos by Jared Kay. John Fleer photo by Cole Rian. Tupelo Honey photo by Emily Chaplin. Wicked Weed photo by Art Meripol.