Asheville Gift Guide: 27 Mountain-Made Items for Your List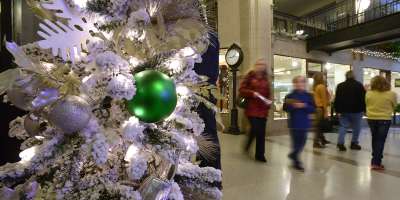 Share the city you love with your loved ones
It's that time of year again, when you want to remember family and friends with special gifts. But where do you start looking for items to delight the toughest customers? We suggest you begin right here.
The city's creative community is full of fabulous gift ideas ranging from the functional to the whimsical, the sumptuous to the scrumptious, making Asheville a popular and eclectic shopping destination. Here are some suggestions for Asheville-made gifts for everyone on your list. Find them at local boutiques and specialty stores—many are also available at the Asheville Shop, located within the Asheville Visitor Center.

Gifts for Foodies
Start the Day With a Taste of Asheville: Imagine a breakfast menu that includes mountain-roasted coffee, jams and butters made from locally grown fruit, biscuit mix, hot sauce, sourwood honey and, of course, grits. They're all locally made and part of Asheville Goods' Blue Ridge Breakfast Box, which can be shipped straight to the doorstep of your favorite home chef.
Satisfy a Sweet Tooth: Who can resist the smooth taste of milk chocolate or the sharp sweetness of dark chocolate? Add holiday flavors like gingerbread, eggnog, pecan pie, peppermint, fruitcake and champagne, and you have French Broad Chocolates' famous Holiday Collection. Or, put together a festive selection of maple walnut caramel cups, gingerbread and sweet 'n stout truffles from The Chocolate Fetish.
Mix It Up At the Bar: For the mixologist in your life, send an assortment of Blue Blaze Sodas and Syrups. Use them as mixers to enliven traditional and inventive cocktails, or make customized sodas with flavors like Elderberry Hibiscus, Strawberry Lemongrass and Orange Dreamsicle. Blue Blaze Sodas and Syrups is just one of the many unique food concepts launched by local business incubator Blue Ridge Food Ventures.
On the Table: Creating beautiful meals is all about flavor and presentation. Make a statement with a gorgeous piece like artist Michael Hofman's lace-inspired serving collection, handmade in the River Arts District. Many area artists are creating showstopping pieces for the table top--tour the galleries and studios of Melissa Weiss, the Village Potters and Flycoop Studios for more inspiration.

Gifts for Outdoor Aventurers
ENO Hammocks: Relax, mountain style, with these functional, lightweight hammocks from Eagles Nest Outfitters. And don't forget accessories like drip strips, a guardian bug net and the all-important repair kit.  
Sitting Pretty in the Mountains: TerraForma's unique, self-adjusting outdoor chair makes it possible to sit "on the level" virtually anywhere, and that makes the outdoors more accessible for the whole family. The chairs are portable, light-weight and come in sizes ranging from children to extra-large adults, making the perfect gift for the whole family.
Active Asheville Apparel: American Backcountry Moisture Wicking Tees are a welcomed gift for serious athletes and weekend warriors, or anyone who likes to stay dry in the great outdoors. These soft, pliable, fast-drying shirts also have anti-microbial and anti-stain features, and their National Parks series is ideal for any adventurer.

Gifts for Arts & Craft Lovers
Glass in a New Light: The art enthusiast on your list will love dressing up their home with a unique and colorful hand-blown light fixture from the artists at Lexington Glassworks. This working studio and gallery features functional and art glass throughout the year, as well as seasonal decorations and an in-studio bar.
Asheville Artists, Up Close and Personal: Experience Asheville's thriving arts and crafts scene from the inside out with the gift of an Art Connections Tour. Sherry Masters shares her deep connections with regional artists and invites participants to tour inside the studios and homes of established and emerging artists.
Wearable Art: In the hands of Southern Highland Craft Guild artists, precious metals combine with natural gems to become works of art. This black onyx drusy and pearl slide pin by jeweler Ruthie Cohen of Arden, N.C., is one of many original jewelry creations you'll find at the Folk Art Center and other guild shops during the holidays and throughout the year.

Gifts for Families & Children
Teensy Togs With Asheville Flair: There's no such things as too many onesies when you have a baby. Add to the little one's wardrobe with Mtn Merch's adorable (and punny) "Pint Size" onesie, found at the shop's super-local shop in historic Biltmore Village. Also check out the "Home Brewed" onesies from downtown boutique Papoose. They are the perfectly practical way to introduce the youngest member of any family to Asheville's bubbling culture. Photo courtesy of Mtn Merch.
Books, Books and More Books: The whole family will enjoy Robert Beatty's young readers' mystery Serafina and the Black Cloak about an unusual girl who lives in the basement of Biltmore House and encounters a dark mystery. Find it at Malaprop's and other local booksellers, and while you're there, check out novels by locals Vicki Lane and stories by Ron Rash for the the older readers on your list.
Adopt a Critter: River otters, wolves, deer and bears--with more than 25 animals to choose from, you're sure to find just the right one in the WNC Nature Center's Adopt a Wild Animal program. The sponsorship fee helps fund the Center's educational wildlife habitats. Best of all, the Nature Center staff provide all of the feeding, cleaning, walking and other expert care.

Gifts for Beer Lovers
Beers to the Season: Looking to bring home a holiday favorite from Beer City? Highland Brewing's famous Cold Mountain Ale can be a bit elusive, but there are plenty of other festive brews to choose from including Asheville Brewing's Ninjabread Porter and Green Man's barrel-aged Holly King. Check out the selection at the South Slope's newest bottle shop, Tasty Beverage Co, or head to downtown's long-established Bruisin' Ales to ship your purchases most anywhere.
Beer Gear: Outfit your favorite hop-head with steins, koozies, pint glasses and a Field Guide to Asheville Area Breweries, all part of the selection offered by the Asheville Ale Trail. And check them out for a wide variety of beer-inspired apparel produced by Asheville's local breweries.
Go Behind the Brews: Whether on foot or in a van, an Asheville brewery tour is the gift of a true brewery experience. Tours provide brewmaster access, insight into the brewing process and, of course, tastings. The Asheville Brewery Tour is now also offering tours to the hot new Sierra Nevada brewery south of downtown.

Gifts for Music Enthusiasts
Listen Up: Bring home the sounds of Asheville with an album from hot local artists such as the Steep Canyon Rangers, Underhill Rose or Rising Appalachia. Or choose a nationally known act like Dawes or the Avett Brothers, whose recent albums were recorded here at Echo Mountain Studios. Find all of the above and other favorites at local record stories like Karmasonics and Harvest Records.
Make Your Own Music: The Mamas and the Papas famously said "you've got to make your own music…" So give it a try with a traditional handmade dulcimer by Jerry Read Smith or a Dan Williams' Woodrow (a cross between a banjo and a dulcimer). Take your music to another dimension with a Minimoog Voyager, the crowning achievement of synthesizer pioneer (and long-time Asheville resident) Dr. Robert Moog.
Get the Golden Ticket: Asheville's many notable music venues provide opportunities to see great performers throughout the year in settings both intimate and grand. With performers like Donna the Buffalo, They Might Be Giants, Jackson Browne and Lyle Lovett having performed in 2016, a concert experience may be just the ticket to a enjoying Asheville's vibrant beat in the new year.

Gifts for That Pampered Feeling
Wrap Up Some R&R: Amid frantic lives that don't leave much time for relaxation, a gift to one of Asheville's spas is always appreciated. At the Asheville Salt Cave or the Salt Spa of Asheville, enjoy the therapeutic rest and healing of speleotheraphy in an enriched rock salt micro-climate. The Omni Grove Park Inn Spa features treatments like the Blue Ridge Symphony massage or Mountain Honey Wrap, plus luxurious amenities. Treat tired feet at Wake Foot Sanctuary & Shop. Order your loved one a 45-minute Appalachia After Dark soak along with a jar of Wake's nourishing shea butter. Photo courtesy of Wake Foot Sanctuary.
Bee City Buzz: The most prized of all mountain honeys for its color and intense flavor, sourwood honey makes a special Appalachian gift for aficionados of this natural sweetener. You'll find it, along with other raw honeys from around the world, honey-based skin care products, candles and accessories, at Asheville Bee Charmer.
Teas to Taste: Herbal teas pick us up and calm us down, naturally. Asheville's Herbiary carries a large selection of organic, wild harvested tea blends. For the tea-lover in your life, put together a morning-to-night assortment that includes Awake, Ambrosia Tisane, Eve's Temptation, and Asleep.
Soap in a Sweater: The Laughing Mermaid is where "funky Asheville" and "sizzling South Beach" collide, and the result is pure luxury. Folks at the Laughing Mermaid wrap their handcrafted soaps in layers of local Merino and Corriedale wool to create the perfect gift or indulgence.

Gifts for Frequent Asheville Visitors
Become a Biltmore Regular: Annual passes to Bitmore Estate open up America's Largest House in new and exciting ways, from staying in the know about special events and exhibits to passholder-only events and discounts.
Passport to Flavor: For the foodie fan of Asheville's flavorful community of independent restaurants, the AIR Passport is the perfect gift. The 2017 AIR Passport features more 45 restaurants offering buy-one-get-one-free meal coupons that are good for the entire year.
A Year in Bloom: The budding botanist in your life can experience the natural beauty of Western N.C. with a membership to the N.C. Arboretum. With miles of hiking trails, glorious gardens, an impressive bonsai collection and horticultural events throughout the year, this gift is always in season.
Updated May 9, 2019