Asheville Culinary Leaders Grow Community and Cultivate Resiliency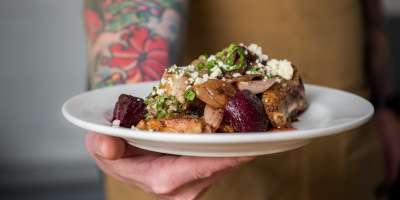 Asheville's creative culinary community consistently shows inspiration, innovation and collaboration. Now, the leaders of the city's culinary scene have jumped into action to lend support where it's needed most during the coronavirus shutdown.
Chefs, restaurant owners, growers and nonprofits, alike, have come together with a strong sense of resilience, determination and generosity to make it through these tough times, while helping others do the same along the way. 
Growing Together 
It started with a phone call between a James Beard-nominated chef and his longtime farmer and friend. Just over two weeks later, Asheville-area farmers and chef-activists launched a program to feed their community while sustaining local farms during COVID-19. The program – We Give a Share – reimagines the concept of a farm share "CSA" (community-supported agriculture) through a philanthropic lens. People are encouraged to purchase a farm share donation equivalent to what they would contribute for a season of weekly fresh produce and farm products CSA boxes for their family. The donated produce goes directly to Southside Community Kitchen, a model crisis kitchen serving those most in need, as part of a local effort to prepare free meals. The program is designed to serve as a model for similar initiatives throughout Asheville and other cities. Donate a share here.  
The We Give a Share Story from Will Eccleston on Vimeo.
In order to strategically address the emergency needs of farms during COVID-19, Appalachian Sustainable Agriculture Project (ASAP) has launched the Appalachian Grown Farmer Relief Fund. Donations will be used for public-health-preparedness grants to farmers markets, to subsidize essential farm-product packaging and to purchase unsold food for donation to hunger programs. More information at asapconnections.org.  
Sunil Patel (longtime Asheville farmer and chef with Patchwork Urban Farms) and Vanya Wenger (a current Farm Beginnings student with Organic Growers School) are also relatively adapting to the unprecedented challenges facing the community and looking to connect growers directly with consumers. They are part of a team of leaders who have fast-tracked the evolution of the Patchwork Online Market into a producer cooperative, The Patchwork Alliance. In hopes of keeping up with the increased demand for more remote ways to access local food due to the pandemic, this new online market allows customers to place an order each week and pick up their goods on Thursdays at regional pickup sites (with home delivery available to select zip codes). It features over 35 producer-owners and a variety of meat, dairy, produce and other items. To find out more, go to patchworkalliance.com.  
"What's in My Yard?" Brings Appalachian Foraging Traditions to Those Sheltering at Home  
Foraging traditions run deep here in one of the most biodiverse places on the planet, the Blue Ridge Mountains. Local foraging experts at No Taste Like Home are offering a pay-what-you-can, donation-based service to support their community. That service includes social-distance-compliant yard surveying of edible greens, berries and mushrooms, complete with a "treasure map" showing where to find them and information on harvesting, medicinal uses, recipes and more. 
Restaurants Diversify With Pop-Up Bodegas and Pantries  
With dine-in closed, Asheville restaurants are evolving new ways to feed loyal customers and support furloughed staff. Sovereign Remedies opened a bodega, bottling their acclaimed elixirs and offering homemade breakfast sausage and breads to sell alongside dry goods and essentials like yeast and aspirin. Staff are encouraged to sell at the market, which also includes their own culinary creations, masks, jewelry and candles. 
Biscuit Head owners Carolyn and Jason Roy offer Food Pantry Fridays for staff with an epic supply of food, essentials, vitamins and even toys for kids.
At The Rhu, from Chef John Fleer, family Sunday Suppers have moved to delivery with signature snack and grocery boxes and take-and-bake recipes, in addition to a walk-in pantry.
Mandara Hospitality Group, the team behind Posana and the Kimpton Hotel Arras' Bargello and District 42, has started up Mandara Market, offering provisions and prepared foods via curbside delivery.
And, Chef Katie Button's La Bodega by Cúrate recently launched with semi-prepared Cúrate favorites, rotating meal kits, sauces, local produce, grocery items, a collection of Spanish pantry favorites and a full selection of wine, beer, sherry, vermouth and cider. 
Cookbooks for a Cause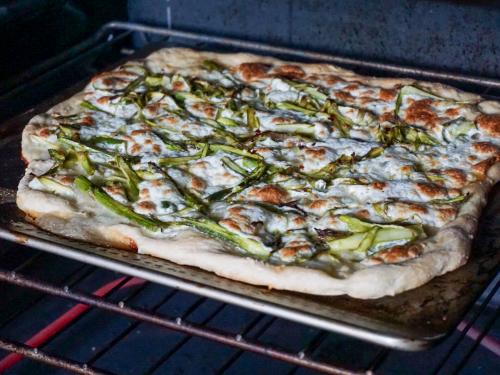 Recipes from home chefs around the world are being compiled for The Covid Cookbook, the first crowdsourced pandemic cookbook, with proceeds from the sale of the book going to Feeding America. Asheville resident Sarah Ubertaccio (co-founder of the podcast "Making It In Asheville") and friend and culinary cohort Rachel Goodman started the project as a way to virtually share ideas for recipes. More than 60 recipes have come in from across the globe, including those submitted by chefs from New York, Asheville, Vermont, Canada, Italy and Colombia. Check out recipes for Morale-Boosting Scones and Asparagus Pizza at www.thecovidcookbook.com. 
As part of its expansion, the #AshevilleStrong initiative recently announced a digital cookbook, called "Asheville at Home: Iconic Recipes From Your Favorite Local Restaurants," to raise funds for restaurant workers. It will feature more than 35 recipes from some of Asheville's independent restaurants and is now available for pre-order. The book will be released in late May in a full-color digital PDF. Net proceeds will be donated to the North Carolina Restaurant and Lodging Association's Restaurant Workers Relief Fund.     
Serving Their Community and Their Own 
Restaurants across Asheville are finding ways to support their team members, their community and frontline health care workers despite the devastating effects the pandemic is having on their own hard-hit industry.  
Helping Their Community: 
Chef Linton Hopkins (owner of H&F Burger in Asheville, as well as several restaurants in Atlanta) and his wife, Gina, have launched the Good Food Works Foundation. The foundation provides high-quality, nutritious meals to restaurant workers and others in need during the shutdown. As part of their efforts, they will be making meals for the communities of Atlanta and Asheville. And, they plan to give back not only during the coronavirus crisis, but also beyond. Here locally in Asheville, the foundation will distribute 600 meals a week in partnership with Food Connection and MANNA FoodBank. More information and how to donate is on the Good Food Works Foundation website. 
Little Sprout Carryout, a gourmet and comfort-food carryout restaurant with locations in Asheville and Black Mountain, announced a new partnership with the North Carolina Healthcare Foundation to feed local hospital workers through the foundation's "Feeding the Soul" program. The first restaurant in Western North Carolina to participate in this statewide project, Little Sprout Carryout will begin by serving meals to Mission Hospital, followed by other local health care systems. The team anticipates cooking and delivering a minimum of 200 meals per week.  
Two local chefs have postponed opening their Latin tapas restaurant and shifted their efforts to feeding healthy meals to those who have lost their jobs during the pandemic. Learn more about the project, called Pacha Mama 5, or donate at pachamama5.com. 
White Labs Kitchen & Tap is hosting "Giving Back Thursdays" – for every order of two pizzas or more, they'll donate a pizza to the hardworking frontline workers in the area.  
Both Cultura and 12 Bones have donated prepared meals to local charitable organizations and groups in need, in partnership with US Foods and Performance Food Group, respectively.   
The owners of Chestnut and Corner Kitchen made use of leftover ingredients from before shutting down to bake desserts for area nonprofits. They've since started a meal train to continue the effort. 
Biscuit Head launched its "Classics for a Cause" program, allowing customers ordering breakfast to donate a classic biscuit for a Mission Hospital worker. Restaurant staff will be dropping them off weekly to show their appreciation.   
Ivory Road Café & Kitchen has been collecting donations to help make and deliver boxed meals to area health care workers, in partnership with other local restaurant owners. Asheville Rooftop Bar Tours has stepped in to provide transportation. More information on how to donate to this cause is here.  
Helping Their Own: 
In addition to partnering on several initiatives with local restaurants aimed at feeding those who currently find themselves food insecure, Food Connection has also been putting together Service Industry Heroes Complimentary Meals to serve the many hospitality workers who have lost their jobs during the crisis. The prepared to-go meals are offered curbside at a designated pickup site on Saturdays. Those interested can donate to the cause on Food Connection's website.  
The Cantina at Historic Biltmore Village has pledged to feed its employees and their families for at least 18 months. Owners Sherrye and Anthony Coggiola created The Cantina Comfort and Care Plan and hope to expand this commitment to benefit other displaced hospitality workers.   
Chai Pani Restaurant Group held a virtual silent auction – on everything from specialty handmade items to limited-release merchandise to an opportunity for a private chef to come to a party after the coronavirus outbreak is over – to raise money for its emergency employee fund. The auction raised $23,000 to help tide furloughed employees over until their unemployment checks arrived. 
Imladris Farm, located in Fairview, has started a donation page to help its restaurant colleagues who are financially struggling. The berry farm, which has been in operation for seven generations and produces jams, jellies and preserves found in many an Asheville restaurant (the farm's primary customers), has also lost business due to COVID-19. Donations will cover what restaurants owe the farm, or will be made available as credits restaurants can use later. To donate to the fund, visit Imladris' website. 
Chef Philip Bollhoefer of The Montford Rooftop Bar is planting vegetables to get free produce to their team. He would normally be growing edible flowers and herbs for the kitchen this time of year.