Asheville Community Comes Together in Spirit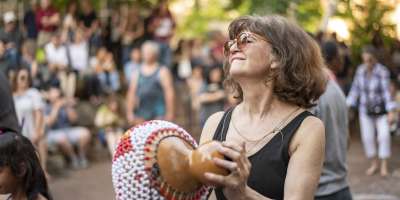 Asheville Community Comes Together in Spirit
(April 4, 2020) - Asheville shares in a spirit of togetherness and collaboration, despite these uncertain times. The caring people of our mountain community are working creatively to mobilize and lift up those of our neighbors who are most in need.
Local small business owners, organizations, groups and community members are showing their resiliency and generosity. Their efforts include putting their artistic gifts into action to raise much-needed funds, pledging to feed their laid-off workers, developing a new model of charitable community-supported agriculture, and shifting their focus to making PPE (personal protective equipment) for medical professionals on the front lines. 
These are just some of the ways people in the Asheville community are demonstrating how challenges are best met together. 
Be #AshevilleStrong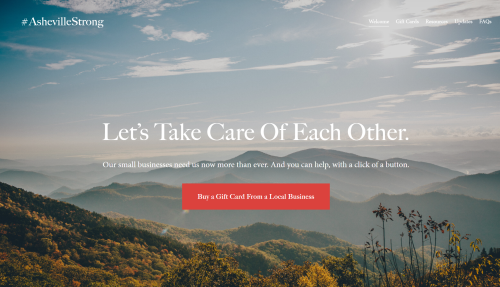 To support the people and businesses that make the Asheville community so special, local entrepreneur Catherine Campbell started the #AshevilleStrong movement. #AshevilleStrong encourages you to purchase a gift card now that can be used later at small businesses in Asheville and Western North Carolina.
The website is updated daily with a list of direct links for buying gift cards, offering all Asheville fans (both near and far) the opportunity to provide an immediate boost. Hear from Asheville's business owners themselves by watching the #AshevilleStrong stories captured by local video production company Amplified Media. 
The #AshevilleStrong initiative released a digital cookbook, called "Asheville at Home: Iconic Recipes From Your Favorite Local Restaurants," to raise funds for restaurant workers. It features more than 35 recipes from some of Asheville's independent restaurants and is now available for pre-order. Net proceeds are donated to the North Carolina Restaurant and Lodging Association's Restaurant Workers Relief Fund.  
And, The Hop Ice Cream Café has teamed up with the movement, offering an #AshevilleStrong rotating flavor featuring collaborations with local restaurants to raise awareness and support small businesses.
Join in the #BlackMountainStrong Movement
Support the small businesses of Asheville neighboring town Black Mountain. You can help "The Little Town That Rocks" by purchasing a "Black Mountain Strong" T-shirt, ranging in price from $20-24. After picking out your size and how many shirts you'd like, choose which business in Black Mountain that you'd like to support with your purchase. The program contributes $10 from each tee purchased to the business of your choice. Orders can be shipped or picked up curbside. 
Asheville demonstrates solidarity with the One Buncombe Community Fund
The local community has come together to create the  "One Buncombe" community fund to help provide relief and meet basic needs for the people and small businesses in the Asheville area affected by COVID-19. The fund serves as a financial lifeline to people who have lost employment, and offers low-interest loans for small businesses to support them through the crisis.
Contributions from sponsors, local governments, business organizations and individuals across Buncombe County have helped build the fund to what it is today. The Buncombe County Service Foundation, with a seven-member board of directors, is distributing the resources.
Growers and farmers show "We Give a Share" 
Support a local farm and put healthy meals on the table for your neighbors thanks to an innovative grassroots initiative. When you purchase a farm share through the "We Give a Share," a local family farm is able to provide food to the Southside Kitchen. Asheville chefs then come together at the Southside Kitchen, as part of an effort with the Asheville Housing Authority, to prepare meals free of charge to those in need. It's easy to donate through the "We Give a Share" website. 
We Give a Share Promo from Will Eccleston on Vimeo.
Similar to a CSA (community-supported agriculture) subscription where memberships enable participants to receive a regularly scheduled box of fresh produce, eggs, bread, flowers and other farm offerings, We Give A Share offers supporters an opportunity to buy a nominal "share" of the farm dedicated to growing specifically for the Southside Kitchen.
This new program was intentionally designed to serve as a model that can be shared and recreated in other communities, making an impact far beyond the current crisis.
And, as part of a separate effort to strategically address the emergency needs of farms during COVID-19, Appalachian Sustainable Agriculture Project (ASAP) has launched the Appalachian Grown Farmer Relief Fund. Your donations help power public-health-preparedness grants to farmers markets, to support essential farm-product packaging, and to purchase unsold food for donation to hunger programs.
Other farmers and growers are creatively adapting to the unprecedented challenges facing their community and looking to connect growers directly with consumers. Sunil Patel (longtime Asheville farmer and chef with Patchwork Urban Farms) and Vanya Wenger (a current Farm Beginnings student with Organic Growers School) are part of a team of leaders who have fast-tracked the evolution of the Patchwork Online Market into a producer cooperative called The Patchwork Alliance. In hopes of keeping up with the increased demand for more online ways to access local food due to the pandemic, this new web-based market allows customers to place an order each week and pick up their goods on Thursdays at regional pickup sites (with home delivery available to select zip codes). It features more than 35 producer-owners and a variety of meat, dairy, produce and other items. To find out more, go to patchworkalliance.com. 
Makers creatively jump into action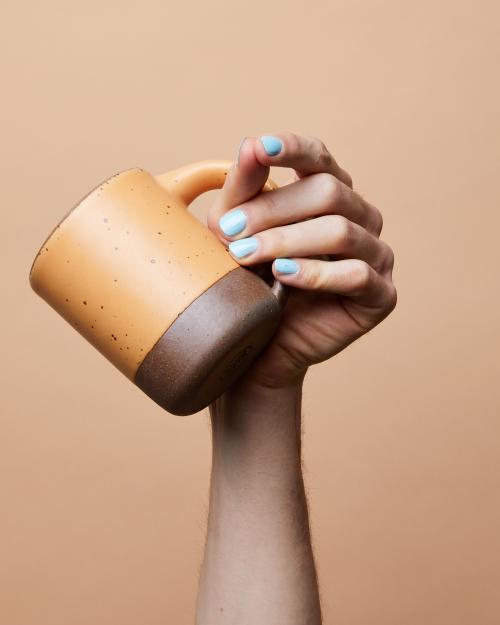 East Fork has utilized its resources as a pottery studio and lifestyle brand to create the "Buy a Mug for a Health Care Worker" fundraiser. When people purchased the mugs, East Fork gifted them to nurses working the night shift on Easter to show gratitude for their brave service. One hundred percent of the proceeds went to a nonprofit medical clinic for providing health services to farmworkers in Western North Carolina. 
East Fork, co-founded near Asheville in 2009 by Alex Matisse (great-grandson of French painter Henri Matisse), also launched a series of weekly raffles. The raffles raised money for community organizations serving an underprivileged sector. Tickets entered you for a chance to win a custom pot by Matisse. You'll find more information on East Fork's website. 
Meanwhile, at Riverview Station in Asheville's River Arts District, The Village Potters Clay Center has helped its collective of potters and some of its artist neighbors who have struggled to keep their businesses open. Through its "Vessels of Hope" project, owner, co-founder and resident potter Sarah Wells Rolland was at her wheel making the clay vessels. Every vessel varied in shape, surface and color, and she glazed them using a broad palette. Benefactors who purchased a Vessel of Hope supported the work of the Village Potters. Ten percent of sales of these unique pieces went to artists in the neighborhood. 
Supporting local artists and helping them navigate this challenging time is also the aim of Asheville-based visual artist Mark Bettis, owner of Mark Bettis Studio & Gallery in the River Arts District. He has started up a grassroots, trust-based movement to provide much-needed financial aid to Asheville's creative community, while also hoping to impart a sense of unity and empowerment to weather this rough patch together. Dubbed #artistsupportpledge, participating local artists are offering original works in virtual marketplaces on Instagram and Facebook, with price points that don't exceed $200. Every time a participating artist sells $1,000 of their own work, they pledge to buy a piece of art from another artist. There are currently more than 20 Asheville artists participating in the network. You, too, can pay it forward – the role of buyer isn't limited to artists. Anyone who loves art or wants to support artists can purchase. To explore artists' work locally, search under #artistsupportpledgeRAD. Learn more about Asheville's #artistsupportpledgeRAD project at the Mark Bettis Studio & Gallery Facebook page.
To help Asheville's vibrant arts scene during the shutdown, the Asheville Area Arts Council has started #AVLArtsMatter as a way to encourage donations. The donations will financially support the organization and its current efforts to guide local artists and groups through the hardships of the pandemic. For more information or to donate, visit ashevillearts.com/avlartsmatter. 
Musicians fill hearts with song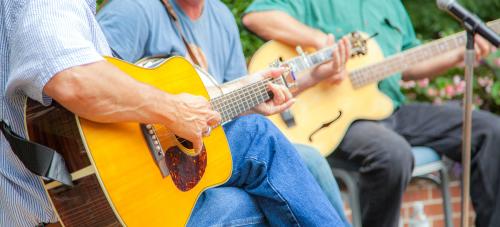 Local musical artist Hannah Kaminer has developed a way to not only support her fellow musicians, but to also help homebound, separated families and friends find ways to cheer each other up or celebrate a special occasion remotely. Through her "Music for Quarantine" initiative, you can give an Asheville-area musician a gig even while venues remain closed. Sign up and send a virtual concert to a loved one. Personalize the concert even more by specifying your loved one's favorite genres and songs! 
LEAF Global Arts Center is offering an array of virtual classes and programs to help inspire during this time. One of its weekly online classes, "Spread the Joy Collaborative Audio and Video Music Project," has plans for a final piece that will boost morale. Through a combination of group and one-on-one instruction, those taking the class will learn how to record parts of a selected song and how to creatively video their portion. The instructors will edit together all the parts into a single music video and share it on social media in hopes of lifting the spirits of others.   
Food & beverage businesses serve their employees and the community 
Restaurants, breweries and distilleries across Asheville are finding ways to support their team members, their community and frontline health care workers despite the devastating effects the pandemic is having on their own industry. 
Helping Their Own  
The Cantina at Historic Biltmore Village has pledged to feed its employees and their families for at least 18 months. Owners Sherrye and Anthony Coggiola created The Cantina Comfort and Care Plan and hope to expand the resource to help other hospitality workers who have lost their jobs.  
Biscuit Head has set up a food pantry for its laid-off workers, with owners Carolyn and Jason Roy buying most of the food in bulk for the weekly pantry. Biscuit Head is also receiving donations such as milk from Mills River Creamery and cheese from Looking Glass Creamery.  
Chef Philip Bollhoefer of The Montford Rooftop Bar is planting vegetables so he can share free produce with his team. He would normally be working with edible flowers and herbs for the kitchen at this time of year.  
Chai Pani Restaurant Group recently hosted a virtual silent auction to raise money for its emergency employee fund. The auction featured everything from specialty handmade items to limited-release merchandise to an opportunity for a private chef-led party for after the coronavirus outbreak is over.
Imladris Farm, located in the nearby community of Fairview, has started a donation page to help its restaurant colleagues who are financially struggling. The berry farm has been in operation for seven generations and produces jams, jellies and preserves found in many an Asheville restaurant (the farm's primary customers). But Imladris Farm has lost business due to COVID-19. Donations will cover what restaurants owe the farm, or will be made available as credits restaurants can use later. To donate to the fund, visit Imladris' website. 
Food Connection has put together Service Industry Heroes Complimentary Meals to serve the many hospitality workers who have lost their jobs during the crisis. The prepared to-go meals are offered curbside at a designated pickup site on Saturdays. Those interested can donate to the cause on Food Connection's website. This initiative is in addition to Food Connection's partnerships with local restaurants aimed at feeding those who currently find themselves food insecure,  
Helping Their Community  
South Slope Coffee has pledged to donate a portion of its sales to Food Connection's Disaster Relief Project through the month of May. For every purchase of the local coffee roaster's 12-ounce bags of Luis Ordóñez (Mexico) roast, they'll donate $3 per bag to Food Connection's program, with a goal of selling 200 bags (equivalent to a $600 donation). To learn more or purchase a bag of Luis Ordóñez to further the fundraising campaign, visit South Slope Coffee's website. 
Both Cultura and 12 Bones have donated prepared meals to local charitable organizations and groups in need in partnership with US Foods and Performance Food Group, respectively.  
The owners of Chestnut and Corner Kitchen made use of leftover ingredients from before the shutdown to bake desserts for area nonprofits.  
Biscuit Head announced its "Classics for a Cause" program, giving customers ordering breakfast the chance to donate a classic biscuit for a Mission Hospital health care worker. The team at Biscuit Head will be dropping off the biscuits weekly to show appreciation.  
Ivory Road Café & Kitchen is collecting donations, in partnership with local restaurant owners, to help make and deliver boxed meals to area health care workers. Asheville Rooftop Bar Tours has stepped in to provide the transportation.  
Highland Brewing Company is donating 10 percent of its curbside-pickup sales to the One Buncombe Community Fund and continuing its food drives for MANNA FoodBank at curbside pickup. Highland has also created a "Medical Professionals Membership Card" to offer medical care providers 15 percent off all to-go beer purchases at the brewery for the rest of 2020.  
Cultivated Cocktails (formerly H&H Distillery) has partnered with Dogwood Health Trust to make hand sanitizer. The team is using the ethanol produced for whiskey and converting it to battle bacteria. Southeastern Container Inc. created bottles to hold the solution. The hand sanitizer will be shared with the region's health care professionals, first responders, nonprofits and community members.  
Asheville Craft Beverages Collective was formed to offer a safe and centralized place to purchase local craft beverages online (including beer, wine, cider, tea, coffee and more) for pickup or delivery. It's an effort that's especially important as many of these beverage companies' products aren't found on grocery-store shelves. The collective is committed to donating 10 percent of profits to local nonprofit organizations that help those most in need in the community.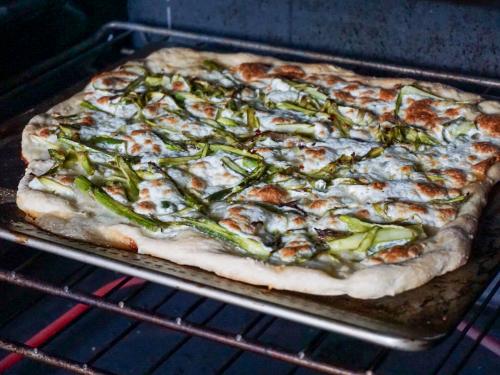 Local Asheville resident Sarah Ubertaccio (co-founder of Making It In Asheville) is putting together The Covid Cookbook, the first crowdsourced pandemic cookbook. All proceeds from the sale of the book will go to Feeding America. You can share your favorite isolation recipes or pre-order a copy. (Shown here is an Asparagus Pizza. Recipe was added to the cookbook by Lauren Haumesser of I'm Always Hungry Blog).  
Little Sprout Carryout, a gourmet and comfort-food carryout restaurant with locations in Asheville and Black Mountain, announced a new partnership with the North Carolina Healthcare Foundation to feed local hospital workers through the foundation's "Feeding the Soul" program. As the first restaurant in Western North Carolina to participate in this statewide project, Little Sprout Carryout will begin by serving meals to Mission Hospital, followed by other local health care systems. The team anticipates cooking and delivering a minimum of 200 meals per week.
Chef Linton Hopkins (owner of H&F Burger in Asheville, as well as several restaurants in Atlanta) and his wife, Gina, have launched the Good Food Works Foundation. The Foundation provides high-quality, nutritious meals to restaurant workers and others in need during the shutdown. The nonprofit – which plans to give back not only during the coronavirus crisis, but also beyond – is making meals for both its communities of Atlanta and Asheville. Here locally, the team is distributing 600 meals a week in partnership with Food Connection and MANNA FoodBank. More information and how to donate is on the Good Food Works Foundation website. 
Bed and Breakfast owners get cooking to help those most in need 
Asheville's bed and breakfast owners are stepping into the kitchen to cook meals for community members experiencing homelessness. As part of the "Give Back in the Kitchen" initiative, owners from three of the inns take turns cooking breakfast for dinner every Monday.
The collaboration between The Asheville Bed & Breakfast Association and Homeward Bound of Western North Carolina is helping to feed about 50 people who are experiencing homelessness and currently living at Harrah's Cherokee Center in downtown Asheville. Asheville City Council has supported using the facility as a shelter for those most at risk. The bed and breakfasts plan to continue the initiative as long as the shelter remains open.
Asheville businesses transition to making Personal Protective Equipment (PPE) 
As others have done throughout the nation, Asheville businesses are using their resources, tools and talents to generously produce PPE (personal protective equipment) to help keep safe both their communities and workers on the front line of this health crisis.
In the Asheville area, Outdoor Gear Builders of Western North Carolina has shifted production to making face masks, face shields and gowns. Flat Rock Playhouse's costume shop put their skills to good use by sewing face masks. 
Masks of Love WNC has brought together a dedicated group of doctors, home sewers, business owners, professional seamstresses and other volunteers who are working tirelessly to produce face masks – some for everyday use by the public and another type specifically designed for health care workers.  
oth artist Pattiy Torno of CURVE Studios and Sherry Masters, owner of Art Connections, have put their design and sewing talents to work making colorful masks for sale to the public. 
And, both Buncombe County Schools and the University of North Carolina at Asheville have temporarily repurposed their 3D printers to produce face shields. 
Updated December 22, 2022