Asheville 48-Hour Social Distancing Itinerary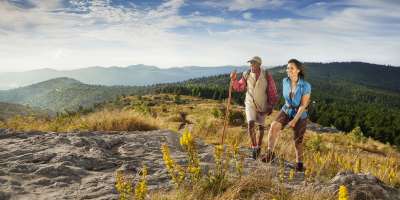 As Asheville begins to responsibly reopen with new safety measures in place, many people have asked us: "What is open in Asheville?" and "What are things to do in Asheville right now?"
Asheville attractions, restaurants, retail shops and breweries are ready to welcome you back following closures designed to flatten the curve of Coronavirus cases across the nation. Asheville area accommodations are taking reservations. Utilize our easy-to-use search feature to check room availability and rates. 
Asheville businesses have taken the Asheville Stay Safe Pledge – a shared commitment to take important precautions to keep each other healthy. As part of that shared commitment, the state of North Carolina requires you wear a mask in public places, including inside shops and restaurants (when you're not eating).
Whether you're visiting Asheville for the first time or making a return trip, this 48-hour itinerary will give you ideas for how to enjoy the city and support local businesses while practicing social distancing.
Day 1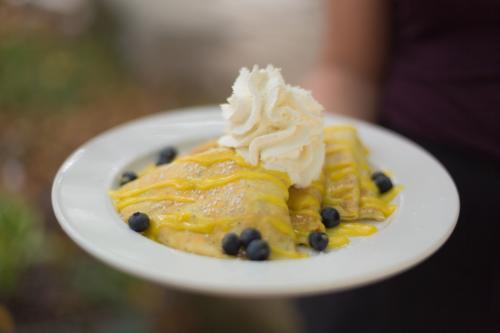 Start your day with a hearty breakfast to fuel up for the adventures ahead. Restaurants are open for dine in service but takeout is available if you'd prefer. Many restaurants in Asheville have open-air patios where you can dine. See our roundup of the best places to eat breakfast in Asheville as ranked by our social media fans.
Head over to Biltmore, America's Largest Home. You can take a self-guided tour of George Vanderbilt's 250-room castle. To help with social distancing, you'll need a prior reservation to tour Biltmore House. Adjacent to Biltmore House you'll find large outdoor garden areas, perfect for a casual stroll. Also, take your pick of the estate's many hiking trails. With so much to see and do, you could spend multiple days just at Biltmore.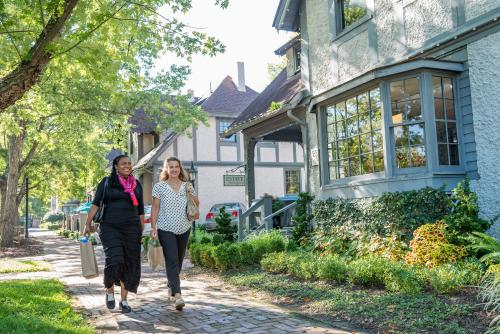 Before leaving the area, see the shops, galleries and restaurants in Biltmore Village, a beautiful historic district that sits just outside the gates of Biltmore Estate. You can have lunch here before your next stop.
Drive 15 minutes south to the North Carolina Arboretum to enjoy the wide-open spaces in the manicured gardens and on the trails, which were inspired by the designs of famed landscape architect Frederick Law Olmsted. This 434-acre arboretum is a wonderful place to escape and rejuvenate among some of the most beautiful, botanically-diverse plants in the region.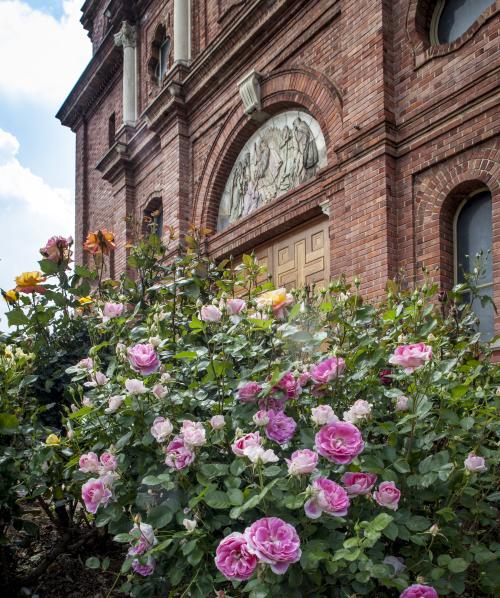 After seeing the gardens, it's just a 15-minute drive to downtown Asheville. Meander through the city streets on the Asheville Urban Trail to learn the interesting backstory of Asheville and some of its most notable residents. On the 1.7-mile route, you'll discover 30 "stations" featuring art or architecture that speak to Asheville's history. Prefer to have a guide? Asheville by Foot Walking Tours or Asheville Rooftop Bar Tours can lead the way.
As you explore downtown Asheville, find one-of-a-kind treasures at the art galleries and local shops.
With many of the city's favorite independent restaurants, downtown makes a great place to have dinner as day 1 comes to an end. 
Day 2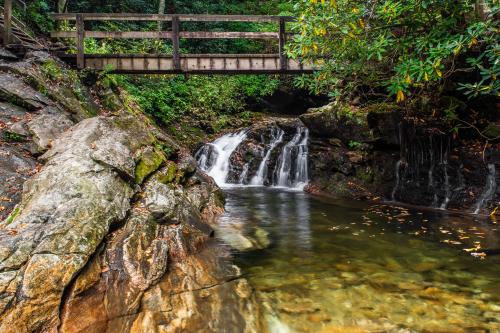 Begin your second day of adventures on the Blue Ridge Parkway, America's favorite scenic drive. You will enjoy wide-open spaces and breathtaking scenic vistas at dozens of paved overlooks. The parkway is also the starting point for many of the top hikes in Asheville. We have a list of off-the-beaten-path hiking trails (including some that begin on the Parkway) to help you take the route less traveled by. Cool off at waterfalls such as Skinny Dip Falls and Lower Falls at Graveyard Fields. And, enjoy plenty of ideal locations to pull over for a picnic with a view.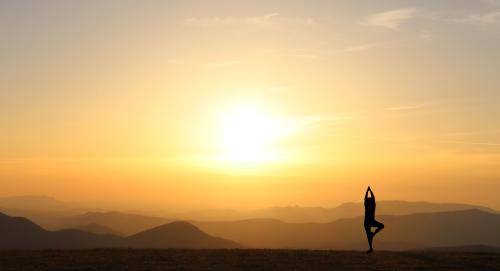 You can also opt for a guided outdoors adventure. Take a meditative yoga hike with Namaste In Nature, who will guide you into the heart of the Pisgah National Forest to relax and stretch while listening to tweeting birds, chirping inspects, and cascading waterfalls. Experience a private outdoor adventure with Asheville Wellness Tours that will fully immerse you in the peacefulness and restorative power of nature. Options include yoga hikes, standup paddleboard yoga, private group yoga (in the park or outdoors at vacation accommodations) and forest bathing. Or, let Blue Ridge Hiking Company, which takes groups on single or multi-day adventures across the mountains, be your guide as you navigate the trails.
Learn how to safely identify, appreciate and savor wild plants, mushrooms with a foraging tour with No Taste Like Home. Looking for a thrill? Check out outdoor attractions such a Navitat Canopy Adventures for ziplining or the Adventure Center of Asheville for ziplning, the Treetops Adventure Park, and the Kolo bike park.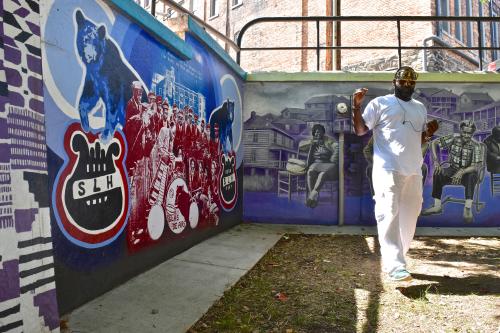 Head back into town for an interactive tour Hood Huggers International Tour focusing on Asheville's African American resilient history and future in the arts, environmentalism and entrepreneurship. The tour visits neighborhoods with active green spaces, art, and grassroots initiatives. You can also explore the area's history by taking a walk to an area south of downtown's Pack Square known as "The Block", the central business district for the African-American community from the late 19th through the early 20th centuries. Restaurant Benne on Eagle pays homage to the area's rich African American history through food and the restaurant's design.
Triangle Park, in the heart of "The Block," is a good place to begin a cultural exploration on the Appalachian Mural Trail, a self-guided tour of murals by local artists that help explore Asheville's history. The Triangle Park Mural, by Molly Must and a team of artists, is a memorial to history that celebrates the stories of Asheville's historic African-American business district. It's one of many vivid murals you'll find throughout the city.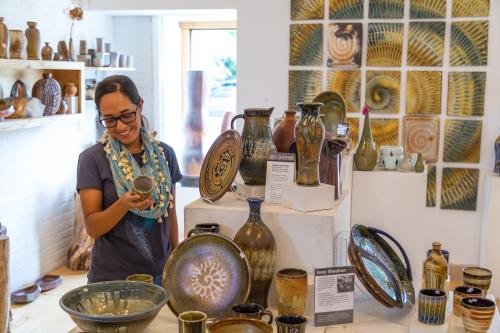 Speaking of art, just minutes from downtown is the River Arts District, home to more than 200 artist studios. It's a great place for an open air walk as you search for unique, locally-made treasures.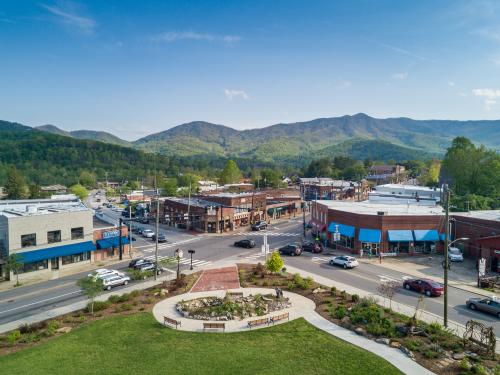 End Day 2 with a 20-minute drive to one of Asheville's neighboring communities. Black Mountain, voted America's Prettiest Small Town, offers a wealth of local shops, galleries and restaurants. Take a sunset stroll around beautiful Lake Tomahawk, which offers views of the Seven Sisters mountain peaks. Or, head north of Asheville to Weaverville for an evening stroll around Lake Louise and through the charming downtown.
Updated July 13, 2021