Apple Stuffed Hush Puppies Recipe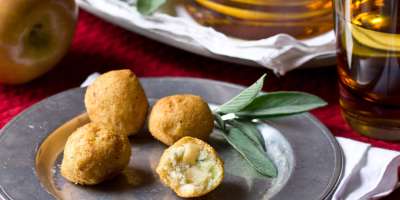 A southern Appalachia recipe through and through, this "soon to be famous" recipe hails from the kitchen of Red Stag Grill located in the Grand Bohemian Hotel. Make this side for your next Thanksgiving feast.
Ingredients
4 cups House-Autry hushpuppy mix

2 Tbs Poultry seasoning

2 Tbs Rubbed sage

1 Tbs Fresh sage chopped (if you have it)

2 WNC Mountain apples (your choice of variety)

½ Lemon (fresh)

2 cups Turkey or Chicken stock
Method
Mix all dry ingredients together.

Grate apples on a standard cheese box grater right into the batter.

Squeeze the half lemon to add juice. (Hold the seeds)

Gradually add the turkey stock until a thicker batter consistency is reached.

Allow to sit for 20 minutes before you fry them.

Fry at 325° for 2 minutes or until the inside is cooked through.
Tips
Works great to fry them in a turkey fryer after the turkey comes out.

Dip or cover them in turkey gravy.
Yield: Should feed 6-8 hungry Thanksgiving bellies.