2015 Fall Color Forecast: Prepare For a Spectacular Leaf Season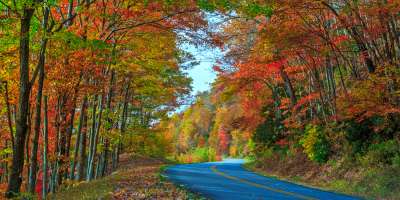 Weather Trends Align For An Eye-Popping Fall 
An exceptional display of fall color fireworks is coming to the Blue Ridge Mountains—all thanks to the weather.
That's what biologists and climate scientists are predicting for Mother Nature's 2015 fall foliage display across the Asheville area, home to one of the longest and most colorful autumn leaf seasons in the world.
"This fall could be one of the best leaf color seasons in Western North Carolina in recent memory," said Western Carolina University Associate Professor of Biology Kathy Mathews. "Three words explain it—unusually dry weather."
Dry Weather Means Colors Will Pop
NOAA's National Climatic Data Center (located in Asheville) reports that fall color should be more vibrant than average this year due to below-average rainfall during spring and summer in the Asheville area.
"It has been pretty dry in Western North Carolina, with a few days of heavy rainfall," said NOAA Climate Scientist Jake Crouch. "The occasional heavy rain has allowed us to stay out of drought, but allowed soils to be drier than average which typically means brighter fall colors in the mountains."
According to Mathews the formation of higher levels of (red) pigments in the leaves correlates with dry weather throughout the year, but especially in the months leading up to fall. "That's what causes the leaf colors to really pop, along with the simultaneous appearance of orange and yellow pigments on the same or different tree species," Mathews said.
Recipe For A Bright & Long Fall Color Season
So what conditions will keep the positive forecast on track?
"The weather in September can have a large influence on the timing and quality of fall leaf color," reports Dr. Howard S. Neufeld, professor of biology and "fall color guy" at Appalachian State University. "If morning temperatures keep dropping through September that will be good news for fall color development."
"El Niño (weather phenomenon) typically means a drier-than-average autumn in our region, which would be good news," Crouch said. "El Niño also limits Atlantic hurricanes. If the remnants of a hurricane with strong winds and heavy rain made its way into Western North Carolina it could cause leaves to fall off trees prematurely."
Color Progress: Early Signs Of A Big Season
Early signs that fall is on the way are already appearing. "We're starting to see the very beginnings of fall color, but only sporadically," said Neufeld.
"The sentinels, those early turning species, are letting us know that bigger things are in store over the next few weeks. Burning bushes are starting to turn their vivid red, and dogwoods are slowly turning a deep burgundy red. There are a few scattered sugar and red maples that are turning now, but these the exceptions, rather than the rule.
"The highest elevations above 4,000 feet are still very green. Fall colors begin to develop first at higher elevations (which are colder) and then move downhill, about 1,000 feet every 7-10 days later," said Neufeld.
High Peaks Afford Numerous Color Peaks
Extreme elevation variations and unmatched biodiversity (including more than 100 species of leaf-shedding trees) combine for an unusually long leaf season in the Blue Ridge Mountains that is rivaled by few places in the world.
Microclimates that vary by elevation—and vary from mountain to mountain depending on plant diversity—cause a cascade of peaking fall color that travels down the mountains from late September through early November and is easily accessible from the Asheville area.