18 Reasons Asheville Is A Gateway For National Parks Centennial Adventures
Peak-to-Peak Zips, Foraging and other Unforgettable Ways to Celebrate 100 Years of National and NC State Parks.
The beauty of Asheville's mountain scenery is timeless, except for this year when it turns 100 years old. 2016 marks a century since the creation of the National Park Service, NC State Parks and Pisgah National Forest. Cradled in the Blue Ridge and steeped in cultural cool, Asheville is a convenient basecamp for centennial park adventures with:
Six access points to the Blue Ridge Parkway;
Six of the highest peaks in the eastern US surrounding the area, including Mt. Mitchell (6,684 ft.);
Five entry points to the Great Smoky Mountains National Park within 70 miles of downtown;
Six NC State Parks in daytrip distance;
Access to one million acres of trails and pristine wilderness with a biodiversity unmatched anywhere in the world.
CENTENNIAL ADVENTURES NOT TO MISS
Check out all outdoor adventures at http://www.ExploreAsheville.com/outdoor-adventure.








PARKS & FOOD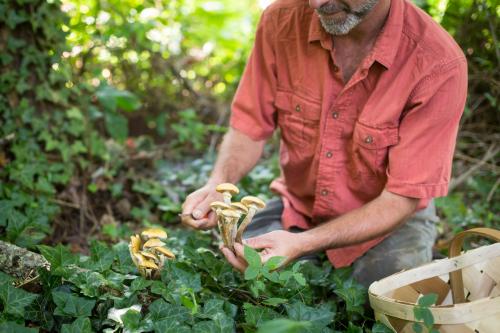 Forage One of the World's Most Biodiverse Areas: Experts of No Taste Like Home lead foraging walking tours in the forests and meadows around Asheville, including a new "wild food safari" through the incredible biodiversity of the Smokies. FUN FACT: Visitors to the Great Smoky Mountains National Park can gather up to a pound a day of foraged berries, nuts, fruit and mushrooms found in the forest.


Blueberry Parkway: Each summer, wild fruit bushes free for the picking grow abundantly at Blue Ridge Parkway hiking pull-offs such as Craggy Gardens, Graveyard Fields and Black Balsam Knob.


Beer with a Splash of Parks History: Local brewer Burial Beer Co. opens a second brewing location this summer on a historical two-acre property deemed "Forestry Camp." The six 1920s New Deal buildings that once housed the young men who built the Blue Ridge Parkway (the Civilian Conservation Corps) will eventually also house a two-story tap room, a locally-purveyed restaurant and urban garden.
WILDLIFE
Calling All Bird Nerds: From hooded warblers and indigo buntings to great horned owls, nearly 300 species of birds nest or pass through the Blue Ridge and Smoky Mountains. Ventures Birding Tours leads guided birding day trips along the Blue Ridge Parkway. Spy birds of prey such as the peregrine falcon during the annual hawk migration at Chimney Rock State Park's Flock to the Rock (September 17).


Watch Elk Lock Antlers: At the quieter eastern entrance of Great Smoky Mountains National Park, North Carolina's Cataloochee Valley rewards with front-row seats to view the showmanship of elk rutting (breeding) season each fall.


Stalk Trout on the Nation's First Fly Fishing Trail: West of Asheville, the WNC Fly Fishing Trail highlights 15 stops for catching brook, brown and rainbow trout in the Smoky Mountains, just outside the national park borders. Anglers can take to the prolific waters on their own or on a guided fly fishing excursion led by local outfitters such as Brown Trout Fly Fishing, Hunter Banks Company and Curtis Wright Outfitters.
CENTENNIAL TRAVEL PACKAGES
Check out all outdoor adventure packages at http://www.ExploreAsheville.com/deals.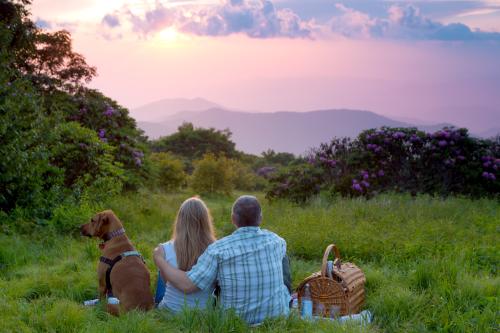 The "Picnic on the Parkway Package" includes accommodations at the Grand Bohemian Hotel Asheville along with a 3-D topography map of the Blue Ridge Parkway and a chef-packed picnic basket.


The "NC Wild Hiking Package" offers accommodations at Aloft Downtown Asheville plus trail snacks to take along on a guided hike through the mountains.


The Sourwood Inn enhances two-night stays with a pair of outdoors packages: a one-of-a-kind hands-on falconry experience or guided fly fishing followed by an in-room massage.