12 aventuras familiares para disfrutar el invierno en Asheville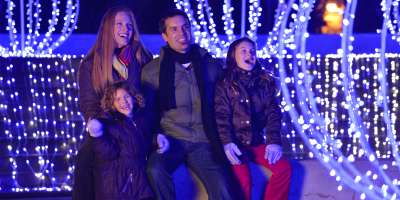 Hay muchísimas actividades para toda la familia, tanto aventuras al aire libre como en interiores. Evite las multitudes que vienen con el otoño, la primavera y el verano, y disfrute de Asheville con su familia en la época más fabulosa del año.
Juegos y Museos Interactivos
Con más de 30 máquinas de pinball y más de una docena de videojuegos clásicos, Asheville Pinball Museum es una opción para entretener a toda la familia durante horas, sobre todo a los niños en días de lluvia o mucho frío. Juegue con las fichas de las nostalgias y diviértase sin que sus niños quieran irse a otro lado.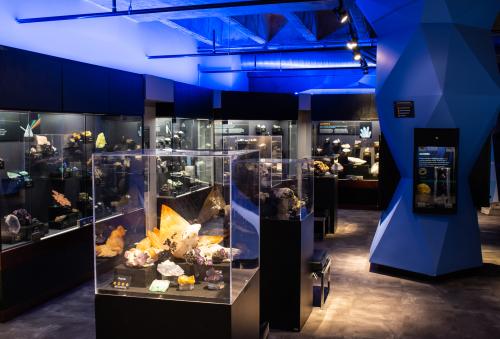 El Museo de Ciencias de Asheville, ubicado en el centro de la ciudad, es una experiencia científica completamente interactiva que le sorprenderá a usted y sus pequeños. Lleve a niños y grandes para soltar al Isaac Newton que llevamos dentro, convertirse en geólogos en Colburn Hall of Minerals, excavar en busca de fósiles y maravillarse con el esqueleto del dinosaurio Teratophoneus.
Hinchas de juegos de mesa de todas las edades y niveles de habilidad pueden jugar en la cafetería Well Played. Es un oasis de juegos con más de 700 juegos de mesa y también ofrece comida, cerveza, café y bebidas sin alcohol. ¿No estás seguro de por dónde empezar? Tira los dados con uno de sus Gamemasters – expertos que te ayudarán a elegir la aventura adecuada para tu nivel de experiencia y el tamaño del grupo.
Aventuras al Aire Libre
Un día de diversión en la nieve está al alcance de sus manos (¡con guantes!) a tan solo un corto viaje desde Asheville. Cataloochee Ski Area y Wolf Ridge Ski Resort son dos estaciones de esquí con áreas para todos los niveles y edades en su familia. Deslice cuesta abajo con snow tubing o apunte a los más pequeños en el Kidz Ski & Ride Center de Cataloochee para esquiadores de 4 a 12 años.
No se deje engañar por la ubicación montañosa: Asheville tiene un clima invernal templado con muchos días soleados y oportunidades para divertirse al aire libre sin nieve. Consulte esta lista de caminatas de invierno favoritas, o para algo más cercano a la ciudad,  y con más adrenalina, visite el Centro de Aventuras de Asheville: está abierto todo el invierno los fines de semana para que pueda escalar, andar en bicicleta y disfrutar la tirolesa durante todo el año.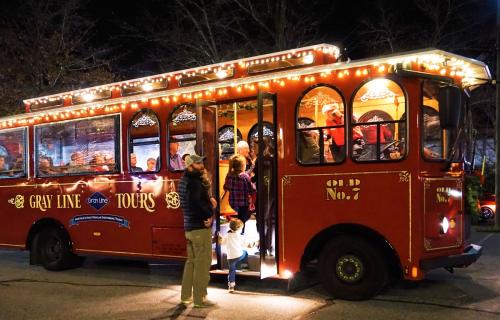 ¡Todos a bordo! Ni usted ni ningún miembro de su familia se aburrirá en los históricos Gray Line Trolley Tours de Asheville. Hasta los locales se suman a estos tours para aprender y divertirse en este informativo recorrido por la ciudad. Para aquellos interesados en el arte, otra opción es Mountain Mural Tours, un tour que lo llevará por los murales más asombrosos y emblemáticos de esta ciudad artística.
Desde mediados de noviembre hasta principios de enero, los jardines del North Carolina Arboretum brillan y centellean con la exhibición, "Luces de invierno", un espectáculo que se ha convertido en la tradición festiva favorita de visitantes y locales. Mientras se camina entre los jardines y senderos del Arboretum, las familias pueden disfrutar del brillo navideño con casi un millón de luces.
Gustos para grandes y chicos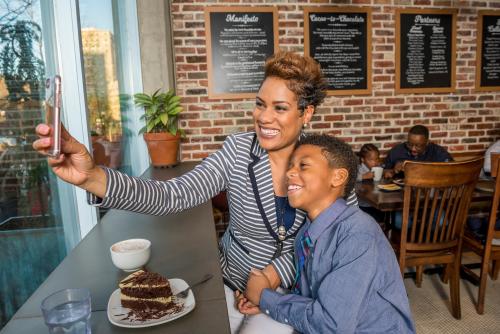 Entre tanta actividad familiar y aventuras en las montañas, será necesario realizar una parada estratégica para entrar en calor y recargar energías. ¿Qué mejor que un chocolate caliente? Aquí algunas opciones: Prueba el chocolate caliente de French Broad Chocolates, nombrado uno de los mejores por la revista Travel + Leisure. O experimenta con el chocolate caliente flotante de Hop, que combina lo mejor del mundo del cacao y el helado juntos en una taza caliente y satisfactoria. Los adultos de la familia pueden tener su versión con un espresso float.
Desde mediados de noviembre hasta principios de enero, los niños de 9 a 99 años se deleitarán con los fantásticos diseños presentados para el Concurso Nacional de Casas de Pan de Jengibre en The Omni Grove Park Inn.
If you're ready to take a load off, but the kids are still bouncing off the walls, enjoy the many outdoor games at Whistle Hop Brewing in nearby Fairview. Families can explore the brewery's famed caboose or boxcar, play a round of mini golf, go mini bowling or try their hand at Disc Golf Connect 4. Then round out your evening with pizza and a movie at Asheville Pizza & Brewing in North Asheville.
Artículo original:
12 Family-Friendly Ways to Enjoy Winter in Asheville
Fotografía de esquí cortesía de Cataloochee Ski Area.
Updated October 17, 2023