10 Lugares para Probar la Mejor Cocina Vegetariana/Vegana Latina en Asheville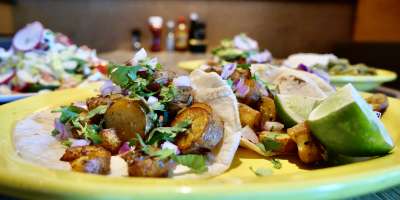 ¡Bienvenidos al paraíso culinario de Asheville, también conocido como "Foodtopia"! Una ciudad donde podrás encontrar prácticamente de todo. Sí, también en versión vegetariana y vegana.
Esta guía bilingüe (puedes leer la versión en inglés aquí), combina dos grandes favoritos: la cocina latina (o con raíces o inspiración latina) y la cocina vegetariana y vegana. 
En esta lista encontrarás varias categorías, desde food trucks hasta restaurantes de alta cocina, pero sin importar lo que elijas, estas son algunas de las opciones más saludables y deliciosas que encontrarás en Asheville.
La Rumba 
Imagina tu restaurante Tex-Mex favorito pero con opciones más saludables y la posibilidad de ordenar opciones vegetarianas que van mucho más allá de una ensalada. Eso es lo que encontrarás en La Rumba. 
Por ejemplo, en vez de chips y salsa lo primero que sirven es elote (maíz callejero mexicano).
Los platos vegetarianos incluyen enfrijoladas (tortillas de maíz en puré de frijoles negros, con cebolla, rábano, aguacate, queso fresco y chorizo vegano) y tacos de la calle con papas salteadas. También tienen margaritas de mezcal y sirven el menú del almuerzo durante todo el día.
Abejas House Café 
Abejas House Café es sobre todo comida saludable, pero con el plus de la fusión de los sabores de la cocina mexicana con los platos favoritos de todo el mundo.
Estamos hablando de desayunos de sándwiches de croissant caseros, huevos rancheros (opción vegana con tofu), chilaquiles y huevos. Para el postre, piensa en focaccia, tres leches, rosca de reyes y pastel de nutella, con muchas opciones veganas y sin gluten.
Taco Temple / Mamacitas 
Favoritos locales de la cocina mexicana, ganadores del premio al mejor burrito, mejor taco y mejor restaurante mexicano según los lectores locales, Mamamacitas y Taco Temple cocinan sus tortillas caseras con maíz oaxaqueño.
Algunos platos vegetarianos especiales: el clásico burrito Veggie Mama (Mamacitas) y el taco vegano para el desayuno (Taco Temple).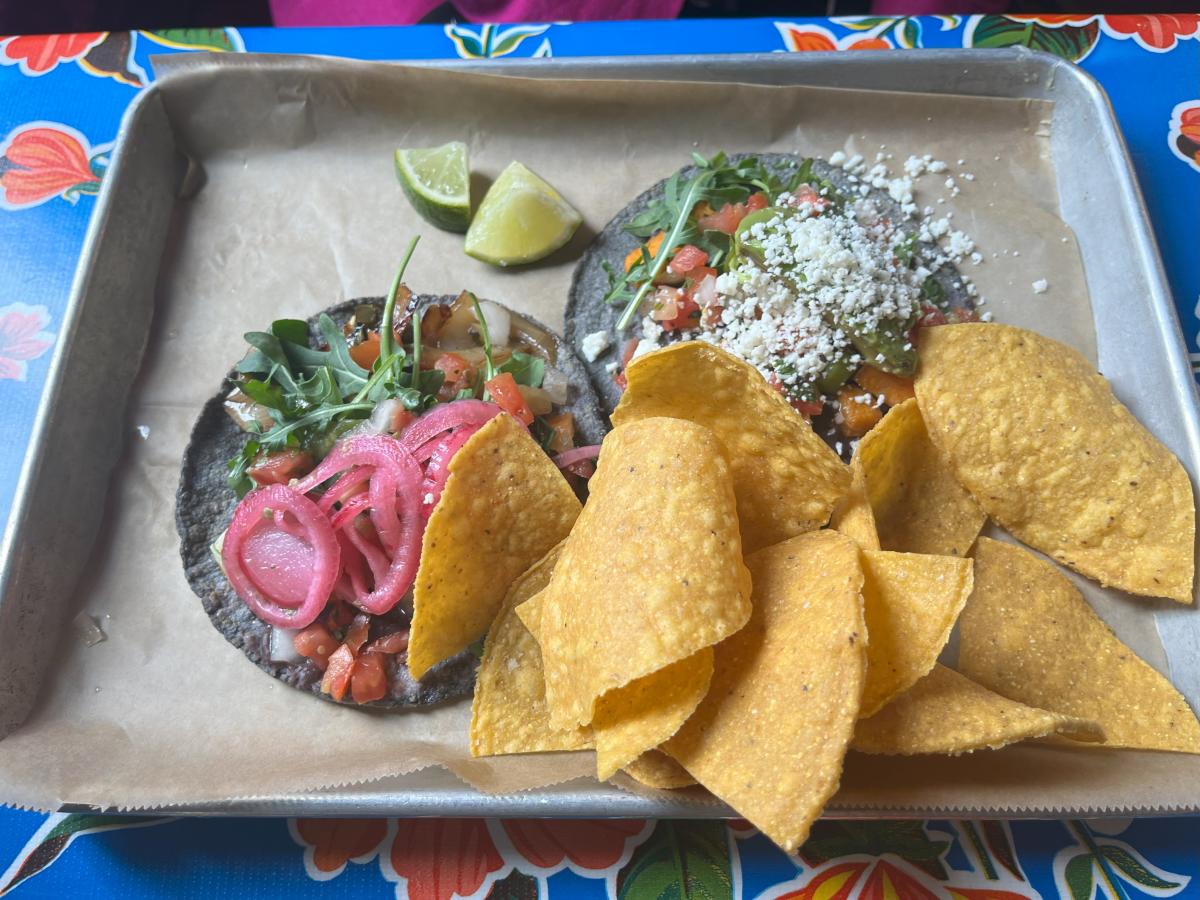 The Trashy Vegan 
The Trashy Vegan es lo que te imaginarías si cruzaras la comida que deseas tras una noche de fiesta con una alimentación a base vegetal y saludable.
Prueba las hamburguesas veganas y también la quesadilla con verduras salteadas, queso rallado y salsa, acompañada de rizos de soja. El restaurante ideal para una tarde con amigos, comida saludable y algunas cervezas. 
Ubicado en el corazón de Biltmore Village, The Cantina cuenta con un lindo patio al aire libre y muchos clásicos de la cocina mexicana, como quesadillas y burritos, pero con especial énfasis en opciones vegetarianas y sin gluten.
Prueba el aguacate relleno a la parrilla, y acompañalo con un trago perfecto: la margarita de aguacate.
Rosetta's es la institución vegana de Asheville. Desde 2002, este restaurante y buchi bar sirve platos sureños en versión vegana. 
Un favorito, como su nombre, es el "Favorite Family Plate" (Favorito de la familia) que consiste en tofu orgánico horneado con mantequilla de maní, kale salteado y puré de papas con salsa casera). Además tienen el plato especial de Frijoles y Arroz, que cuesta lo que la persona pueda pagar. 
Rosetta's también elabora su propia y deliciosa kombucha que marida perfectamente tanto con sabores asiáticos (tempeh a la barbacoa coreana) como con su reuben vegetal.
Little Chango 
Little Chango es un restaurante pintoresco y colorido en el barrio South Slope, Asheville. Cocina artesanal y platos favoritos casuales de toda América Latina. Tienen las mejores arepas de la ciudad (la Jibarra es vegetariana) y excelentes acompañamientos como plátanos dulces fritos y yuca frita. ¡Prueba el flan de coco y cardamomo de postre!
Cecilia's Kitchen 
Cecilia's ha estado sirviendo empanadas auténticas argentinas y otras comidas latinoamericanas en Asheville durante décadas. Visita su local en North Asheville para un almuerzo con amigos en un ambiente sofisticado de cultura cafetera.
Las opciones vegetarianas incluyen el tamal de champiñones (champiñones, cebolla, tomate y salsa de mole) servido con salsa casera de cilantro y ensalada. También el crepe de ratatouille (calabacín, berenjena, pimientos asados, cebolla y tomate con queso suizo y crema). También puedes disfrutar de las empanadas de tomate (tomate, albahaca, queso suizo, mozzarella y parmesano).
Laughing Seed es un clásico restaurante vegetariano en Asheville, que ofrece cocina de sabores internacionales. Tiene su propio chorizo vegano casero y "pastrami" de batata curado de forma artesanal.
Para sabores de inspiración latina, prueba la tostada ensalada (tortillas de maíz crujientes con capas de lechuga orgánica, frijoles negros, arroz integral y "chorizo" casero, cubierto con cheddar/jack, salsa, guacamole, tomates uva, cebolla roja, maíz y jalapeños encurtidos caseros). 
También tienen unas increíbles papas fritas al estilo suroeste (papas russet cortadas a mano con "chorizo" vegano, queso vegano, frijoles negros, jalapeños y cebollas verdes).
LIMAQ Catering 
Limaq es un servicio de catering que ofrece versiones veganas y muy saludables de los platos favoritos de la cocina peruana, como anticuchos y ceviche. 
Con una verdadera magia culinaria, LIMAQ reinventa la forma de cocinar con hongos como el lion's mane, ostra y chicken of the woods, todos ingredientes locales, dando vida a las complejas combinaciones de sabores de Perú para el público vegano.
Updated June 2, 2023