Would You Survive?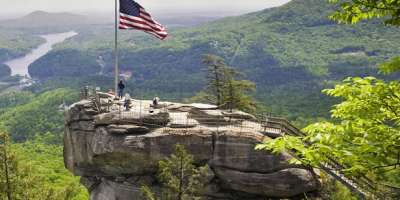 Survival Skills Workshops Offered At Chimney Rock
Chimney Rock at Chimney Rock State Park
will host a three-part workshop series on survival skills this spring to better equip people for outdoor adventures and short-term survival in the wilderness.
Saturday, March 10; 9am-noon
Don't let minor incidents stop you in your tracks—keep moving in the great outdoors with these essential first aid skills taught by local naturalist Clint Calhoun.
Saturday, April 28; 9am-noon
Be prepared to hike off the beaten path for about two hours identifying and learning about wild edibles. Sheila Dunn, will whet your appetite with a presentation on favorite edible fungi, such as chanterelles, morels and chicken of the woods. Listen closely when she discusses the few poisonous mushrooms that lurk in our hills!
Saturday, June 9; 9am-noon
Take an in-depth look at various types of primitive shelters and how to construct them out of materials readily available when you're caught outside with no place to go. Includes practical, hands-on construction of shelters. Led by local naturalist Clint Calhoun.
February 28, 2012