World Record Attempt at Asheville Chili Chow Down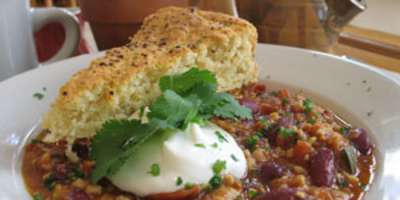 Because nothing goes together better than firefighters and chili, Asheville Chili Chow Down 3.0 will honor fallen firefighter Captain Jeff Bowen and benefit the scholarship fund for his three children. 
The Chow Down is set for Sunday, November 6 from 1-4pm at Asheville Brewing Company on Coxe Avenue in downtown Asheville. Adding more excitement to the event is the inaugural Fire Truck Pull where up to 100 people will pull the truck more than 50 feet on Coxe Avenue. 
Event organizers will be filming the pull for submission into the Guinness Book of World Records.
The event is free to those sampling chili and $25 to those wanting to enter their recipe into the contest. Check out the great prizes being awarded.
Need some inspiration for your own chili recipe? Here's a great recipe provided by the good folks at Early Girl Eatery.
November 3, 2011