Wolf Pup Pair Prepares for Public Debut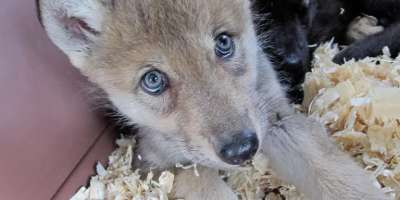 Nature Center welcomes two furry new arrivals
Nova and Wayah arrived in N.C. on June 3.

Photo courtesy of WNC Nature Center.
Zack Galifianakis isn't the only wolfpack member finding his way in Asheville this summer. Two new arrivals at the
WNC Nature Center
are also making their debut this week.
Two gray wolf pups arrived at the center in early June. The pups, a black male named Wayah and a brown female named Nova, were born in Montana and brought to Asheville to join the center's older gray wolf, an 8-year-old female named Shalimar.
The youngsters spent the first few weeks getting to know their new home in a habitat that is closed to the public, but this week Nova and Wayah got to explore the gray wolf exhibit for the first time.
Here's an update from the WNC Nature Center:
"On July 30th, 2014, the two 4-month old pups were introduced to our 8-year old female, Shalimar, for the time. As is always the case with gray wolf introductions, this can be a very tenuous time as the pack members try to establish their role within the group. We saw a bit of rough–housing and snarling, but by day's end, the three were all finding their place in the exhibit. Obviously, this should only get better and better as the three spend more time together."
Nova and Wayah get to know their new home. Photo courtesy of WNC Nature Center.
Nova explores here new habitat at the gray wolf exhibit. Photo courtesy of WNC Nature Center.
The wolf exhibit will be open sporadically during this transition, but you can follow the progress of Wayah, Nova and Shalimar (and see more pictures) on the
WNC Nature Center's Facebook page
. There's even a
video from a wolf's-view camera
!
Discover more wildlife in Asheville.
July 31, 2014