WNC Chef's Engage in a Fungi Fued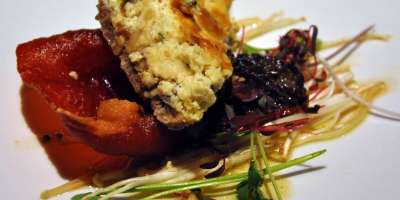 Last night the tables of
Cucina 24
in
downtown Asheville
filled with
Foodtopians
eager to taste some culinary surprises from two local chef's during the
WNC Chef's Challenge
. This week's competition was between
Chef Charles Hudson
from
Sunburst Trout Company
and
Chef Jesse Roque
from
Never Blue Tapas Bar & Grill
. 
In true Iron Chef style, the chef's were given a secret ingredient that they had to incorporate into each dish. The dishes were then sent out for judging by the audience although the creator of each dish remained a secret so to avoid voter tampering. At the end of the evening a chef was crowned victorious and will continue on to the next leg of the competition. This is all leading up to the Grand Tasting in August where one chef will be deemed number one in Western North Carolina; a coveted title for sure.
The secret ingredient they had to incorporate was
mushrooms
. From there, this is what was crafted:
Course 1:
Three cheese and mushroom cheesecake with pecan crust and smoked enoki salad with apple cider vinaigrette prosciutto crisp.
Course 2:
Flat bread with goat cheese, caramelized figs and garlic-seared mushroom truffles, hinted microsprout and arugula salad with balsamic reduction.
Course 3:
Italian four-cheese polenta Fricassee, forest mushrooms and rabbit topped with Morel crispies.
Course 4: (The highest rated dish of the evening)
Cast Iron Pork Tenderloin with mushroom ragout and mushroom grits, pickled fried mushrooms and onions topped with grilled asparagus with mushroom butter.
Course 5:
Semi sweet trumpet mushroom and malbec truffle, lemon and oyster mushroom beignet with lemoncello vanilla bean syrup, and porcini mushrooms and white chocolate chip cookie.
Course 6:
Cremini mushroom ice cream, chocolate porcini mushroom almond toffee with tangerine sauce and a morel kissed shitake cookie.
When asked what secret ingredient they feared the most going into this competition, Chef Hudson with Sunburst Trout answered eggs or chicken. Chef Roque however had the best response with "trout".
In the end, the winner by a narrow margin was Sunburst Trout Farm (Congrats!). They will now go head to head with Posana Cafe on May 16th. For more information on the WNC Chef's Challenge and how you can get tickets to upcoming events, please visit their
website
.
April 12, 2011