Winter Wonderland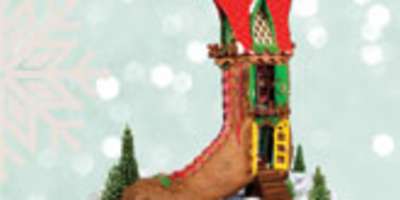 Gingerbread House Display Coming to the Grove Arcade.
For the seventh year, the Grove Arcade in downtown Asheville will display select entries from the National Gingerbread House Competition. Visitors can view the edible homes and beautiful holiday décor beginning November 20 and running through January 2. 
Fans who wish to view the full exhibit of gingerbread homes can do so by visiting
 The 
Grove Park Inn
 during the same time period.
The public is invited to view the houses Monday through Saturday from 10:00 a.m. to 6:00 p.m. and Sunday from 10 a.m. to 5:00 p.m. Bus parking is available on Battery Park or at the Chamber of Commerce on Montford Avenue with passenger loading and unloading on O. Henry Avenue. 
Visitors to the building will notice new flocked trees on the spiral staircases, a beautiful tree and lighted antique deer vignette in the West Arcade entry and much more. Shop the Arcade's shops and galleries for the perfect holiday gift.  In another holiday tradition, artist Jason Probstein will create beautiful handmade blown glass ornaments, a perfect holiday gift or memento of a trip to Asheville, in Mountain Made, Suite 123, Sundays through Thursdays through the holiday season. 
The final Asheville Downtown Gallery Art Walk of the season will take place on Friday, December 2, from 5 to 8 p.m.  Mountain Made, Alexander & Lehnert and Asheville NC Homecrafts feature handmade gifts and offer a wonderful opportunity for holiday shopping with live music and refreshments.  
The Grove Arcade, E.W. Grove's grand dream for downtown Asheville, opened to the public in 1929 and was home to a fine collection of local shops and businesses.  The building was seized by the Government in 1942 to relocate offices displaced in Washington by departments created to win World War II.  For decades, the building's distinctive windows were bricked over and its public face remained private. Eventually, public support grew for a return to the Arcade's original function and a magnificently restored Arcade opened to the public ten years ago.
November 13, 2012