Win Tickets To See Famed Brian Eno Exhibit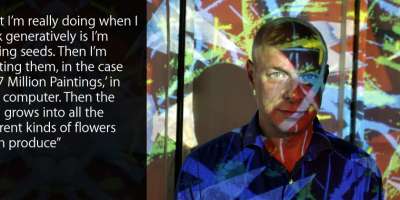 Photo credit: http://www.apple.com/pro/profiles/eno/
Musician and artist, Brian Eno, has an incredible exhibit currently on display at the YMI Cultural Center in downtown Asheville. 77 Million Paintings is a multi-media experience that combines 296 original art works that overlay upon each other. Each one is randomly generated and set to music providing endless combinations of audio and visual  imagery (hence the name). No two shows are ever the same (pretty cool stuff huh?)
Asheville is the exhibit's first east coast appearance following only two prior showings in America and a stint across Europe. The show is running from now through November 30 and tickets are $10. However, you can win two free tickets right now!
How to win:
1. Answer the following question in the comments below.
2. Leave a form of contact with your answer. (Email, phone, snail mail)
3. Do not skip #2 or you will not win. We have to be able to reach you.
4. We'll announce the winner in the comments field today (11/18/11) at 4:00PM.
Here's the challenge:
Name an artist that performed at both Moogfest 2010 and Moogfest 2011. (Hint: there's more than one correct answer)
GO!
November 18, 2011