Win Tickets: Hunger Games Movie and Adventures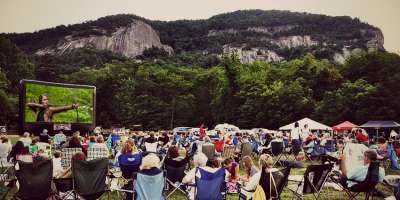 Watch Hunger Games Under the Stars at Chimney Rock State Park.
Catch an outdoor screening of The Hunger Games at Chimney Rock State Park this Saturday, September 7. This is your opportunity to get reacquainted with your favorite film characters prior to the November 22 release of the sequel Catching Fire. Fans of the hit movie may recall the mountains surrounding Asheville were used for filming locations, making Western North Carolina the on-screen equivalent to District 12, making Chimney Rock the perfect backdrop while watching the film.
The gate opens at 7 p.m. and the movie, presented by Ingles Markets, will begin at 8 p.m. Bring a blanket or camping chair, a flashlight and a friend to spend the evening under the stars. Concessions and movie merchandise will be available for purchase. Movie event parking at the gate is $12 per car or $8 per car for Annual Passholders. Park admission is not included with event parking.
Fans can come early for afternoon movie-themed adventures offered by the Hunger Games™ Unofficial Fan Tours, which has been featured on NBC, ABC, the NY Times and USA Today. Experience part of "the Games" at Chimney Rock by shooting a bow with Archery Tag™ foam tipped arrows, posing in movie costumes with props and getting your photo taken with likenesses of your favorite characters. Activities require paid park admission, and then guests are welcome to stay in the park to enjoy the movie at no additional cost.
WIN TICKETS
Want to go? Better yet, want to go for free? Let's see if the odds are ever in your favor. In the comment section below, name your favorite character from the first Hunger Games book and tell us why they're the best. Avoid naming characters from the second and third novels. We don't want any spoilers here.
We'll choose a winner at random this Friday, September 6, at noon. Check back then to see if you have won!
September 5, 2013