Win an Asheville Vacation at GirlsGetaway.com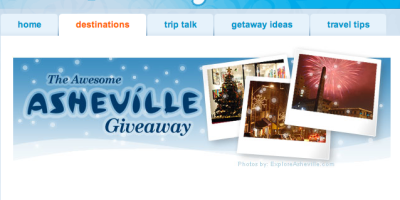 Wrap up a delicious holiday present to yourself by entering to win an awesome Asheville vacation at GirlsGetaway.com. Enter now through Friday, December 11, for a chance to win:
• One-night stay at Hotel Indigo
• Breakfast for two at the Grove Park Inn's Blue Ridge Dining Room
• An Asheville Independent Restaurant Dining Club Passport
• A day pass to the North Carolina Arboretum
• An adventure package from Nantahala Gorge Canopy Tours



Everyone Wins with Seasonal Sizzle


Although there can only be one winner at the GirlsGetaway.com contest, Asheville Seasonal Sizzle offers everyone a chance to experience holiday fun on the cheap. Enjoy free fireworks downtown on December 5, 12 and 19, spectacular shopping and a special Seasonal Sizzle Package from the Grove Park Inn!
November 30, 2009