Why You Need to Experience Navitat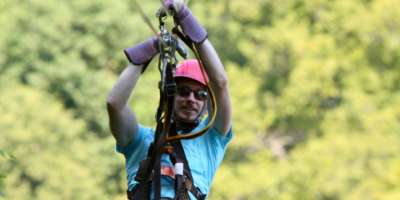 There are few thrill rides that deliver the same level of exhilaration as the Navitat Canopy Adventures. Perched high atop the mountains of Barnardsville, NC (about 20 minutes north of Asheville, and about 1,400 feet higher in elevation) this incredible zip line course is a tree house adventure come to life. This blogger decided to take the plunge this past weekend (despite my slight fear of heights) and it was so worth it.
The tour begins high atop Moody Cove with a few training zips. The knowledgeable guides walk you through the basics of riding, steering, and braking. They make sure everyone is comfortable before proceeding with the tour. Yes, there is an escape route at the very beginning, but it is well worth it to stay on course with the tour.
Once you are familiar with the basics you dive right into one of the most spectacular rides on the course. As you sail across from one mountain ridge to another the ground below you drops 2000 feet and what you see is miles of gorgeous mountain scenery looking out over the Craggy Gardens. At 936 feet, it is not the longest zip of the course, but it is absolutely one of the most amazing.
If you are apprehensive about heights rest assured that Navitat has incredible safety standards. You can't so much as climb a small ladder without being secured through a series of safety checks. The cables that you ride along can support 14,000 pounds which is more than the average weight of an adult elephant. Your guides are well trained in how to keep you secure through each step of the process so you can focus on enjoying yourself. If heights are a crippling fear perhaps you shouldn't do the course, but a healthy fear of heights should not stop you from this experience.
Your guides will also provide some really great information on the local flora and fauna. They can show you the itchy plants to avoid, tree leaves that you can use for cooking as well as other unique species native to the Appalachian mountains. There's also a good number of bird species to spot. Look around as they may be flying right next to you.
Navitat has also just launched a nighttime tour. This new addition provides more of a sensory experience. You zip through the dark over a canopy of trees and under a canopy of stars. It is recommended that you experience the course in the daytime first.
Check out
Navitat's website
for full details on how you can take part in this once in a lifetime experience. Check out this great video for an overview.
June 6, 2011