What's New in Fall 2021 in Asheville, NC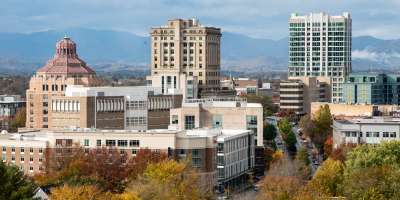 Surrounded by the highest mountain peaks east of the Mississippi River, Asheville is fortunate to have one of the most vivid displays of autumn foliage in the world. Significant variances in altitude and more than 100 species of deciduous trees provide this region with an unusually long leaf season.
Make plans now to see this year's big show and be sure to check out these exciting new adventures, tours and fall experiences while you're in town.
Explore Our Most Colorful Season with New, Iconic and Surprising Experiences
New Outdoor Adventures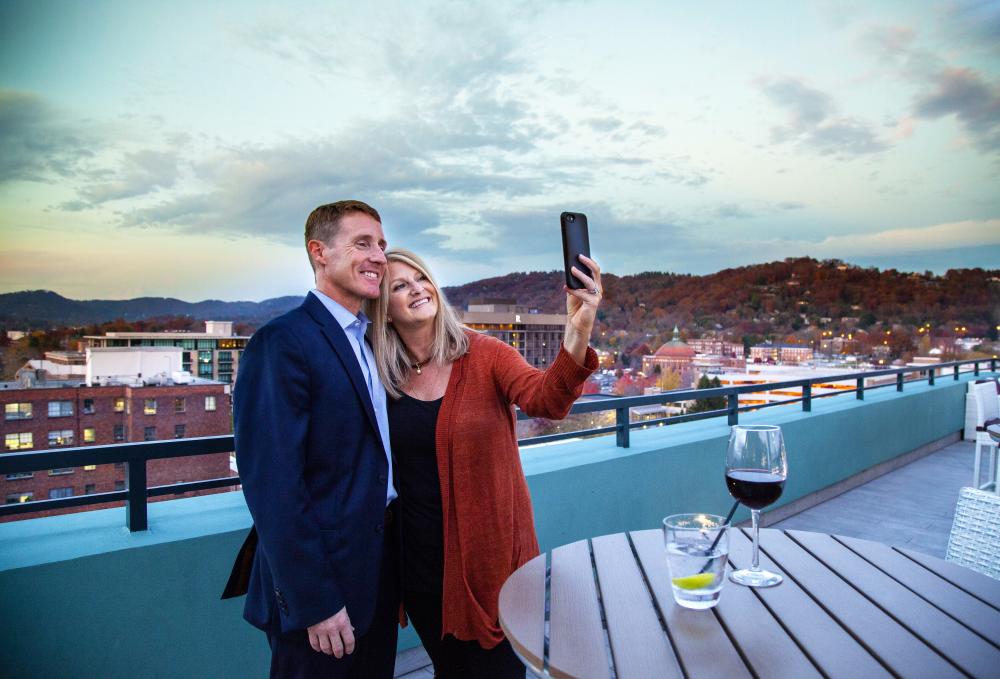 Mountain to City Views – Two local tour companies have joined forces to create the new Mountaintops to Rooftops Tour. This package combines a rejuvenating morning yoga practice on the mountain with Asheville Wellness Tours followed by an evening rooftop bar tour with Asheville Rooftop Bar Tours. In between these experiences there will be plenty of downtime to explore as you wish.
A Ride to Remember – Cruise the streets of Asheville and the Blue Ridge Parkway in a Polaris Slingshot available through Joyride Slingshot Rentals. You can see fall color from every angle with this open-air driving experience. Anyone who can drive a car, can drive these three-wheeled vehicles.
Hit the Trail Running – Prepare for your next trail run by visiting Mountain Running Company, a new retail market in Black Mountain featuring a robust offering of athletic sneakers, apparel, nutritional products and gear to keep individuals safe in the woods. They also offer information on area hiking and running routes/trails and maps.
Discover Art on Foot or Bike – The newly-opened Wilma Dykeman Greenway in Asheville's River Arts District (RAD) offers visitors an alternative way to experience this creative area (home to more than 230 artists) by foot, bike or flotation-device-of-choice via new river access points and a flat walkway path. Hop on an electric bike with Flying Bike Tours to take a new guided tour that includes studio stops, miles of pleasant greenways and pit stops to taste the best food and beverages found in the RAD.
Explore Local Art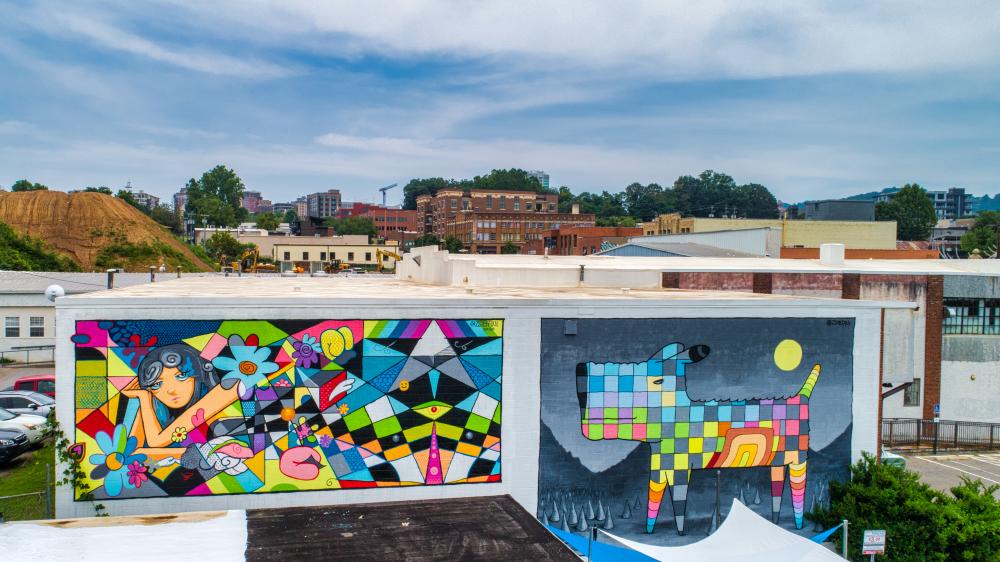 Stroll the Art of South Slope – Downtown Asheville's South Slope district is known as a hub for local breweries, restaurants, as well as newly-established cultural experiences. This fall, marvel at the animatronic wonder that is Mel Chin's Wake. This sculpture was previously installed in New York City's Times Square before coming to Asheville. While in the neighborhood, take a self-guided stroll of the new South Slope Mural Trail, a digital guide that encompasses more than 17 works of public art found placed across two miles.
Biltmore Van Gogh Alive – His masterworks have been displayed around the world for over a century…but never like this. Described as "an unforgettable multi-sensory experience," Van Gogh Alive is a powerful and vibrant symphony of light, color, sound and scent that compels you to leave the world behind and immerse yourself in Van Gogh's paintings. This enchanting experience takes place at Biltmore and runs from November 5, 2021 through March 5, 2022.
Discover Local Art Downtown – Located in "The Block," Asheville's historic Black business district, Noir Collective AVL is a boutique shop and art gallery showcasing the works of Black artists and entrepreneurs. The gallery, which is adjacent to the YMI Cultural Center, one of the nation's oldest Black cultural institutions, features original art, posters, clothing, jewelry, books, beauty and wellness products.
Blue Ridge Pride Tree – Stop by Pack Square Park in downtown Asheville to see the Cup of Me exhibit currently on display through September. Commissioned by Blue Ridge Pride, this pop-up exhibit was created to represent the tapestry of lived experiences. Cups dangle from strips of clothing – waiting to spill their knowledge and wisdom, and each strip of cloth represents former ways of thinking, habits and traumas which can be transformed into stories of hope and resilience.
The Sounds of Asheville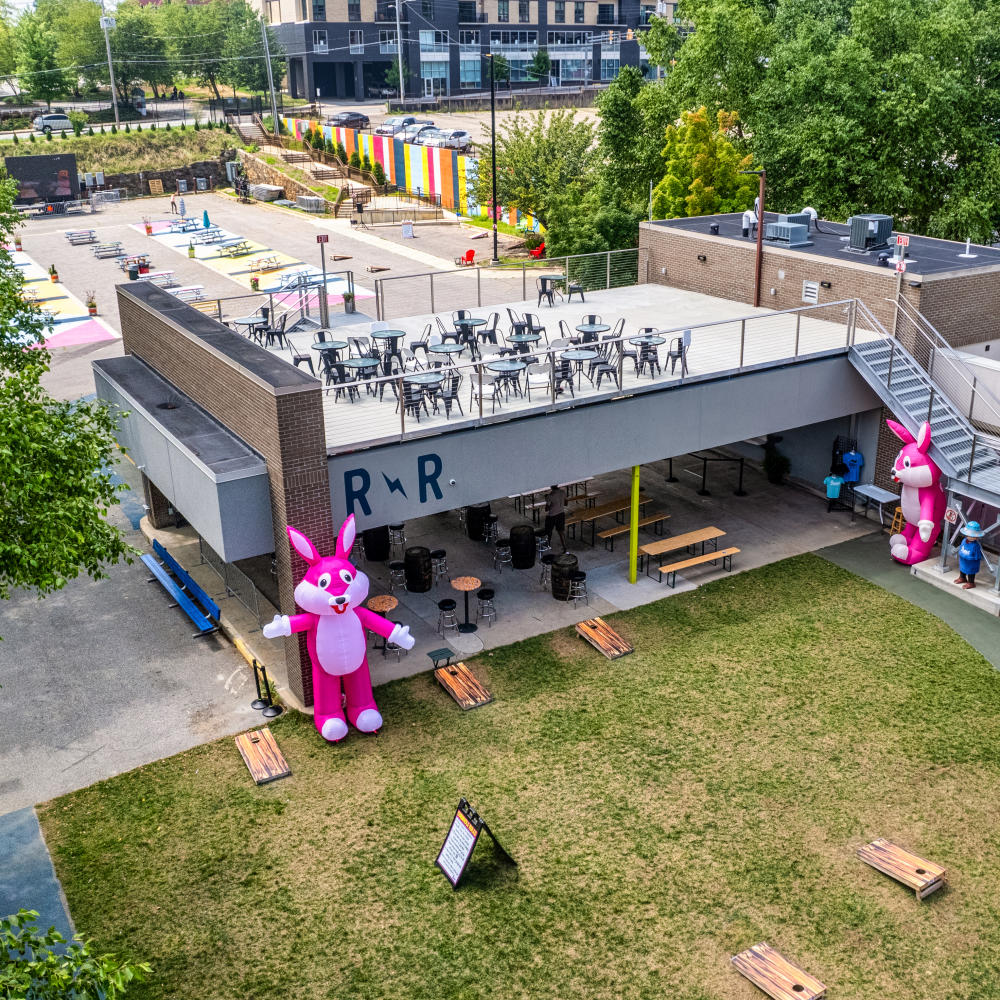 Fresh New Venue – Rabbit Rabbit in the South Slope district is a new outdoor event venue from Asheville Brewing Company and The Orange Peel. The space offers live music, movie screenings, DJ-spun dance parties, local beer and food trucks. Also be on the lookout for a new South Slope Pop-Up Exhibit at Rabbit Rabbit that chronicles the rich history of the neighborhood.
Hot off the Press – Two record production companies have set up shop in downtown Asheville. Citizen Vinyl offers an immersive music experience with a record-pressing plant, independent record store, music cafe and bar. American Vinyl Co. recently moved into the South Slope neighborhood. In addition to record production the new location is home to an audio museum and you can grab a drink at their new bar made out of 1930s radios.
Find Your Vibrational Balance - Clear your mind and relax in a peaceful atmospheric soundscape at Skinny Beats Sound Shop. This year, the shop will unveil a new "sound chamber" where visitors will experience silence and stillness with an array of deep frequency gongs, crystal bowls, hand pans and percussion.
New Bites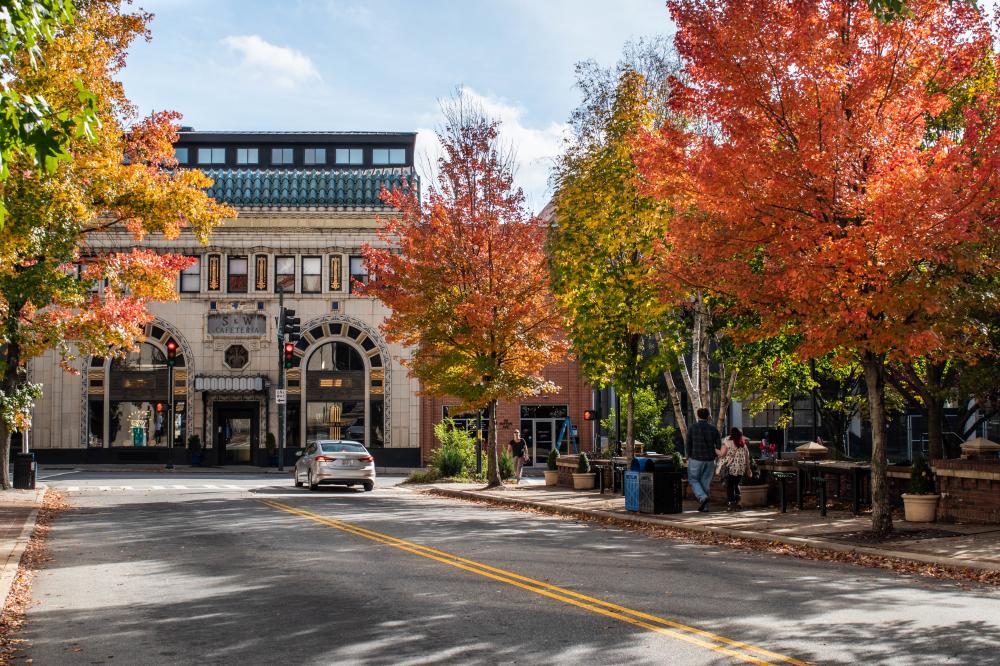 New Food Hall inside Iconic Landmark – A food hall with history is now open in the S&W Building, one of Asheville's iconic Art Deco masterpieces. Highland Brewing offers bars on both levels. The who's who list of vendors include: Bun Intended - Thai street food. Buxton Chicken Palace - Anchored around Buxton Hall and Chef Elliott Moss' highly regarded Fried Chicken Sandwich. Farm Dogs - Think Farm Burger but with local Hickory Nut Gap Farm hot dogs. The Hop Ice Cream Cafe - Locally beloved ice cream shop that includes ingredients from kale to CBD. Peace Love Tacos - A new sister restaurant to Asheville's Mountain Madre.
Restaurant Row at the Grove Arcade – Asheville's historic Grove Arcade – a retail, dining and architectural landmark – has recently welcomed a boon of new food concepts. New restaurants include: Asheville Proper - Steakhouse and live-fire cooking. Nani's Rotisserie Chicken - Grab-and-go concept from the team behind Chai Pani. Well-Bred Bakery and Café - The fourth Asheville-area location known for its mountain-sized eclairs. Baba Nahm - Middle Eastern street food. Summit Coffee Co. - A North Carolina original with two locations in Asheville. Bebette's New Orleans Coffee Shop - French-creole café. Coming soon to the Grove Arcade are Huli Sue's, a Texas-style barbecue restaurant and Wedge Brewing Company, known for its two iconic River Arts District locations, will open a taproom in the downtown landmark.
Best of the Rest - Asheville has a huge slate of new restaurants opening up all around town. Be among the first to dine at one of these eateries: Leo's House of Thirst – A wine bar in West Asheville offering up seasonally-inspired dishes. Baby Bull – An offshoot of The Bull & Beggar serving up their iconic burgers. Ukiah Japanese Smokehouse – Japanese street food meets American BBQ. Bush Farmhouse – A new restaurant in Black Mountain with furry farm friends and decadent South African cuisine fused with Appalachian flavors. Harvest Pizzeria - Neapolitan-style pizza + rooftop patio. Andaaz – Fine dining Indian restaurant in Biltmore Village. Strictly Wings – Local wing joint serving wings and southern sides. Coming soon: Howdy Homemade Ice Cream – Ice Cream Parlor with staff of special-needs workers. Neng. Jr.'s - Asheville's first Filipinx restaurant. Holeman and Finch – An Atlanta favorite comes to Asheville and is home to the H&F Burger.
Asheville's Beverage Culture Booms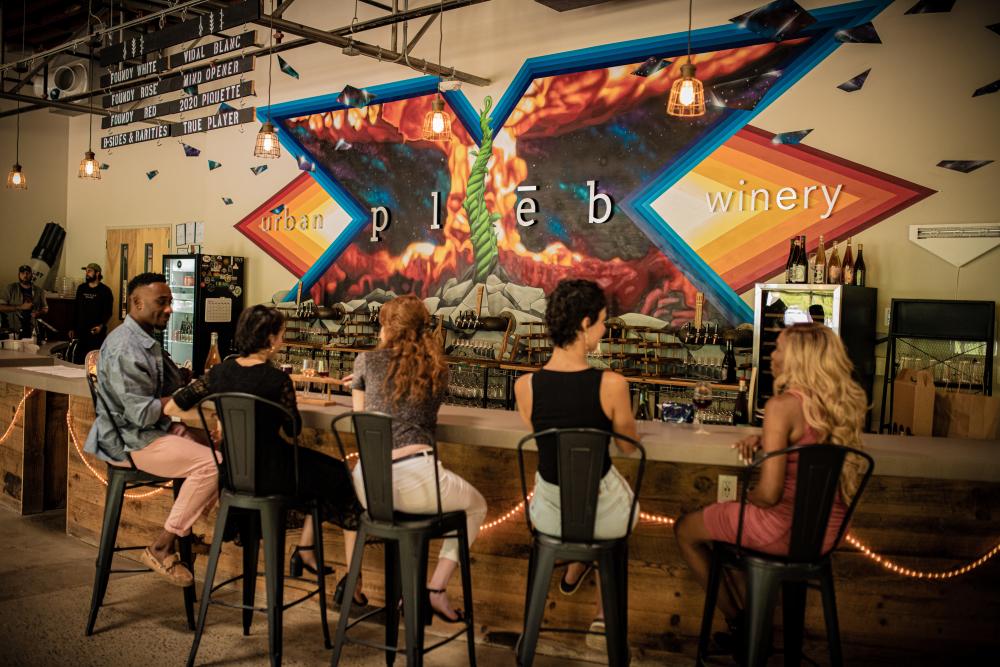 New Tasting Rooms Open in Downtown – Cultivated Cocktails, formerly H&H Distillery, has opened a second location in downtown Asheville with food, coffee and specialty breakfast cocktails like a White Russian-like cocktail garnished with Fruity Pebbles. Botanist & Barrel Tasting Bar + Bottle Shop, known for small-batch, bone-dry ciders has opened up shop in downtown Asheville. Noble Cider & Mead Downtown has reopened its taproom with a reinvented food menu.
Coming Soon - Plēb Urban Winery is expanding beyond its River Arts District location to open a new wine tap room in downtown Asheville. Bold Rock, a top-selling hard cider nationwide, is slated to open a new downtown Asheville location in September. They'll offer small-batch cider, and a locally-influenced food menu.
For the Love of Wine – Asheville's new NC Wine Academy offers educational events and wine tastings for those who want to learn about the intricacies of wine. Classes include subjects like '"The Art of Wine & Cheese Pairing" and "The Basics of Wine." An Asheville Champagne weekend event is planned for October 15 & 16, 2021.
New Places to Stay in Asheville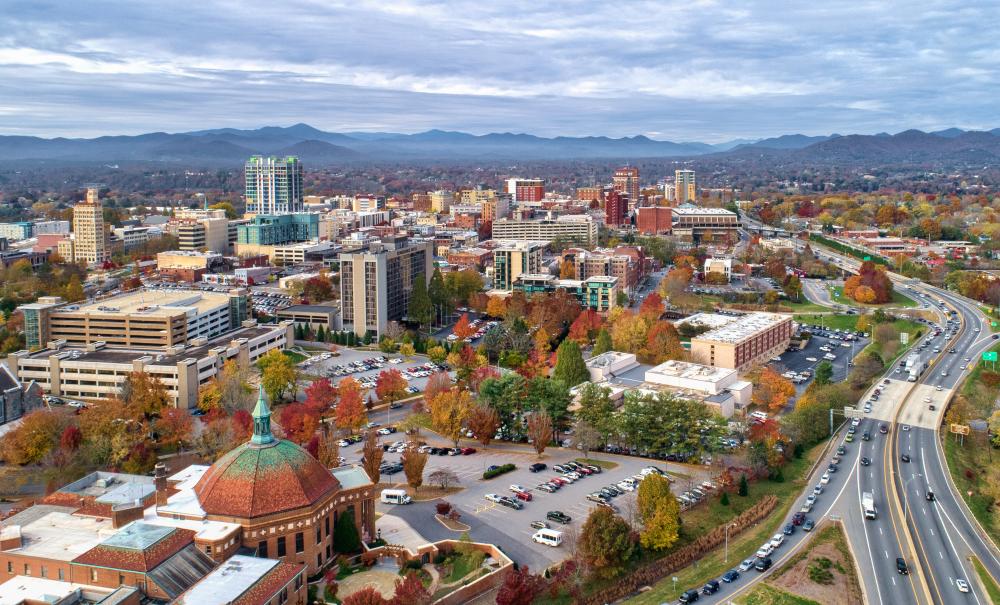 Perched at the base of Beaucatcher Mountain, Element Asheville Downtown offers unparalleled views of downtown and the western mountains. This marks the debut of the stylish and eco-focused hotel brand in North Carolina. Their spacious lodging comes with thoughtful amenities, including a kitchenette for extended-stay guests, a spa-like bathroom and luxurious bedding. Element also puts a priority on sustainability with eco-friendly features, including transportation to downtown through a loaner bicycle program, low-impact materials and comprehensive recycling.
If you're looking for accommodations that feel more like home, then consider a rental home or cabin. Carolina Morning Rentals offers accommodations located steps away from outdoor adventure or right in the heart of downtown Asheville. Their new "Mountain Discovery Pass" is an exclusive gift to introduce visitors to the many activities available in the city including Biltmore passes, access to an indoor trampoline park, and indoor ziplining.
Updated September 13, 2022