Asheville Events During the FEI World Equestrian Games Tryon 2018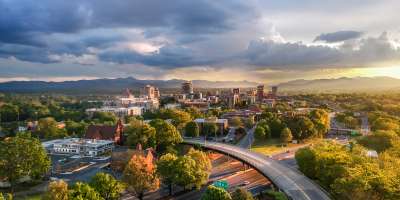 The FEI World Equestrian Games promise the world's best competition in equestrian sports -- with eight world championships to be decided at the Tryon International Equestrian Center (TIEC) from September 11-23, 2018.
During the two weeks of the Games, the Tryon International Equestrian Center (TIEC) will host the first-ever World Equine Expo. The tented exposition will offer free demonstrations as well as a music festival and film festival. The Expo ticket also will get you into the shops and restaurants at the TIEC.
When the sun goes down at night, look forward to the excitement of the very first WEQx games -- a showcase of equestrian sports such as Gladiator Polo!
The excitement surrounding the World Equestrian Games (WEG) extends to nearby Asheville, less than 50 miles from Tryon. Shuttles will be running from Tryon to Asheville throughout the games. In Asheville, there are so many things to do before, during and after the WEG. You'll want to make Asheville your home base.
Take a look at some the area's best events in September:
May 17-October 7, 2018
Biltmore Estate, Asheville, N.C.
See the monumental glass sculptures of Dale Chihuly on exhibition at Biltmore, America's largest private home. Chihuly's large glass installations have captivated viewers throughout the world. But this is the first-ever major garden installation of his work in North Carolina. The glass sculptures will be set throughout areas of Biltmore house, gardens and grounds. As part of the exhibition, Biltmore will host a first-ever evening experience, Chihuly Nights, in the gardens that will offer views of the sculptures after dark. Daytime admission to Chihuly at Biltmore is included in the general admission ticket price for Biltmore. Admission to see Chihuly Nights at Biltmore requires a separate ticket.
The exhibition is part of the "Summer of Glass" in Asheville. Through October, dozens of local glass artists, studios and galleries are hosting events and exhibits throughout the Asheville area. Enjoy glass blowing demonstrations, take hands-on workshops and experience special exhibitions. For a full listing of events check out our guide to Asheville Summer of Glass.
Brewgrass
September 15, 2018
Memorial Stadium, Asheville, N.C.  
Brewgrass is the longest-running beer festival in western North Carolina and is one of the most-anticipated local beer events of the year. Brewgrass combines the best of the bluegrass music scene with some of the tastiest locally-brewed beers. The festival showcases more than 120 different beers from dozens of regional breweries. Asheville is known as Beer City USA. There are nearly 40 breweries in the Asheville area alone.
NC Mountain State Fair
September 7-16, 2018
WNC Ag Center, Fletcher, N.C
The North Carolina Mountain State Fair marks its 25th anniversary in 2018 with a 10-day festival that offers rides, food, exhibits and more! The Festival celebrates the people, agriculture, art and tradition that give Western North Carolina its identity. While the highlight for many is the midway featuring fun rides, you'll also enjoy exhibits and competitions involving flowers, crafting, farming and quilting. There were also be music and dancing performances.
September 15, 2018
Chimney Rock State Park, Chimney Rock, N.C.
Celebrate the 10th anniversary of one of Chimney Rock State Park's most popular events! The event began as a chance to celebrate Hickory Nut Gorge as a premier bird watching location. Flock to the Rock has grown in size and popularity every year. Check out raptor flight shows, guided bird walks, live bird demonstrations and workshops. Chimney Rock State Park is less than 25 miles from the Tryon International Equestrian Center.
Art in Autumn
September 15, 2018
Main Street, Weaverville, N.C.
More than 114 juried artists and craftspeople showcase their work on Main Street in beautiful downtown Weaverville – a town just seven miles north of downtown Asheville. This is the 12th year of the festival. Meet the artists and get a head start on your holiday shopping. The festival is free to attend. While you're there, explore Weaverville's all-American downtown. Choose from quaint coffee shops, local restaurants and great galleries.
Carolina Craft Day
September 22, 2018
North Carolina Arboretum, Asheville, N.C.
Celebrate traditional Appalachian art and craft. The day will feature craft demonstrations and juried art and craft artists showcasing work in fiber, paper, clay, metal, and wood. The North Carolina Arboretum is home to beautifully-manicured gardens and peaceful walking trails.
Heritage Weekend
September 15-16, 2018, 12-4 p.m.
Folk Arts Center, Blue Ridge Parkway, Asheville, N.C.
Mountain music, dancing and craft highlight this free, annual festival hosted by the Southern Highland Craft Guild. Among the highlights are the World Gee haw Whimmy Diddle Competition. See contestants compete spinning this unique traditional mountain toy. You'll also have the opportunity to learn about mountain traditions through hands on workshops and demonstrations. After checking out the festival, take a ride on the Blue Ridge Parkway. Just a few miles away is Craggy Gardens, which offers stunning mountain vistas. Hike up to Craggy Pinnacle and feel on top of the world!
HempX
September 21-23, 2018
Franny's Farm, Leicester, N.C.
Innovative leaders in the Hemp industry will share their knowledge, products and passion during HempX at Franny's Farm in nearby Leicester. The festival will feature panels, vendors, food and music performances. Most of the programming during the event is free. While in Leicester, consider a stop at Addison Farms Vineyard, a family-owner winery with beautiful mountain views.
The following events take place in the days just before or just after the World Equestrian Games.
Asheville Goombay Festival
September 8, 2018
Pack Square Park, Asheville, N.C.
The Asheville Goombay Festival celebrates the people, music and culture of African and Caribbean heritage in Western North Carolina. Goombay lives up to its West African name meaning "rhythm or drum" with eclectic music, vibrant sights and exotic foods reflecting a variety of cultures and traditions.
Asheville Film Festival
September 8, 2018
Asheville-Buncombe Technical College, Asheville, N.C.
Be a part of this celebration of the art of great film making. You'll screen dozens of films and find out who wins top honors. In 2017, there were nearly 50 films entered in the festival.
Top photo by Jared Kay. Beer photo by David Simchock. Chimney Rock photo by Jared Kay. Weaverville Art photo by Jason Tarr. Goombay photo courtesy of festival organizers.