What You Can't Miss in Asheville in 2019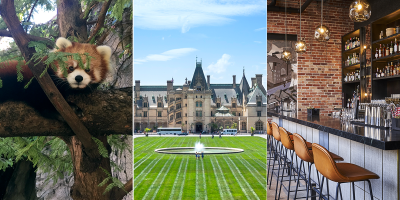 In 2019, you'll discover cultural experiences expanding in every direction across Asheville. From new hotels celebrating Asheville's history and architecture to a chef-led culinary event celebrating the food traditions of Appalachia, there's so much to explore in the New Year! Experience a beverage boom beyond beer, hikes with a new yoga twist, new adventures in Biltmore's "backyard," and fresh ways to tap into Asheville's art, music and theater scenes. 
Here's what you can't miss when you travel to Asheville, North Carolina in 2019.
New Places to Stay

Foundry Hotel Sign courtesy of The Foundry Hotel, a Curio Collection by Hilton property, Hotel Arras courtesy of McKibbon Hospitality, Benne on Eagle by Johnny Autry.
A new hotel brings life to some of Asheville's oldest buildings: The Asheville Foundry Hotel, part of Hilton's Curio Collection, recently opened in the city's historical African-American business district known as "The Block." The Eagle Street buildings were also once home to the foundry that forged the steel for Biltmore Estate and many other iconic Asheville buildings. The preservation-focused, luxury boutique hotel offers upscale amenities including the Tesla Model X house car, available to take guests on chauffeured brewery visits, drives along the Blue Ridge Parkway and day-trips to Biltmore.
Hotel Arras Brings Two Restaurants: Asheville's famed Art Deco skyline will get a new icon and four-star luxury property when Hotel Arras opens this spring. In addition to a completely new Art Deco façade for Asheville's tallest building, the 128-room hotel will offer an extensive food focus with two restaurants by local chef Peter Pollay.

Bargello will be a Mediterranean-inspired restaurant with hand-made pastas, oven-fired pizzas and large-format meats meant to be shared like roasted rack of lamb and heritage pork shoulder. The second space, District 42, will be a more casual spot with outdoor seating, small bites and hand-crafted cocktails.
New Places to Dine

Button & Co. Bagels by Evan Sung, S&W Building by Jason Tarr, Henrietta's by Henrietta's Poultry Shoppe.
Appalachian-Inspired Bagels: Coming off the honor of having Food & Wine name Cúrate as one of the "40 Most Important Restaurants of the Past 40 Years," Chef Katie Button has opened Button & Co. Bagels, an Appalachian-inspired bagel and sandwich shop.
Food Scene Godfather: Asheville's first James Beard semifinalist and owner of Table restaurant, Chef Jacob Sessoms will soon reopen his beloved Montford neighborhood diner (formerly Tod's Tasties) under the new name, All Day Darling, with a healthier concept and a few old favorites.
City-Themed Fried Chicken: Henrietta's Poultry Shoppe, a new venture from the owners of the Asheville-original White Duck Taco, offers city-themed chicken sandwiches like Nashville hot chicken, an Asheville sandwich with local honey and apple slaw and The Charleston with country ham, fried egg and pimento cheese.
Lumberjack Cuisine: Dan Silo, well-known Asheville chef, honors memories from his family's Adirondack cabin with Sawhorse, a new restaurant in nearby Leicester set to serve house-made cheese curds, preserved meat and boiled egg and salt potatoes.
Chef-Led Signature Culinary Event Celebrates Appalachian Makers: James Beard Chefs Katie Button, John Fleer and Meherwan Irani, along with Asheville culinary and artisan scene titans are organizing Chow Chow: An Asheville Culinary Event (Sept. 12-15). The new festival, named after the traditional Appalachian relish, includes grand tasting events, chef demos and hands-on experiences connecting participants to Asheville's creative approach to preparing and sharing meals.
New Food Hall in Architectural Gem: Asheville's historic S&W Cafeteria building reopens this year as a food hall with local fare and a taproom. Already open, jazz club and craft-cocktail bar Save Me The Waltz offers a Chinese-food pop-up, Little Devil's Club. Chef Sarah Cousler also runs the food program at S&W's The Times bar. Broth and noodle shop The Brothel joins the mix soon under Chef Camp Boswell, formerly of the late Asheville-favorite The Junction.
New Beer Experiences in Beer City USA
With another round of brewery openings, there will be nearly 50 breweries in the Asheville area. 
Forestry Camp Brewery Celebrates Local Makers: Set in the buildings that once housed young forestry workers of the Civilian Conservation Corps, Burial Beer Co.'s Forestry Camp Restaurant and Bar will open around New Years, offering beer, wine and coffee and highlighting local makers, from bakers to artists to musicians. James Beard semifinalist Brian Canipelli, chef and owner of Cucina 24, leads the food program.
BBQ Brews: 12 Bones Smokehouse will ring in the New Year with a new restaurant and brewery in South Asheville, serving up barbecue-friendly brews and offering ample seating for the ultra-popular, President Obama-approved restaurant.
Wood-Fired Beer: Recently opened brewery Brouwerïj Cursus Kĕmē honors historic brewing traditions with custom-made equipment including a wooden mash tun and a wood-fired brew kettle. The unusual name pulls from multiple sources – Flemish, Latin and the historic mysteries related to brewing – while the beer garden and brewery was originally a tractor-trailer repair shop.
Two More Breweries Coming in 2019: Soon to open are DSSØLVR, from two former Burial Beer Co. brewers, and CANarchy Collaboratory, run by a group of independent brewers headlined by Oskar Blues and focusing on cutting-edge flavors and brewing methods. CANarchy will also have a restaurant and space for artists and musicians.
Beer Bus: White Duck Taco Shop's new riverfront restaurant opens its beer bus this spring with draft and canned beers, adult slushies, wine and cocktails. The property will also soon offer a beach along the French Broad River, perfect for a tubing pit stop.
New Experiences in Asheville Beverage Culture

Urban Orchard by Stephan Pruitt Photography, The Chemist Gin courtesy of The Chemist.
Restaurant Honors America's Oldest Alcoholic Beverage: Chef Gavin Baker, formerly at a Michelin-starred British restaurant, joins his brother and sister-in-law, Noble Cider co-owners Trevor and Joanna Baker, for Noble's new bar and modern-American restaurant in a historic downtown building. The concept will feature craft cocktails highlighting locally made cider, a charcoal oven that utilizes wood from the orchard and a menu featuring local beef fed apple mash from the cider-making process.
Saké in the South Slope: Recently celebrating five years, Ben's Tune-Up is focusing on its special American saké, by hiring brewer Patrick Shearer, formerly of the famed Saké One in Portland, Ore., and opening a saké tasting room.
Asheville's First All-Cider Bar Expands to Second Location: Local cider powerhouse Urban Orchard, with more than 80 cider styles in its first five years of operation, has expanded to a second location. The new space doubled production overnight, features 30 taps and serves up an Old Europe vibe. Try a sip from their chili series, lagered series or their line of fruit and herb ciders.
Spirit-Beer: Part of Asheville's recent craft-spirit boom, The Chemist is a South Slope gin distillery with a tasting room outfitted as a Prohibition-era apothecary. Check out the distillery's bierbrand collaboration with Burial Beer Co., a relatively new concept in the United States, with German origins. The spirit-beer is unique in that the beer used is fully finished, it is made with corn in the mash bill and aged in former bourbon barrels. An adjoining cocktail bar, Antidote, offers pre-Prohibition cocktails, new drink classics and a small-plate menu.
Expanded Cultural Opportunities

East Fork Factory courtesy of East Fork, Art Museum rendering courtesy of Asheville Art Museum, Vanderbilt House Party courtesy of The Biltmore Company.
New Biltmore Exhibition: Biltmore guests will experience a never-before-seen perspective of the house through "A Vanderbilt House Party: The Gilded Age" costume exhibition, Feb. 9 – May 27. Oscar-winning costume designer John Bright has created reproductions of clothing worn by the Vanderbilts, their friends, family and employees. A new audio-guided tour complements the exhibition with narration based on those who lived and worked in Biltmore House.
A New Spin on Pottery: East Fork, the pottery studio founded near Asheville in 2009 by Alex Matisse (great-grandson of French painter Henri Matisse) has opened a new ceramics manufacturing facility in Biltmore Village that will increase their production capacity by 800 percent by 2020. The new facility bridges the gap between commerce and community engagement, where the public will be invited to interact with East Fork's process, people and culture through tours, community events and classes. 
A Work of Art: Asheville Art Museum reopens this spring with a new state-of-the-art building that features education facilities, an art library, a lecture and performance space, a new ArtPLAYce for families and children and the addition of a rooftop sculpture terrace and cafe. The opening exhibition "Appalachia Now!" is a survey of contemporary art in Southern Appalachia, highlighting 50 emerging artists from the region.
Theater Transformed: Diana Wortham Theatre has been transformed into The Wortham Center offering new experiences, including two new theaters for more intimate performances and a totally revamped entrance and courtyard. 
Museum Opens New Space: A museum illuminating the legend of iconoclastic Black Mountain College (1933-1957) has moved to the heart of downtown Asheville. Black Mountain College Museum + Arts Center reopened along the greenery and Art Deco architecture of Pack Square Park.
Festival Finds a Home: One of Asheville's most beloved festivals gets a bricks and mortar location downtown when LEAF Global Arts Center opens late 2019, with educational experiences for guests rooted in music, art, community and culture via a mini-theater and global immersion room using virtual reality, unique musical instruments and a small stage for performances and interactive artist workstations.
Crafting an Expansion: The Center for Craft, located in downtown Asheville, expands this year with The National Craft Innovation Hub, including new galleries, lecture space, classrooms and a co-working space.
New Tours in Asheville
Sit, Stay and Explore: The new Dog City Tour will start at Asheville's Dog Welcome Center (the first of its kind in the country) and make stops at local shops and breweries catering to pups. There will also be a special dining experience for people and their canine companions.
Literary Experience: The new Asheville LIT Tour is a walking tour focusing on locations with literary themes and authors with ties to downtown Asheville like F. Scott and Zelda Fitzgerald, O. Henry, Carl Sandburg and Thomas Wolfe. Tours are filled with little-known anecdotes and readings from many of the authors' works.
Hemp Tours: As the hemp scene in Asheville grows with hemp-infused honey (Asheville Bee Charmer), hemp tea (Asheville Tea Company) and hemp ice cream (The Hop), Franny's Farm in nearby Leicester is now offering a Hemp Tour that includes a private tour of the farm's "outdoor" hemp production and experimental hemp garden. Frances "Franny" Tacy is the first female farmer to plant hemp in North Carolina.
Green Book Release: Hood Huggers International, offering interactive tours focusing on Asheville's African-American community's resilient history and future, releases the third edition of Asheville's "Green Book" this year, focusing on African-American owned businesses, including retail, food and entertainment. Recently highlighted in the "Green Book" film with Mahershala Ali and Viggo Mortensen, "The Negro Motorist Green Book" was a mid-20th century guidebook for African-American road trippers.
Sports and Outdoors Highlights

Whitewater SUP by Matthew Karsten, Fed Cup courtesy of US Tennis Association.
Tennis Stars Return: The Fed Cup Tennis Tournament, that brought Serena and Venus Williams to Asheville in 2018, returns in 2019 with a First Round tie competition between the USA and Australia. Fed Cup, the world's largest annual international team competition in women's sport, brings a best-of-five match series to Asheville Feb. 9-10. Team members will be announced several weeks before. More info.
New Outdoor Adventures at Biltmore: Ride the remote trails and roads of America's Largest Home via electric recumbent tricycle on the Outrider Tour, experience the thrill of a raptor flying to your hand with a new falconry offering or fly fish from a kayak.
Whitewater SUP: New for the 2019 season, Wai Mauna Asheville SUP Tours bring Asheville's newest outdoor sports trend to visitors with Intro to Whitewater SUP classes, a two-day course (six hours total) that teaches skills like reading water, catching eddies and river surfing. Also new for 2019, Wai Mauna is set to offer half-day adventure trips to surrounding mountain communities like Lake Lure and Saluda.
Yoga Hikes: Leading yoga, meditation and hiking experiences in the mountains surrounding Asheville, Namaste in Nature offers public and private tours for those wanting a deeper connection with the nature around them. All guided hikes include a waterfall or mountain summit view and meditation and yoga instruction for all skill levels.
New Family-Friendly Fun

Red Panda courtesy of Lincoln Park Zoo, French Broad Chocolate Factory by Nate Webster.
Triple the Chocolate: Just opened, the new French Broad Chocolate Factory in the RAMP (River Arts Makers Place) Studios offers daily tours, a chocolate museum and a view of the sweet bean-to-bar treats being made. With this new location – also home to artists, Ginger's Revenge (alcoholic ginger beer brewery) and Spicewalla (spice factory from Chef Meherwan Irani) – the beloved chocolatiers triple their production.
Prehistoric Appalachian Pandas: The Western North Carolina Nature Center's Prehistoric Appalachia Project comes to life with a new red panda exhibit. An ancient ancestor of the endangered animal, the Bristol's Panda, was once prevalent in the region. The male and female pair go on display Feb. 14. Also check out the new entrance at the Nature Center, with new exhibits and an events plaza.
Serafina and the Seven Stars: The fourth installment of local author Robert Beatty's best-selling mystery-thriller series hits bookstores this summer. "Serafina and the Seven Stars," focusing on the young fictional girl who protects Biltmore, has Serafina facing a dark and dangerous mystery to save her friend, Braeden Vanderbilt.
New Music Experiences in Asheville
Hands-on Electronica: Opening downtown, the Moogseum will celebrate the life of Bob Moog, inventor of the Moog Synthesizer that revolutionized almost every genre of music. The Moogseum opens May 23, 2019, which would have been Bob Moog's 85th birthday. There will be bays of synthesizers, theremins and effect pedals that allow people to explore the science behind electronic music, a Young Inventors Lab where children can create their own circuit board, exhibit space and an archival center of rare documents and photos.
New Album Unites Symphony + Grammy Award-winning Bluegrass: The Grammy Award-winning Steep Canyon Rangers reimagine their catalog with the Asheville Symphony and music scene giants. The new album, recorded at Asheville's Echo Mountain Studios, includes arrangements by Jonathan Sacks, who has worked on many Disney films, and orchestra conductor Michael Bearden, who is currently the music director for Lady Gaga and has worked with Michael Jackson and Madonna.
Green Book Site Gets New Life: A probable Asheville Green Book site, the Southside neighborhood's landmark Rabbit's Motel was opened in the 1940s and hosted legendary black celebrities like Duke Ellington, Count Basie and Richard Pryor during segregation. Local chef Clarence Robinson plans to open a soul food restaurant at the space, also home to the forthcoming SoundSpace project (Asheville's first full-fledged music practice facility) by Claude Coleman Jr. of the band Ween.
Photo credit: Top photo collage -- Red Panda courtesy of Lincoln Park Zoo, Biltmore by Matthew Karsten, Benne on Eagle by Johnny Autry.