West Asheville Welcomes The Barleycorn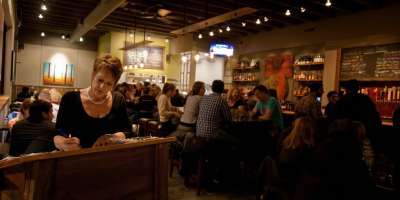 New pub puts global twist on fare + RECIPE
The Barleycorn features a comfortable, neighborhood atmosphere.
Visitors to West Asheville, across the French Broad River from downtown, have likely noticed that there's a Renaissance of sorts happening along Haywood Road, the main drag for this popular neighborhood.
Along with
new shops and bars
, there has been a burst of new restaurants. One of the new eateries,
The Barleycorn
, seeks to be a social neighborhood joint with global influences.
The concept is modeled after English-style gastropubs, and the menu is inspired by bold spices from India, sauces from Argentina, classic dishes from France and flavors from Mexico. Chef Greg Campbell also cooks up "twisted traditions," fresh takes on bangers and mash and welsh rarebit.
Award-winning buffalo chimichurri hot wings.
And although
The Barleycorn
has only been open a few short months, the pub is already making waves in the Asheville culinary scene. The restaurant won the recent Asheville Wing War competition with their signature buffalo chimichurri hot wings. And bartender Juniper Cooper also won the title of Best Mixologist at Asheville Bar Wars this spring.
RECIPE: Pub Dip
Try out this smoky, cheesy dip with a hint of heat. It's the perfect appetizer to add to a backyard cookout menu, or for a night gathered around some World Cup soccer.
8 oz. bacon
1/2 c. mayonnaise
12 oz. sharp cheddar cheese, shredded
2 oz. onion, grated
1 large egg
1/4 tsp. dry mustard
1/2 tsp. Worcestershire sauce
1 tsp. Tabasco sauce
1 tsp. salt
1/2 tsp. ground pepper
Mince bacon and cook over moderate heat until rendered and crispy; drain on a paper towel.
In mixer or processor combine the remaining ingredients and blend until well combined. Add the cooked bacon and combine thoroughly.
Put Pub Dip into heat proof shallow serving bowl and place into 400-degree oven for 10-15 minutes or until nicely brown and bubbly. Serve with warm Soft Pretzels.
Discover more West Asheville eateries
July 3, 2014