Wall St. Journal Dubs Biltmore "King of Castles"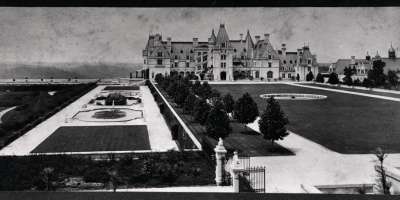 Biltmore photo - from the archives
The famed Biltmore was featured in a great story by the Wall Street Journal this week. Going beyond the normal travel editorial, it highlights the rich history behind Asheville's historic mansion. Built built back in the 1890's, the Biltmore continues to be one of most interesting and most visited attractions in the Blue Ridge Mountains. Dubbing Biltmore as the King of Castles the WSJ manages to tell a story not often heard. Here's an excerpt from the WSJ piece...
From the first,improbable view of Biltmore, looming over a vast lawn and framed by the Blue Ridge Mountains, we know we are in the realm of fantasy.
The 250-room mansion, America's largest privately owned dwelling, immediately evokes the Loire Valley châteaux on which it was modeled. On closer inspection, the eclecticism and asymmetry of Richard Morris Hunt's design come into focus. In keeping with the era's revivalist predilections, the limestone facade incorporates Gothic spires and gargoyles, Romanesque arches, a Victorian conservatory and a freestanding Renaissance stairway.
Unveiled on Christmas Eve 1895, after six years of construction, Biltmore Estate today remains imaginatively compelling. Among the domestic castles of the American Gilded Age, it reigns supreme, outshining the mansions of Newport and the estates of South Florida. Even in these economically challenging times, Biltmore retains its power to delight, enticing us back to an aesthetically alluring past whose inegalitarian edges have been sanded smooth by time.
December 5, 2011