Vote for Sunny Point on Good Morning America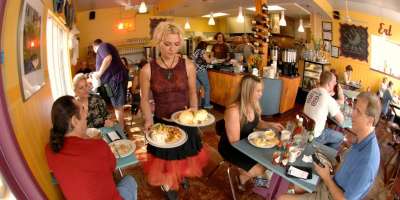 Voting only lasts one day, so we have only one chance to win the national title. Vote on Good Morning America's web site on Saturday until 8 p.m. EST. Look for a link that says "Vote for the Best Breakfast."
Sunny Point Café's Huevos Rancheros caught the morning show's attention. The dish features savory black bean cakes served with Snow Creek chorizo sausage, feta cheese and roasted tomatillo salsa. Herb-tossed redskin spuds topped with two free-range eggs, cilantro crema and crispy tortilla strips round out the dish.
Winner Announced on Sunday
Good Morning America will announce the winner of the taste contest on Sunday, May 16. The winner is determined by fan votes (that's you) and Good Morning America's four anchors.
May 14, 2010