Vote and Win: Martha Stewart Poll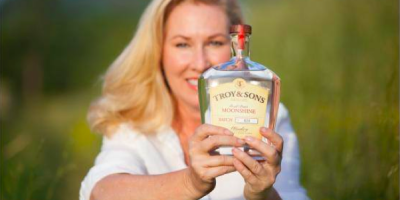 New Online Poll: Vote for Your Favorite American-Made Product.
A new poll from MarthaStewart.com places American made companies and products in the spotlight this month, and four Asheville area taste-makers are in the running for the $10,000 grand prize. Better yet, your vote also enters you into a sweepstakes for American Express gift cards and autographed books by Martha. 
Asheville Made
Cast your votes for these great Asheville businesses.
Troy and Sons: A maker of fine craft moonshine, Troy uses heirloom white corn and pure Appalachian spring water to create an incredibly smooth white whiskey. Vote for Troy & Sons. (Craft category)
French Broad Chocolates: The Rattigans create incredible truffles, caramels & bean-to-bar chocolate, using wholesome ingredients that are sourced with care. Vote for French Broad Chocolate Lounge. (Food Category)
SHELTER: The Maddox family specializes in leather and canvas handbags, home design/build, and more. Vote for SHELTER. (Design Category)
Black Mountain Made
Just up the road from Asheville is an artist who also would love your votes.
Imagine That! Creations: Using real leaves, John Wayne Jackson sculpts the form using a proprietary medium, OmegaStone, creating an organic "canvas" resulting in a contemporary fossil. Vote for Imagine That! Creations. (Craft category)
VOTING
The poll is broken out into two voting rounds and you can vote up to 6 times per day.
Round One - Categories
Vote for your favorite product in six different categories. A winner will be selected from each one. Voting lasts from now through September 22, 2013. Winners will be announced September 23.
Round Two - Grand Prize Winner
Each of the top category winners will be in a final round of voting for the $10,000. The voting period runs from September 23-30 with the winner being announced on October 1.
September 9, 2013