Two Great Events Upcoming at the NC Arboretum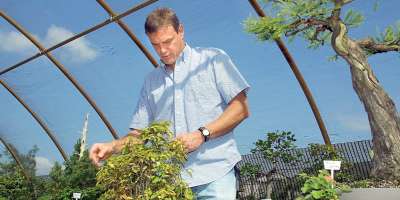 The NC Arboretum is hosting two great events in the coming weeks:


Carolina Bonsai Expo
The NC Arboretum Gets Small During the 15th Carolina Bonsai Expo
The city of Asheville, NC, transforms into the bonsai capital of the Southeast the second weekend every October when The NC Arboretum hosts the Carolina Bonsai Expo. Visitors to the show will find an abundance of miniature trees and landscapes, creatively displayed at the Arboretum's Education Center.

This two-day horticultural extravaganza on
October 9 and 10
, situated in the midst of the colorful mountains during fall foliage season, features a juried display of bonsai by clubs from across a six-state region, a renowned bonsai marketplace, workshops, free demonstrations, and a popular Ikebana exhibit.

The expo is also a perfect occasion to explore the Arboretum's Bonsai Exhibition Garden, which offers a world-class display that innovatively establishes bonsai in the context of the Southern Appalachians.

Now in its 15th successful year, the Carolina Bonsai Expo includes an expanded bonsai and ikebana exhibit and a live auction of bonsai plants and related materials.
Learn more here...
Kaleidoscope of Color Brightens The North Carolina
Arboretum During the National Annual Chrysanthemum Show
"Mountains of Mums" Features Exceptional Blooms from Nearly 200 National Exhibitors

The North Carolina Arboretum is ablaze with color in fall, and the North Carolina Chrysanthemum Society's Annual Show, held
October 16 and 17
, is a perfect occasion to celebrate the fall foliage season.

This year will be very special, as the local chapter hosts the National Chrysanthemum Society Annual Show. Some 200 exhibitors from all over the country are expected to exhibit exceptional blooms and displays in addition to the normal excellent presentation made by the local chapter. Expect to see tree and cascade exhibits as well as displays of chrysanthemums, bonsai, educational exhibits, and a special section on Photography.

The popular annual show showcases hundreds of chrysanthemum blooms in vibrant and varied colors. The exhibits will be judged by National Standards by expert Accredited National Chrysanthemum judges from all over the United States and Canada, by strict NCS standards and highlights the exceptional variety in size, shape and color of these popular fall flowers.
October 6, 2010