Top Five Picks for Your Asheville Weekend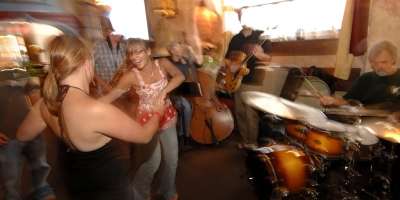 In true Asheville fashion there is more to do than time to do it. This weekend proves that to be the case with events stretching far and wide across the mountains. Here are five top picks for you to consider while planning out your weekend itinerary.
Brews, Blues and Cruise

- This first annual event will be held outdoors at Pisgah Brewing Company in Black Mountain. The event kicks off around 11 AM with a car show (hosted by the Blue Ridge Mustang Club of Asheville) and followed by a Blues show at 6:30 PM. Proceeds benefit the Asheville Humane Society and Care Partners Hospice. Find full concert lineup and tickets here.
River Arts District Studio Stroll

- The Bi-Annual Studio Stroll is your chance to tour the studios, meet with the artists and purchase artwork. Within just a few blocks you will find an eclectic mix of creative artists - from traditional to cutting-edge. The event runs from June 10 - 12 with multiple events planned throughout.
The Fist Fam CD release party

-

Fans of hip hop will have something to look forward to this weekend as Fist Fam headlines at Emerald Lounge this Friday, June 10. Take 2 parts Carolina moonshine, 1 part San Francisco liquid acid, 3 parts 4-track rap, and a pinch of 60s punk and you have the Fist Fam's new record 'Posted', a far cry from what any other hip-hop act is doing this day and age. Look for special appearances from Foul Mouth Jerk, TopR, The Ville Boys, Smidi, & DJ Football.
Feathers & Fangs: The Vampyre's Ball - Featuring a fashion show highlighting costumes & dancers from Terpsicorps' "Vampyre", this event will entice only the most fashionable of Asheville's undead elite. Help us prove to the runways of Paris and London that Asheville's Gothic fashion scene is something you can really sink your teeth into! It all takes place at Scandals in the Grove House Entertainment Complex on June 11 at 7:30 PM. Tickets available here. 
Survival Skills Workshop - This 3-part Survival Skills Workshop kicks off this Saturday, June 11 at Chimney Rock Park with "Emergency Nutrition/Edible Plants." Join herbalist Joel Wind Fox Boyle for an informative session discussing the importance of and how to obtain all the nutrition your body needs to survive either long or short term if lost in the woods.
June 9, 2011