Top 5 Places to Shop in Asheville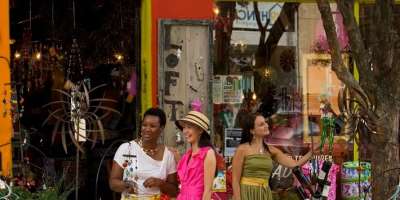 Plus: Shopping District Cheat Sheet
In a recent
online poll
, Asheville fans named their favorite places to go shopping. You nominated more than 40 favorite shops and boutiques, and here are the top five, in descending order of popularity:
5. Tops for Shoes
A downtown icon for more than 50 years, people love
Tops
 for their great service, wide variety of sizes and widths, and huge selection of casual and fashion footwear for men, women and children.
4. Woolworth Walk
There are many great things about downtown's 
Woolworth Walk
. One is that you can browse the work of more than 160 different local artists in everything from glass to ceramics to photography to vintage clothing. The second is the retro lunch counter, complete with soda fountain. Art with a milkshake? Yes, please.
3. Mast General Store
Stepping into
Mast General Store
 in downtown Asheville is like stepping back in time. Stocked with gear for the home or outdoors, toys for the kids and barrels (literally) of candy, there's certainly something for everyone here.
2. Malaprop's Bookstore & Cafe
Always a popular downtown spot,
Malaprop's
has been the go-to shop to grab a cup of coffee, browse among the shelves, find a unique gift or hear a favorite author for the past 32 years. Don't miss their extensive North Carolina section filled with local writers of all sorts.
1. Screen Door
Located just outside of Biltmore Village and not far from a host of other popular antique shops,
Screen Door
offers more than 25,000 square feet of home and garden goods, curated by more than 100 different vendors. With an emphasis on vintage and antique, there are always treasure to be found. And don't miss the bookstore!
The Treasure Map: Guide to Asheville Shopping
With so many great shopping options from craft to vintage, fine art to fashion, it can be tough to choose where to go. Here's a quick at-a-glance list of some of Asheville's top shopping districts.