Three Foodtopians Tapped as Award Semifinalists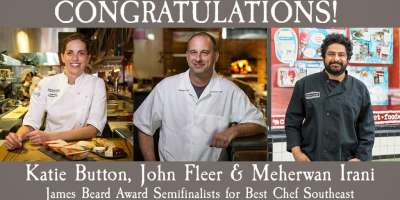 Beard Foundation Names First Round Picks
If the 2015 list of
James Beard Award Semifinalists for Best Chef Southeast
is any indication, the
Foodtopian Society
of Asheville, N.C. is a pretty delicious place to be.
Local chefs Katie Button, John Fleer and Meherwan Irani claimed three of the coveted slots on the list, which was culled from more than 35,000 submitted suggestions and selected by a panel of culinary critics, writers and editors. None of the three is a stranger to the spotlight of the James Beard Awards, largely considered to be the Oscars of the food world and celebrating its 25th anniversary this year.
Chef Katie Button
, at the helm of both
Curate
 tapas bar and sleek speakeasy
Nightbell
, has garnered three semifinalist mentions in the category of Rising Star Chef, and last year was named as an official nominee or finalist for the category.
This past year was a busy one for Button
, marked by international television fame and plenty of press coverage.
Chef John Fleer
of new downtown favorite
Rhubarb
 has been recognized by the Beard Foundation as one of the Rising Stars of the 21st Century and was a three-time finalist for the Best Chef Southeast award during his time at Tennessee's Blackberry Farm. In 2014, Rhubarb added a
weekend brunch
and a family-style Sunday Supper to the menu.
Chef Meherwan Irani
, who leads the teams at
Chai Pani
and
MG Road
, was named a Best Chef Southeast semifinalist in 2014. More recently, he has teamed up with fellow James Beard-semifinalist Elliott Moss both for the recurring "restaurant takeover" The Thunderbird, and for the forthcoming Buxton Hall barbecue restaurant.
Congratulations to Asheville's three James Beard Award semifinalists! Keep up the great (and tasty) work! Award finalists will be announced on March 24.
Learn more about Asheville's Foodtopian Society.
February 18, 2015