Things to Do in Asheville This Weekend — September 6-8, 2019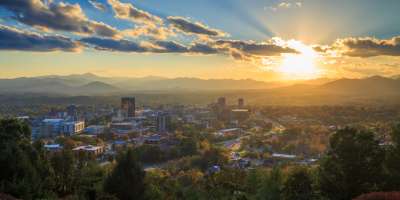 Summer may be winding down, but Asheville is still in full swing! Enjoy all of the culture, comedy, live music, and family fun happening across the mountains during an exciting weekend that is jam-packed with events.
Planning a trip to Asheville is easy. Utilize our easy-to-use search to check room availability and rates at Asheville area accommodations, and be sure to check out the special deals and packages. And, you can check events for any date by using our events calendar search.
Top Picks for the Weekend
Friday - Sunday, September 6 – 8, various times
WNC Ag Center
From fair rides to mountain music, livestock shows to arts competitions, the North Carolina Mountain State Fair offers something for people of all ages! The 10-day fair is also a celebration of the agricultural traditions of western North Carolina. Check the NC Mountain State Fair's website for hours, ticket information and special promotions.   
Friday - Saturday, September 6 - 7, various times
Burnsville Town Center
Take a short trip north of Asheville to meet and hear from dozens of authors during the annual literary festival. The theme for 2019 is On the Move and features stories of migration, immigration, and travel. Charles Frazier, author of four novels including Cold Mountain, is the keynote speaker.
Saturday, September 7, 4:00 p.m. – 10:00 p.m.
Hickory Nut Gap Farm
Attention all knights, pages, jesters, jousters, kings, queens, princesses and princes! Get your costumes ready for some cosplay fun. Planned events include fencing, sword fighting, juggling and a costume contest.
Sunday, September 8, 11:00 a.m. – 5:00 p.m.
Grove Park – Sunset Mountain Neighborhood
Take a self-guided tour through some of the most beautiful homes in the historic Grove Park Neighborhood. Trolley transportation between homes is included in the $20 ticket price. Proceeds go to the enhancements of three public parks in the neighborhood.
Friday - Sunday, September 6 - 8, various times
Brevard, NC
Enjoy three days of Bluegrass, Roots, and Americana music at the Whittington-Pfohl Auditorium on the campus of the Brevard Music Center, located within a 35-mile drive of Asheville. General admission and lawn tickets are still available in this beautiful open air, covered venue. Tap your toe to the sounds of Del McCoury and David Grisman, Steep Canyon Rangers, Preservation Hall Jazz Band, Tommy Emmanuel, Chatham County Line, Shannon Whitworth & Tonk, Acoustic Syndicate and more.
Friday – Saturday, September 6 - 7, 9:30 a.m. - 4:30 p.m.
Warren Wilson College
Get a crash course in harvest techniques during a series of daylong workshops. Courses include foraging for wild edibles and mushrooms, do it yourself herbal medicine making, cooking with herbs, hemp farming, and forest farming. Choose one class each day and learn from experts in the field.
Arts & Entertainment
Friday, September 6, 5:00 p.m. – 8:00 p.m.
Asheville Gallery of Art
Attend the opening receptions of Bill Cole's show, "Taking the Ordinary to the Extraordinary." His paintings celebrate the art hidden in everyday scenes.  The show will run all month long during gallery hours.
Friday - Sunday, September 6 - 8, 7:30 p.m.
Black Mountain Center for the Arts
Get your tickets for a performance that shines a light on the history of R. Buckminster Fuller ("Bucky"). With toothpicks, chalkboard, an overhead projector and other simple materials, Bucky lectures once again in his famous meandering discourse across Life, Love, Nature and the possibility of Universe. His insights continue to inform and resonate with us today. He is best known as the designer of the geodesic dome, which he developed while on the faculty of Black Mountain College, 1948-49.
Friday - Sunday, September 6 - 8, 10:00 a.m. – 6:00 p.m.
North Carolina Glass Center
Get in the fall spirit by making your own glass pumpkin. Learn the basics of working with molten glass and work with a talented, experienced glass artist who will instruct you on how to craft your pumpkin that will serve as a glass keepsake for years to come.
Friday - Saturday, September 6 - 7, 9:00 p.m.
LaZoom Room
Don't miss one of two comedy shows in downtown Asheville this weekend. Rob Christensen is an LA-based comedian, writer, and actor who previously performed on Comedy Central and NBC's Last Comic Standing. His unique humor is smart, self-reflective, spirited, and informed by his experiences back in Brooklyn as an illegal graffiti artist, freestyle rap battler, raver, hooligan and eventual U.S. Air Force Sergeant.
Sunday, September 8, 1:00 p.m.
Fleetwood's
Grab a mimosa and sing karaoke during the day. Wear your shades, but don't throw any! The host with the most, KJ Terra Ware, will ensure you have a blast.