Things to Do in Asheville This Weekend — September 27-29, 2019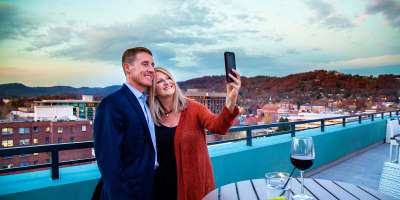 Fall is officially underway, and Asheville has multiple events to help you celebrate the changing of the seasons! Our weekend guide is packed with festivals celebrating coffee, Greek food, pride, and Oktoberfest!
As you explore Asheville this weekend, gear up for fall with our guide to the top 10 ways to experience fall in Asheville. 
Planning a trip to Asheville is easy. Utilize our easy-to-use search to check room availability and rates at Asheville area accommodations, and be sure to check out the special deals and packages. And, you can check events for any date by using our events calendar search.
Don't miss these great events happening this weekend!
Asheville Greek Festival
Friday – Sunday, September 27 – 29, 2019
Holy Trinity Greek Orthodox Church (227 Cumberland Ave.), Asheville
Prepare your taste buds for Spanakopita, lamb shank and baklava. The annual Asheville Greek Festival offers you the chance to become "Greek for a day" by experiencing great food and culture. Browse the "agora" (marketplace) as if you were strolling the cobblestone streets of the villages of Greece. See live performances of the dancers who carry on age-old traditions. And, take a tour of the Holy Trinity Greek Orthodox Church, which is steeped in great history. The Festival is open Friday and Saturday from 11 a.m. to 9 p.m. and Sunday from 11 a.m. to 4 p.m. Admission is free.
Asheville Coffee Expo
Saturday, September 28, 9:00 a.m. – 1:00 p.m.
plēb urban winery
Celebrate all things coffee at the Asheville Coffee Expo! The Asheville Coffee Expo falls on International Coffee Day. The event features nearly 50 vendors, including local/regional vendors and coffee shops. Vendors will be serving unique coffee creations. Summit Coffee will lead educational tastings highlighting all of the roasters participating. The festival will also feature a barista challenge. And, there will be food available. Stroll the outdoor street fair for free, or purchase a ticket ($14 in advance/$17 at the door) to enjoy samples and watch the competition. Love coffee? Our social media fans helped us put together this list of the best Asheville coffee shops.
Asheville Quilt Show
Friday – Sunday, September 27 – 29, 2019
Western North Carolina Agricultural Center, Fletcher
The Asheville Quilt Show exhibits more than 300 high-quality traditional, modern and art quilts from local and regional quilt artists. More than $10,000 in prize money is awarded to the artists. Along with seeing the Quilts, enjoy a variety of vendors, demonstrations, special exhibits, silent auction, quilt sale, gift shop and a kids sewing station. And, food will be available. Admission is $7 for adults. It is free for children ages 12 and under.
Friday – Sunday, September 27-29, 2019
Pack Square Park, Asheville
Experience Western North Carolina's largest celebration of Pride. There are pop up events all weekend long, with the main event taking place on Saturday. There will be three performance stages featuring performances by 80HProject, Nick Gonnering, Aaron Woody Wood, Wild Bodema, Laura Blackly and the Wild Flowers, the Asheville Gay Men's Chorus, and many others. While at the festival, check out multiple vendor booths and more than two dozen food vendors. See our guide to LGBTQ travel in Asheville for more trip ideas.
Also Check Out:
Pride. Karaoke. Love. – Saturday, September 28, 8:00 p.m. – 11:00 p.m. - WXYZ Bar, Aloft Asheville Downtown
Queer Comedy Featuring Haylen Ellman – Sunday, September 29, 2019, 9:00 p.m. – 11:00 p.m. – Fleetwood's
Beerspoke Travel's Blue Ridge Pride Beer Day – Friday, September 27, 11:30 a.m. – 6:30 p.m. - See Asheville through the lens of its beer culture with other LGBTQIA+ beer lovers.
NOC Guest Appreciation Weekend
Friday – Sunday, September 27-29, 2019, 10:00 a.m.
Nantahala Outdoor Center, Bryson City
Each year the Nantahala Outdoor Center hosts a big weekend celebration to say "Thank You" to the thousands of people who come through their doors each year in search of outdoor adventure. Snag the best in outdoor gear and apparel at low prices at the new & used gear sale. Boaters can take advantage of the NOC's free shuttles for the Cascades and Upper Nantahala Recreation releases. Learn a new craft from an artist, join in family-friendly games or dance the night away to live music on the banks of the scenic Nantahala River.
Hillman Beer Oktoberfest
Saturday, September 28, 11:00 a.m. – 11:00 p.m.
Hillman Beer
Put on your lederhosen, it's time for Hillman Beer's annual Oktoberfest. Enjoy live music by the Lagerhosen and The Resonant Rogues, a special beer release, a delicious Oktoberfest special from Rise Above Deli! Take home a commemorative stein for sale for $30, filled with a beer.
Autumn in the Mountains Car Show
Saturday, September 28, 10:00 a.m. – 3:00 p.m.
Asheville Outlets
Head out to see more than 100 classic, exotic sports cars and antique motorcycles at the 20th Annual Autumn in the Mountains Car Show, hosted by the British Car Club of Western Carolina (BCCWNC). The show will feature British and European vehicles, along with local vendors offering car-related products and services, live music, award ceremony, and more. Spectator admission is free.
Asheville Vinyl Fetish Record Show
Saturday, September 28, 11:00 a.m. – 5:00 p.m.
Salvage Station
Discover awesome, rare, and vintage vinyl. Some of the best record dealers in the country will be selling thousands of records during this show making for a great day of crate digging and vinyl hunting. The show is free to attend. Beer, cocktails and food will be available.
LIVE ENTERTAINMENT
Start Making Sense – Talking Heads Tribute Band
Saturday, September 28, 10:00 p.m.
Asheville Music Hall
Prepare yourself for a rockin', funkin', danceable celebration of the new-wave art punk you loved from the 80's! If David Byrne is one of the geniuses of modern times, then Start Making Sense is a tribute to genius. The musicians in this 7 to 10 -piece Talking Heads Tribute take pride in faithfully recreating the music of Talking Heads entire career. Together they bring much of the Heads unique live show to the stage, with front man Jon Braun as a spot-on David Byrne, giving you a "once in a lifetime" experience.
80's Dance Party – Breakin' on Buxton
Friday, September 27, 8:00 p.m. – 1:00 a.m.
Urban Orchard Cider Company – South Slope
Get ready for a rad night of 80's tunes and break dancing.  The Free Range DJ will be spinning consciously sourced vinyls all night! Dressing up and Dancing is HIGHLY encouraged. Break dancing isn't a requirement, but please feel free to do so if you have the skills!
River Whyless with The Dead Tongues
Friday, September 27, 7:00 p.m.
Sierra Nevada Brewing Company – Mills River
River Whyless will be joined by The Dead Tongues in Sierra Nevada's high gravity room. River Whyless, the Asheville, NC quartet, is named in spirit of the band's ongoing love affair with the natural world.
Woods and Wilds: Live Storytelling
Friday, September 27, 7:00 p.m.
The Mothlight – West Asheville
Join Dogwood Alliance for the annual Woods & Wilds Storytelling Event. This year's theme is "When the woods saved us and why it's dire to save them." The evening will feature local storytellers as they share their stories of the wild.