Things to Do in Asheville This Weekend -- September 21-23, 2018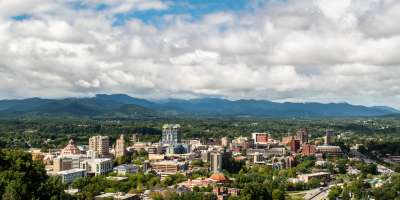 This Saturday marks the official beginning of fall! Asheville is gearing up for an exciting fall season with fall color on the Blue Ridge Parkway and throughout the mountains, and a great lineup of fall events.
Check out our 5 things to know about fall in Asheville and our top 10 ways to experience fall in Asheville to help you plan your visit!
Here's a look at what you can enjoy this weekend in and around Asheville:
Saturday, 11 a.m. to 6 p.m.
New Belgium Brewing Co., Asheville
Celebrate self-propelled, two-wheel travel and dress up as your alter ego while raising money for the community. Expect to experience the unexpected during the "greatest little show on Earth." Tour de Fat features an ensemble cast of performers including musicians, circus performers, vaudeville acts, magicians, comedians and more. The day starts with a bicycle parade (11 a.m.) from French Broad Outfitters at Hominy Creek to New Belgium Brewing. After the main event, there will be an after party from 6-10 p.m. at French Broad Outfitters. In its 19 seasons, the Tour de Fat has raised more than $5 million for local bike non-profits.  
Sunday (Sept. 23), 10 a.m. to 3 p.m.
Chimney Rock at Chimney Rock State Park
It's the 10th anniversary of this annual birding event at Chimney Rock which continues to fly to new heights! Flock to the Rock was originally created to help show people why Hickory Nut Gorge is such a premier birding location. Take a guided bird walk, watch a raptor flight show, experience a live bird demonstration or learn with a workshop. Admission to the event is included in Park admission. 
Saturday and Sunday (Sept. 22-23), 10 a.m. to 5 p.m.
WNC Agricultural Center, Fletcher
Guitar lovers, this one is for you! The Carolina Guitar Show features all kinds of guitars, amps and music-related items. Pick from loads of gear (new, used and vintage), vinyl records and memorabilia! Admission is $10 Saturday and $8 Sunday.
Friday (Sept. 21), 5-9 p.m.
North Lexington Avenue, Asheville
Enjoy the season finale of Asheville's downtown outdoor concert series, Downtown After 5! The free live music event will feature the band, The Pharcyde. The Pharcyde is a West Coast hip hop band known for having one of the most influential hip hop albums of the 1990s. The show opener is Asheville's own Free the Optimus – a hip hop collective focused on bringing improvisational lyricism to jazz-influenced boom bap soundscapes. While you listen to the music, enjoy local and national brews, and fuel up with food from local food trucks and eateries.
Saturday (Sept. 22), 6-9:30 p.m.
US Cellular Center, Asheville
This concert is a benefit hosted by the Green Side Up Foundation to support local pediatric cancer patients in the Asheville area. Sarah McLachlan is one of the most celebrated singer songwriters in entertainment with over 40 million albums sold worldwide. She has received three Grammy Awards and twelve Juno Awards over her career and was recently inducted into the Canadian Music Hall of Fame. This show is designed for people of all ages.  
Saturday (Sept. 22), 1-5 p.m.
Twin Leaf Brewery, Asheville
Welcome fall in style with the 2nd Annual Fall Festival celebration at Twin Leaf Brewing Company in Asheville. This year's event includes an outdoor stage with live music, a charity dunking booth, mechanical bull, face painting, and local craft and food vendors. Twin Leaf will release a handful of specialty brews, including its delicious Oktoberfest! And, Twin Leaf will feature its annual Beer and Pie Pairing.
Saturday (Sept. 22), 11:30 a.m. – 9 p.m.
Bold Rock, Mills River 
Celebrate the first day of fall at Bold Rock's Fall Farming Festival! The festival includes live music, hayrides, family-friendly activities, a live auction and a tractor show. Eat lunch and/or dinner at the food truck and top it off with homemade ice cream and apple pie paired with your favorite hard cider.
North Carolina Ceramic Arts Festival
Saturday (Sept. 22), 11 a.m. to 5 p.m.
Pack Square Park, Asheville
Check out the work of more than 40 ceramic artists from across North Carolina and the region during the North Carolina Ceramic Arts Festival. In addition to seeing the art, you'll be able to eat well at food trucks. And, local musicians will add to the excitement. Admission is free!
Sunday (Sept. 23), 12-6 p.m.
Asheville Outlets
Be a part of the first Wine and Jazz Fest at Asheville Outlets. The event features live music, wine sampling, food tastings, educational seminars, interactive games and other activities. Tickets are $25 in advance online or $30 at the gate. Additionally, the Hampton Inn and Suites (Asheville I-26 area) will offer a special Wine and Jazz Fest package, September 19-26. The package features special hotel rates, as well as two VIP event tickets, free Asheville Outlets shuttle service to and from the venue, a $50 Pandora Jewelry Gift Certificate and Asheville Outlets backpacks and coupon books. To book this special package, call 828-667-2022 and request the "Wine and Jazz Festival" Group Code PWK.
Sunday (Sept. 23), 3-5 p.m.
Addison Farms Vineyard, Leicester
Head to beautiful Addison Farms Vineyard for a 5-course progressive wine tasting tour with paired bites of local flavors. The dinner will feature Chef Corey Marino. You will meander to various stations set up throughout the vineyard and winery to enjoy the 360-degree mountain views while hearing stories about the farm, local conservation efforts and the approach to wine making.  
On any given night in Asheville, you will find numerous live music shows highlighting a wide variety of musical styles. See our live music calendar for a full list that you can search by date!