Things to Do in Asheville This Weekend — September 20-22, 2019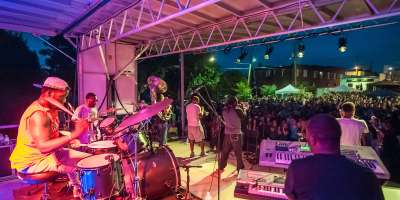 This is it – the final weekend of summer! While the summertime temps remain, get outdoors and explore the Blue Ridge Mountains, go on a waterfall hunt, or relax on a float down the river. In town, you'll find multiple street festivals, live music, comedy shows, and opportunities to celebrate Asheville's handmade arts and crafts heritage.
Planning a trip to Asheville is easy. Utilize our easy-to-use search to check room availability and rates at Asheville area accommodations, and be sure to check out the special deals and packages. And, you can check events for any date by using our events calendar search.
Don't miss these great events happening this weekend!
Friday - Sunday, September 20-22, 11:00 a.m. – 4:00 p.m.
The Block (Market and Eagle Street) - Downtown Asheville
Enjoy the wonderful sounds, beautiful sights, and amazing tastes of the African-Caribbean at the 39th annual Asheville Goombay Festival. The free festival will be held at the Block in downtown and celebrates the richness and diversity found in the food, music, and art across the African Diaspora.
Saturday, September 21, 11:00 a.m. – 6:00 p.m.
New Belgium Brewing
Shift gears and get weird. This weekend, celebrate beer, bikes, and bemusement at New Belgium's annual Tour de Fat. This free celebration includes a bike parade, touring ensembles of comedians, cirque performers, general mayhemists, top-notch live musicians and, of course, world-class New Belgium beer.
Saturday, September 21, 11:00 a.m. to 5:00 p.m.
Pack Square Park
Discover beautiful handmade ceramic arts across all genres including tilework, sculpture, jewelry, and pottery. More than 40 artists, multiple food trucks and live entertainment are planned for this downtown street festival.
Friday, September 20, 5:00 p.m. – 9:00 p.m.
North Lexington Avenue - Downtown Asheville
Start the weekend off right, with a dance party in the streets of downtown Asheville. Taking center stage is The All Stars, a collaboration of some of Asheville's best musicians playing together. It's the most popular show of this summer music festival season. Multiple food and beer trucks will be on site along with other street vendors.
Saturday  - Sunday, September 21 – 22, various times
Folk Art Center
Attend a free celebration of mountain heritage featuring traditional crafts, music, and dancing. Watch live demonstrations including traditional woodworking with traditional tools, weaving, spinning, dyeing, broom making, stone carving, and print making. You can try your own hand at making crafts, bring a picnic to enjoy in their field, and hike the trails around the Folk Art Center.
Saturday, September 21, 8:00 p.m.
Thomas Wolfe Auditorium
Celebrate the fiery rhythms of South America - sultry influences of tango, the spirit of the legendary gauchos of the Pampas, and a Caribbean snake ritual. Join the Asheville Symphony Orchestra for its season opener as we take you to South America!
Saturday, September 21, 11:00 a.m. - 4:00 p.m.
Grovewood Village
Join the resident artists at Grovewood Village as they open up their studios to the public, allowing visitors to gain insight into their creative process and view their most recent works. Meet makers who work in a variety of media, and browse original works of art ranging from jewelry to pottery to sculpture.
Saturday, August 21, 7:00 a.m. – 2:00 p.m.
Pisgah Field School
Explore the glorious "Land of Waterfalls" during this one-day waterfall photography workshop with Saucier Photography! Experience a true adventure by photographing some of the area's most beautiful natural areas in Pisgah National Forest. Experience each waterfall up close and personal and learn the essential elements in shooting moving water and how to capture it like a pro.
Friday - Sunday, September 20 – 22, 7:30 p.m.
Hazel Robinson Amphitheatre – Montford Neighborhood
Bring a picnic, a blanket or chair, and your favorite libation and enjoy a free performance by the Montford Park Players. This weekend, you can be the first to see the world premiere of 16 Years Tried, a unique take on Shakespeare.
Friday, September 20, 7:00 p.m. - 8:15 p.m.
Pack's Tavern
Sit back if you dare as you learn about Asheville's darkest history with astonishing stories of spirits & spies, ghosts & goblins, hauntings & hoodlums and mountain-made murder & mayhem. Learn about the legendary Pink Lady at the Grove Park Inn, the spirits of children at the haunted hospital, and other unsolved mysteries in Asheville.