Things to Do in Asheville This Weekend — September 13-15, 2019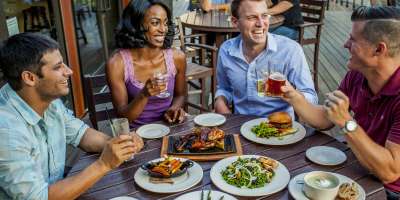 In Asheville, an incredible weekend of food, music, and art is in store. Sink your teeth into Chow Chow, Asheville's inaugural culinary showcase, take a guided stroll through private gardens, visit with artists at their studios, or head out to the final weekend of the Mountain State Fair for some family fun. You'll find so many choices for experiencing the best of Asheville in the coming days.
Planning a trip to Asheville is easy. Utilize our easy-to-use search to check room availability and rates at Asheville area accommodations, and be sure to check out the special deals and packages. And, you can check events for any date by using our events calendar search.
Don't miss these great events happening this weekend!
Friday - Sunday, September 13-15, various times
Various Locations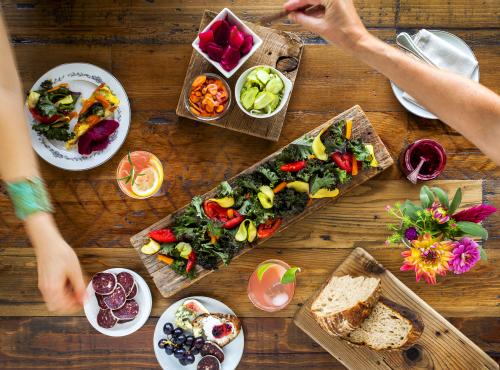 Celebrate the vibrancy of Asheville's culinary scene with a series of tasty and educational events. Take part in farm dinners, special brunches, chef demonstrations, tastings, and special panels with a focus on food.
Each day there are free events open to the public. Enjoy the Food Truck Rodeo, taking place in Pack Square Park. Visit the Makers Market, where you'll find a highly curated selection of local food products and wares. Purchase everything from spices to kitchen essentials.
Choose from a wide selection of ticketed events happening all across town. Pickled in the Park is a three-day grand tasting event filled with celebrity chefs, local brewers, standout tastemakers, and cooking demonstrations. Attend Biltmore's Bounty where you'll venture behind the scenes on an exploration of Biltmore's rarely-seen agricultural side. Experience Asheville's artistic side at Fire It Up, where you'll be blown away by the colorful artistry of handcrafted glass and the food it inspires, with pops of color and fire inspiring a lineup of creative dishes crafted by talented local chefs.
Check the complete schedule to learn about the other culinary events taking place this weekend.
Saturday, September 14, 10:00 a.m. to 6:00 p.m.
River Arts District, Asheville
Any time is a great time to visit the River Arts District and the more than 200 artists in studios and galleries that you'll find there. But, Second Saturdays provides a special opportunity to get in touch with this district known as Asheville's artistic center. On the second Saturday of every month, take part in special openings, hands-on classes, demonstrations and celebrations. The River Arts District has compiled a full list of special events.
Saturday, September 14, 11:00 a.m. – 4:00 p.m.
Several Locations
Take a guided stroll through multiple West Asheville gardens, including a permaculture layout with chickens, a backyard labyrinth, a Zen outpost, a garden inspired mural and a small intentional community. Guides of this 11th annual event will provide points of interest including some of the grand trees along the stroll.
Saturday, September 14, 11:00 a.m. – 3:00 p.m.
Chimney Rock at Chimney Rock State Park
Join one of Western North Carolina's most popular annual events, Flock to the Rock was originally created to help folks understand why Hickory Nut Gorge is such a premier birding location, and today this event has grown in size and popularity. You don't have to be an avid birder to find something of interest, but it may just be the reason you become one. Guided bird walks, raptor flight shows, live bird demos, and workshops are a few of the ways you'll discover that Chimney Rock isn't just for the birds!
Friday - Sunday, September 12 – 14, various times
WNC Ag Center
From fair rides to mountain music, livestock shows to arts competitions, the North Carolina Mountain State Fair offers something for people of all ages! The 10-day fair is also a celebration of the agricultural traditions of western North Carolina. Check the NC Mountain State Fair's website for hours, ticket information and special promotions.   
Saturday, September 14, 8:00 a.m. – 12:00 p.m.
Lake Julian Park
Enjoy a morning by the lake during a catch and release tournament for all youth 15 and under. Competitors will be divided into five age groups with prizes in each for Biggest Fish, Smallest Fish, Most Fish Caught, and Most Accurate Casting Skills. No fishing license is required for residents under 16 years old. Pre-register online.
Saturday, August 14, 4:00 p.m. – 6:00 p.m.
Atlas Beauty
Celebrate our Indian summer with shopping, bubbly, and tasty treats at Atlas Beauty, A market like no other, this event features local makers including Rachel Weisberg Apparel and Natalie Ray Fine Art, Sleep Swag, and Robin Lee Essentials, among other exciting brands!
Saturday, August 14, 12:00 p.m. – 8:00 p.m.
Archetype Brewing - Downtown
Bust out the Lederhosen and steins, it's time for the third annual release of the Archetype festbier, a Vienna-style lager, crisp, clean and session-able. It's got notes of bread, and light citrus with a bright effervescence. Prost! Events include a Cornhole tournament and Stein hoist.
Friday, September 13, 6:30 p.m. – 9:00 p.m.
Blue Ridge Parkway
Take part in a guided, meditative sunset hike, treading silently through the woods and towards a beautiful mountain bald. As the full moon rises in the night sky, a gentle lunar yoga practice will commence to practice the intention of letting go what no longer serves you. Sip hot tea after the practice and hike down with new friends under the light of the full moon.
Saturday, September 14, 7:00 p.m. - 9:00 p.m.
Biltmore Park Town Square
Grab a blanket and head out to Cecil Park, the green space in Biltmore Park near Hickory Tavern and Brixx Wood Fired Pizza. Queen Bee and the Honeylovers will preform live, playing original swing jazz band tunes! Enjoy two full hours of live music, dancing and fun - free for everyone!