Things to Do in Asheville This Weekend -- October 26-28, 2018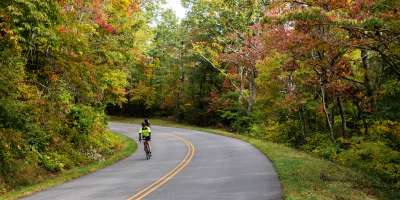 Halloween falls in the middle of the week (Wednesday of next week), but don't worry: Asheville is prepared this weekend to kick off the party early! Put on your costume and head to Halloween-themed events throughout the city and we think you'll have a scary good time.
And, as fall color continues to develop in the mountains and the city of Asheville, don't miss great fall festivals. See our fall color report page for updates on the fall foliage and ways to experience fall this week in Asheville!
As you plan your fall getaway, use our easy-to-use search feature to check room availability and rates at Asheville area accommodations. And, you can check events for any date by using our online events calendar search.
Here's a look at what you can enjoy this weekend in and around Asheville:
Saturday (Oct. 27), 1-6 p.m.
Salvage Station, Asheville
Asheville is Beer City USA and Brewgrass is its original craft beer festival. The Brewgrass Festival is notorious for showcasing some of the most in-demand and exciting breweries in the region during the past two decades. Sample beers from nearly 40 breweries at Salvage Station in the River Arts District near downtown Asheville. As you taste the brews, enjoy a robust live music lineup.   
Halloween is almost here! As you plan your Halloween fun, start by taking a look at our list of five haunted tours for a spooky good time and this list of special Halloween events:
For a full list of this weekend's Halloween-themed celebrations, tours and happenings, see our page on 2018 Halloween events!
Saturday, Oct. 27 (3 p.m.)
Downtown Black Mountain
Since 2002, the town of Black Mountain has been celebrating furry friends at Halloween with the "Howl-O-Ween" Pet Parade and Costume Contest. Dress up your family pet for this event that promises many super cute moments. Costume contest registration begins at 2:30 on Town Square. The parade travels through historic downtown beginning at 3 p.m. and is followed by the costume contest.
Saturday (Oct. 27), 10 a.m. to 5 p.m.
Sutton Ave., Downtown Black Mountain
Black Mountain has long been a center for arts & crafts, antiques and furniture. This weekend, see some of the area's highest quality crafts as the Art By The Tracks show features 50 juried artists. This event is held in the heart of beautiful downtown next to the Old Train Depot. It is free to stroll the festival and see the varied work of area artists. Black Mountain is just 20 minutes from downtown Asheville.
Saturday and Sunday (Oct. 27-28)
North Asheville
In North Asheville's beautiful Beaverdam Valley, you'll find a burgeoning community of artists and creatives. For the second year, 30 artists along the Beaverdam Road corridor open their studios to visitors for a self-guided studio tour. You'll meet ceramists, painters, sculptors, glass and textile artists and watercolorists. Meet the artists and purchase handmade artwork. All the studios are off Beaverdam Road, reached from Merrimon Avenue. Tour maps are available online on the Studio Tour's web site and it's free to visit the studios. Hours are Saturday, 10 a.m. to 5 p.m., and Sunday, from noon to 5 p.m.
After taking the tour, head over to the nearby communities of Woodfin and Weaverville, rich in small-town charm.  
Southeastern Animal Fiber Fair
Friday and Saturday (October 26-28)
WNC Agricultural Center, Fletcher
Three days of family fun await you at the Southeastern Animal Fiber Fair – the largest Animal Fair in the southeast! See spinning, knitting, weaving and felting. Join a workshop to improve your skills or just browse and shop! You can also enjoy visiting with the animals and attend a fiber show and sale. New this year, there is a mobile app for the Southeastern Animal Fiver Fair for both Android and iPhone. Hours are 9 a.m. to 6 p.m. on Friday and Saturday and 9 a.m. to 4 p.m. Sunday.
Friday through Sunday (Oct. 26-28)
Asheville Outlets
Join in this family celebration while you shop! During this weekend of free family fun at Asheville Outlets, see the Ingles Ultimate Air Dog Competition, which will be held all three days. The dogs compete in a 90-foot pool in front of Field & Stream. On Sunday, take the kids to the Touch-A-Truck Family Festival, which will be held in the parking lot behind the food court. Kids (and kids at heart!) will have the opportunity to see, touch, climb and learn about vehicles of all types from 11 a.m. to 4 p.m. Admission is $5 to Touch-a-Truck (children under $3 get in free). Also on Sunday, Asheville Outlets will team up with CarePartners Foundation and Critter Magazine to host a Health Fair for People and Pets. There will be a variety of health-related booths and displays, demonstrations and entertainment.
Asheville Fine Art Show
Saturday and Sunday (Oct. 27-28)
Pack Square Park, Asheville
The Asheville Fine Art Show, sponsored by Hot Works, features 110 juried fine art and fine craft artists, many of whom have not been seen at other North Carolina art shows. This high-quality show has all disciplines of art is for sale. There is something for everyone in all price ranges. The show is free to attend.  
Now through October 28
14 Riverside Dr., Asheville
Shop this 10-day pop up shop featuring some of the area's best in handmade and vintage. Shop organizers have curated goods from more than 50 independent vendors. The shop is across the Curve Studios.
Saturday and Sunday (Oct. 27-28)
Bebe Theatre, Asheville
Butoh is a form of Japanese dance that appears to an audience as a silent theater performance. This 2018 festival will feature international guest artists, Seisaku and Yuri Nagaoko. There will also be a solo retrospective by festival co-founder, Julie Becton Gillum. General admission tickets are $18.
On any given night in Asheville, you will find numerous live music shows highlighting a wide variety of musical styles. There are numerous live music shows this weekend alone. See our live music calendar for a full list that you can search by date!
Photo information: Artwork shown for Beaverdam Studio Tour by Chaotic Joy Glassworks.
Updated February 21, 2019