Things to Do in Asheville This Weekend — October 25-27, 2019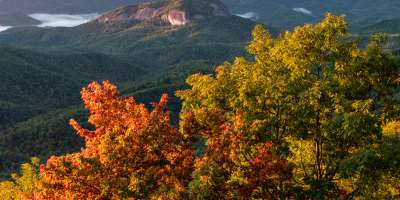 Asheville is prepared to celebrate Halloween a little early this weekend! Put on your costume and head to one of the many Halloween-themed events throughout the city. For fans of handmade crafts, be sure to stop by one of the multiple arts shows happening all around Asheville and in Black Mountain. Finally, make a plan to explore the higher elevations along the Blue Ridge Parkway to take in the stunning fall color that is spreading across the mountains.
Be sure to check out our 5 things to know about fall in Asheville and our guide to the top 10 ways to experience fall in Asheville. Stay up to date on the fall color progression with our weekly fall color report (updated every Thursday).
Planning a trip to Asheville is easy. Utilize our easy-to-use search to check room availability and rates at Asheville area accommodations, and be sure to check out the special deals and packages. And, you can check events for any date by using our events calendar search.
Don't miss these great events happening this weekend!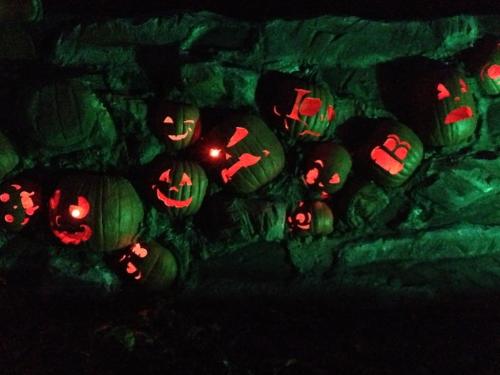 Halloween is almost here! As you plan your Halloween fun, start by taking a look at our list of five haunted tours for a spooky good time and this list of special Halloween events:
Halloween Outdoor Kid Hop Hooray – Saturday (Oct. 26) – This daytime Halloween celebration includes dancing, a costume contest, Halloween crafts, a bounce house and Asheville Brewing beer for the parents.
Haunted Trail at Pisgah Brewing Company – Thursday through Sunday (Oct. 24-27) – Family fun. Live actors, spooky sounds and spectacular props, the Haunted Trail leads to the party at Pisgah Park with Halloween crafts, contests, local food vendors and Pisgah beer on tap for the grown-ups.
Halloween Skaraoke – Saturday (Oct. 26) – Howl at the moon at, karaoke style. Costumes highly encouraged at this Halloween celebration at Fleetwoods.
Haunted Grove House Inferno 2019 – Saturday (Oct. 26) – The "#1 Halloween Dance Party in Western North Carolina" with three dance floors, four DJs and five bars. There will be a $1000 costume contest. LGBTQ friendly.
Pack's Tavern Annual Halloween Bash – Saturday (Oct. 26) – Dance to current and classic hits with The Lowdown Band. Cash prizes for the best costumes.  
Downtown Black Mountain Historic Haunted House Tour – Friday through Saturday (Oct. 25-26) – The Swannanoa Valley Museum's annual Historic Haunted House Tour will take guests back in time to discover the ghostly, spooky, and fun parts of downtown Black Mountain's history. Less than a one mile walk on sidewalks.
For a full list of this weekend's Halloween-themed celebrations, tours and happenings, see our page on 2019 Halloween events!

Saturday - Sunday, October 26 - 27, 2019, 10:00 a.m. – 5:00 p.m.
Pack Square Park – Downtown Asheville
The Asheville Fine Art Show, sponsored by Hot Works, features 150 juried fine art and fine craft artists, many of whom have not been seen at other North Carolina art shows. This high-quality show has all disciplines of art is for sale. There is something for everyone in all price ranges. A $5.00 donation is requested for entry to support the show.
Art by the Tracks
Saturday, October 26, 10:00 a.m. – 5:00 p.m.
Sutton Ave., Downtown Black Mountain
Black Mountain has long been a center for arts & crafts, antiques and furniture. This weekend, see some of the area's highest quality crafts as the Art By The Tracks show features 50 juried artists. This event is held in the heart of beautiful downtown next to the Old Train Depot. It is free to stroll the festival and see the varied work of area artists. Black Mountain is just 20 minutes from downtown Asheville.
NOCtoberfest
Saturday, October 26, 12:00 p.m.
Nantahala Outdoor Center
Celebrate leaf season in the Smoky Mountains at this free event, a family-favorite in the Nantahala Gorge. With activities and prizes for all ages, your friends and family are sure to have a great day on or off the water. Event highlights include pumpkin decorating, costume contests, live music, and the Great Pumpkin Pursuit - a free-for-all dash through Nantahala Falls where participants collect as many numbered pumpkins as possible while racing to the finish!
3rd Annual Beaverdam Studio Tour
Saturday – Sunday, October 26 – 27, times vary
North Asheville
In North Asheville's beautiful Beaverdam Valley, you'll find a burgeoning community of artists and creatives. For the third year, 30 artists along the Beaverdam Road corridor open their studios to visitors for a self-guided studio tour. You'll meet ceramists, painters, sculptors, glass and textile artists and watercolorists. Meet the artists and purchase handmade artwork. All the studios are off Beaverdam Road, reached from Merrimon Avenue. Tour maps are available online on the Studio Tour's web site and it's free to visit the studios. Hours are Saturday, 10 a.m. to 5 p.m., and Sunday, from noon to 5 p.m.
After taking the tour, head over to the nearby communities of Woodfin and Weaverville, rich in small-town charm.  
Pumpkin Fest at Silvermont
Friday - Saturday, October 25 - 26, 7:00 p.m. – 9:00 p.m.
Silvermont Park - Brevard
Take the kids out for a nighttime stroll through a beautifully designed lighted pumpkin trail. This family friendly event includes local musicians, food trucks, games, storytelling, face painting, a white squirrel scavenger hunt, and the opening of the historic Silvermont mansion.
Southeastern Animal Fiber Fair
Friday – Sunday, October 25 – 27, 9:00 a.m. – 6:00 p.m.
WNC Agricultural Center, Fletcher
Three days of family fun await you at the Southeastern Animal Fiber Fair – the largest Animal Fair in the southeast! See spinning, knitting, weaving and felting. Join a workshop to improve your skills or just browse and shop!
Halloween Twilight in the Treetops
Saturday, October 26, 5:30 p.m. – 7:45 p.m.
Adventure Center of Asheville
Watch the world transform from dusk to night while climbing in the trees at the Asheville Treetops Adventure Park. Trails will be illuminated to give climbing the obstacles a new perspective. Over 15,000 colored lights, plus colorful lasers sparkling on thousands of leaves, cables, rope, and platforms throughout the park will create a mystical tree climbing experience like you can't imagine. For ages 4 and over.
Camp Cedar Cliff 4th Annual Fall Festival
Saturday, October 26, 10:00 a.m. – 2:00 p.m.
Camp Cedar Cliff
Enjoy a day at summer camp during the fall! Camp Cedar Cliff is hosting a festival complete with live music, a photo booth, games, free snacks, rock climbing, archery, BB's, horses, a chili cook-off, and costume contests for you and your furry friend.
Blue Ridge Parkway Hike of the Week
Friday, October 25, 10:00 a.m. - 12:00 p.m.
Blue Ridge Parkway – Craven Gap – milepost 377.4
Join Parkway rangers for an easy to moderate, 2-mile round-trip hike through the "haunted" forest. Pay attention to the stories being told, for they may be your last (for the season that is). From legends of nocturnal animals to fictional flower folklore, it's bound to be a "ghoul" time. Meet at the Craven Gap parking area at Milepost 377.4. Bring water, wear good walking shoes, and be prepared for changeable weather.
The Music of Phish for Kids – Halloween Spooktacular
Sunday, October 27, 3:00 p.m. – 4:00 p.m.
The Grey Eagle Music Hall and Pub
The Rock and Roll Playhouse is excited to return to Asheville for the fall season with more family concerts at Grey Eagle! This weekly children's concert series allows kids to "move, play and sing while listening to works from the classic-rock canon" (NY Times). The Playhouse offers its core audience of children aged 10 and under games, movement, stories, and an opportunity to rock out in a sensory-friendly environment while playing songs from musical icons such as the Grateful Dead, David Bowie, The Beatles, and more.