Things to Do in Asheville This Weekend -- October 18-21, 2018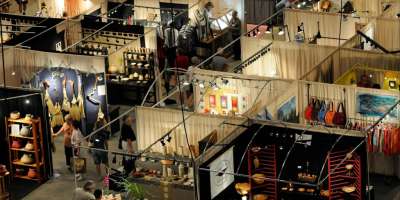 Cooler fall-like temperatures are here! Experts say this cooler weather should help with the fall color transition.
As you explore Asheville this weekend, plan your fall adventure with the fall leaf color forecast for 2018 and our guide to the top 10 ways to experience fall in Asheville. 
Then, use easy-to-use search feature to check room availability and rates at Asheville area accommodations. And, you can check events for any date by using our online events calendar search.
Here's a look at what you can enjoy this weekend in and around Asheville:
Friday through Sunday (Oct. 19-21)
U.S. Cellular Center, Downtown Asheville
The most anticipated craft show of the year brings Asheville to life with fine traditional and contemporary crafts. The Craft Fair of the Southern Highlands is in its 71st year. 170 artisans from the Southern Highland Craft Guild will showcase and sell their work, filling both levels of the U.S. Cellular Center in downtown Asheville. You'll see a wide variety of mediums including works of clay, glass, wood, fiber, and more. There will also be interactive craft demonstrations by The Village Potters, Lesley Keeble (mixed media dolls), John Turner (raku glazes to pots), Jeffrey Neil (warping wood into shaker boxes) and NC ABANA (blacksmithing). This year's featured maker is woodworker Steve Noggle of nearby Morganton, N.C. Admission is $8 per day ($12 for a weekend pass). Admission is free for children under 12. The Fair is open Friday and Saturday from 10 a.m. to 6 p.m. and Sunday from 10 a.m. to 5 p.m.
Thursday through Sunday (October 18-21)
Lake Eden, Black Mountain
Experience music from around the globe in a gorgeous mountain lake setting during the three-day LEAF Festival at Lake Eden near Black Mountain (12 miles from downtown Asheville). This family-friendly music and dance celebration is a treasured local tradition. In addition to a powerful international lineup of musicians, take on outdoor family adventure, soothe your soul in the healing arts village, and savor local food and drinks. Also, stroll through the booths to see handcrafted art. Tickets are selling out so purchase yours in advance! You may purchase a day pass or a weekend pass. Children under 10 get in free with a parent.  
On any given night in Asheville, you will find numerous live music shows highlighting a wide variety of musical styles. There are numerous live music shows this weekend alone. See our live music calendar for a full list that you can search by date!
Now through November 4
Hickory Nut Gap Farm, Fairview
Experience the fall harvest and family fun down on the farm! Included in your admission to Hickory Nut Gap Farm are the corn maze, corn silo, hay pile, farm animals, tunnel slides, trike track, tether ball, corn hole, giant jenga, nature walk, creek play, kiddie fort, photo stands and apple sampling. New this year is a farm scavenger hunt with kid-friendly prizes! Admission is $8 per person for ages 5 and up (there is no admission for children under the age of 4). Friday through Sunday, the farm also offers hay rides, kiddie cart rides and horseback rides for an additional fee (11 a.m. to 3 p.m). If you can't make it this weekend, head to the farm with your family on Monday or Tuesday and enjoy half-off admission ($4)!
Friday (October 18), 10 a.m.
Devil's Courthouse, Blue Ridge Parkway Milepost 422.4
It's the last Blue Ridge Parkway Hike of the Week of the season! Join Parkway rangers for a moderate-to-strenuous 1-mile round-trip hike to the top of Devil's Courthouse. Rangers will end the hike with some pre-Halloween lore! Meet at the Devil's Courthouse Overlook at Milepost 422.4 at 10 a.m. Bring water, wear good walking shoes and be prepared for changeable weather.
Saturday (Oct. 20), 5:30 p.m.
The Haen Gallery, Downtown Asheville
Attend an artist's reception kicking off an exhibition of the work of Lynn Boggess, one of the most unique and noteworthy American landscape painters of the 21st century. His work is recognized internationally for its incredible three-dimensional texture, rendered solely in oils. Boggess' work will be on exhibition through the end of November. The gallery is open Monday through Saturday, 11 a.m. to 6 p.m. and Sunday, 12-5 p.m.
Gear up for Halloween with a classic ghost story, Grave Lullaby, at The Magnetic Theatre. When Mark and Kristen James move into an old house in a new town, it seems like the perfect way to escape their recent tragedy and start fresh. But the new neighbors have their own secrets, and the neighborhood may be as haunted as James' own past. Show runs October 12-28.
See a thought-provoking, science fiction play, Jerome Bixby's The Man From Earth, at the Attic Salt Theatre. A college professor confesses at his going-away party that he is 14,000 years old. The professor weaves a tale that spans history from the time of the Cro-Magnon man to the present, creating a tapestry of mysteries. Show runs October 12-27.
Friday (Oct. 19), 8 p.m.
Black Mountain College Museum and Arts Center, Downtown Asheville
Artist and writer Jace Clayton offers a unique performance in conjunction with the African Americans in WNC & Southern Appalachian Conference. The event features Clayton's latest video, The Jacob Lawrence of Jacob Lawrence, a hand-drawn animation with texts that form part of the script for the live performance. The animation is inspired by Black Mountain College Museum and Arts Center's landmark exhibition, Between Form and Content: Perspectives on Jacob Lawrence. As Clayton and vocalist Arooj Aftab perform, their voices will be transformed and processed live. Tickets are $10 for non-members.
Saturday (Oct. 20), 2-9 p.m.
Wicked Weed Funkatorium, Asheville
Celebrate fall with pumpkin beers on tap, whole hog BBQ smoked on site and great live music. Bands slated to perform include Fireside Collective, The Saylor Brothers and the Barsters.
Updated October 15, 2018