Things to Do in Asheville This Weekend — October 18-20, 2019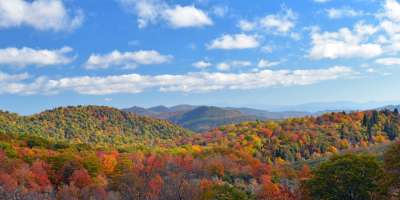 Asheville is hosting some of its most popular annual events this weekend. Discover handmade crafts, attend multiple immersive music and arts festivals, and head out on the town for a night of laughter and dancing. All of this set to the backdrop of beautiful fall color, which is beginning to pop at the higher elevations surrounding Asheville.
As you explore Asheville this weekend, be sure to check out our 5 things to know about fall in Asheville and our guide to the top 10 ways to experience fall in Asheville. Stay up to date on the fall color progression with our weekly fall color report (updated every Thursday). 
Planning a trip to Asheville is easy. Utilize our easy-to-use search to check room availability and rates at Asheville area accommodations, and be sure to check out the special deals and packages. And, you can check events for any date by using our events calendar search.
Don't miss these great events happening this weekend!
Craft Fair of the Southern Highlands
Friday - Sunday, October 18 - 20, 2019, 10:00 a.m. – 6:00 p.m.
US Cellular Center – Downtown Asheville
Get ready for the most anticipated craft show in Asheville. The Craft Fair of the Southern Highlands, now in its 72nd year, features fine traditional and contemporary crafts. Hundreds of artisans from the Southern Highland Craft Guild will showcase and sell their work, filling both levels of the U.S. Cellular Center in downtown Asheville. You'll see a variety of craft ranging from contemporary to traditional in works of clay, wood, metal, glass, fiber, natural materials, paper, leather, mixed media, and jewelry.
Fall LEAF Festival
Friday - Sunday, October 18 - 20, 2019
Lake Eden – Black Mountain
Experience music from around the globe in a gorgeous mountain lake setting during the multi-day LEAF Festival at Lake Eden near Black Mountain (12 miles from downtown Asheville). This family-friendly music and dance celebration is a treasured local tradition. In addition to a powerful international lineup of musicians, take on outdoor family adventure, soothe your soul in the healing arts village, and savor local food and drinks. Also, stroll through the booths to see handcrafted art.
Appalachian Folk Festival
Saturday, October 19, 2019, 10:00 a.m. – 3:00 p.m.
Zebulon Vance Birthplace State Historic Site - Weaverville
Celebrate the traditions and cultures of the people who called the North Carolina mountains home in the early 1800s. Visitors can tour the site including an original 1790s slave dwelling. See and smell the open-hearth cooking in the 1795 fireplace, make your own candle, and discover how everyday life has changed over time. Watch as a blacksmith hammers out useful tools or try your hand on the potter's wheel. Visitors can make a day of it and enjoy old-time music, crafts for kids, and treats for sale from Mountain View Barbecue and Deli.
Saturday, October 19, 2019, 10:00 a.m. – 5:00 p.m.
Pack Square Park – Downtown Asheville
Discover the finest in handcrafted art that Asheville Area Artists have to offer. Skilled workers of Glass, Ceramics, Wood, Jewelry, and metal will have their shops open to display to the public. This is a great opportunity to get a head start on your holiday shopping, or to take home a handmade piece of art just for you.
Also Check Out:
Crafty Historian: Paper Quilling – Saturday, October 19, 2019 – Smith-McDowell House Museum
Open Studio Art Tour – Saturday, October 19, 2019 – Grovewood Village
Parade of Homes: Open to the Public
Saturday - Sunday, October 19 - 20, 2019, 1:00 p.m. – 5:00 p.m.
Multiple Locations – Greater Asheville Area
Take a free, self-guided tour of 44 homes around Asheville. Looking for a builder, inspiration, or just plain curious? Plan your tour and view the homes on Parade, renewed spaces, homes coming soon, featured communities, and a directory of more than 850 building professionals in our area. Visit ParadeOfHomesAsheville.com for a complete map listing.
Fall Stargazing and Cosmic Storytelling
Saturday, October 19, 8:00 p.m. – 9:30 p.m.
Hickory Nut Gap Farm - Fairview
Join local astronomer and author Stephan Martin on a tour of the stars and constellations of the fall night sky above the farm. We'll discuss some of the myths of the constellations along with the seasonal changes in the sky at this time as well as some of the latest discoveries in astronomy and theories of the universe. All ages are welcome and no background in astronomy or science is required.
Naturalist Niche: Fall Ridge Hike
Saturday, October 19, 9:00 a.m. – 1:00 p.m.
Chimney Rock State Park
The trails of Chimney Rock are amazing, but a guided hike off-the-beaten-path can lead you to places you never knew existed! Join a park ranger for this fall venture on one of our most popular excursions. You'll discover seasonal changes along your trek that will introduce you to a whole new perspective of the Park. This hike is considered moderately -strenuous.
The Sleepy Hollow Experience
Friday - Sunday, October 18 - 20, 7:00 p.m. - 8:30 p.m.
Cherokee's Mountainside Theatre
Lose your head at Cherokee, NC's newest and most thrilling Halloween attraction. In this modern retelling Ichabod Crane is still being pursued by the Headless Horseman, and the pulse-quickening drama and terror have increased tenfold. This reimagining, named one of the "Top 5 Halloween Plays" in the USA by American Theatre magazine, is made brand new in a 360-degree theatrical experience – where the action takes place all around the audience. Be aware of what's in front of you and behind you… the Headless Horseman is waiting!
Fright Night
Saturday, October 19, 8:00 p.m.
Thomas Wolfe Auditorium
Listen as the Asheville Symphony Orchestra performs a ghoulish program featuring a rare performance of the original Night on Bald Mountain, plus Elvis is in the building...and playing a bassoon.
LaZoom Comedy: Jono Zalay
Friday - Saturday, October 18 - 19, 9:00 p.m. – 11:00 p.m.
LaZoom Comedy Room
Head out to see one of two comedic performances featuring Jono Zalay. He has been named one of Comedy Central's 'Comics to Watch,' and earned international press for his pranks on the DMV. Jono now lives in Los Angeles where he has written comedy for Fox, Amazon, and Comedy Central. He has been featured in over 30 comedy festivals around the country.
80s vs 90s Dance Party
Friday, October 18, 9:00 p.m.
The Orange Peel Social Aid and Pleasure Club
Bring your best 80's and 90's dance moves to downtown Asheville this Friday night. Two local DJs, Molly Parti and Oso Rey battle it out at the Orange Peel, rated one of the top music venues in America by Rolling Stone magazine.