Things to Do in Asheville This Weekend — October 11-13, 2019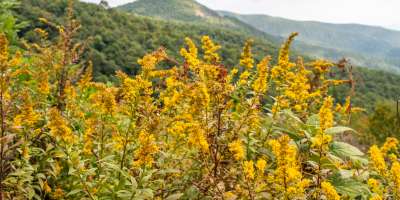 Fall color continues to spread across the higher elevations making this weekend a great time to experience some of Asheville's favorite fall traditions. Big arts celebrations, food and beer fests, fall festivals, and live music take center stage.
As you explore Asheville this weekend, be sure to check out our 5 things to know about fall in Asheville and our guide to the top 10 ways to experience fall in Asheville. 
Planning a trip to Asheville is easy. Utilize our easy-to-use search to check room availability and rates at Asheville area accommodations, and be sure to check out the special deals and packages. And, you can check events for any date by using our events calendar search.
Don't miss these great events happening this weekend!
HardLox – Asheville's Jewish Food and Heritage Festival
Sunday, October 13, 2019, 11:00 a.m. – 4:00 p.m.
Pack Square Park – Downtown Asheville
Taste over 20 mouth-watering traditional homemade Jewish foods and enjoy lively entertainment including Israeli dancing, a Klezmer band, singing and Jewish musical group. This popular annual festival features interactive educational opportunities to learn about Jewish heritage and culture in Western North Carolina.
Sierra Nevada Oktoberfest
Saturday, October 12, 2019, 5:00 p.m. – 10:00 a.m.
Sierra Nevada – Mills River
Prost! Join in the revelry during a festive night of craft beer, bountiful food, costumes, dancing, and raucous music. This German-inspired celebration features a new Oktoberfest beer, ample fest food (think brats, kraut, pretzels and way more), live music, glass blowing demonstrations, a Chicken Dance contest, and a Flash Your 'Stache competition. Ticket includes stein, live music, German-inspired dinner, first beer or soft pretzel, and free shuttles from Asheville & Hendersonville.
Fall Festival at Lake Julian Park
Saturday, October 12, 2019, 11:00 a.m. – 2:00 p.m.
Lake Julian Park – Arden
Celebrate the turning of the leaves at this free family festival with games, face painting, popcorn, cotton candy, costumes, music, and fun for all ages. This year's Fall Festival features a Curious George theme. Dress as your favorite children's book character (get creative!) and enter the costume contest at 1:00 for a prize.
Pumpkin Fest at Silvermont
Friday - Saturday, October 11-12, 2019, 7:00 p.m. – 9:00 p.m.
Silvermont Park - Brevard
Take the kids out for a nighttime stroll through a beautifully designed lighted pumpkin trail. This family friendly event includes local musicians, food trucks, games, storytelling, face painting, a white squirrel scavenger hunt, and the opening of the historic Silvermont mansion.
Of Valley and Ridge Gala
Friday, October 11, 2019, 5:00 p.m. – 8:00 p.m.
Zealandia
Take a scenic journey along the Blue Ridge Parkway shared through the art of 20 Western North Carolina fine artists at the opening gala of the three-day art exhibit. The gala kicks off the event at the historic Zealandia estate atop Beaucatcher Mountain in Asheville. Guests can enjoy wine, beer, food, music, and purchase works on the opening night of the exhibit to benefit to the Blue Ridge Parkway.
Curve Studios Turns 30
Saturday, October 12, 2019, 10:00 a.m. – 6:00 p.m.
Curve Studios and Garden
Celebrate a milestone 30th birthday of one of Asheville's first art galleries in what's now known as the Asheville River Arts District. Curve Studios and Garden will open early, beginning at from 10am-6pm with demonstrations, classes, an artist talk, birthday cake and—in keeping with CURVE's long tradition of "bringing people to art and art to life"—the unveiling of a public art sculpture in the garden. The event will run in tandem with Second Saturday, which offers visitors a chance to take part in special openings, hands-on classes, demonstrations, and celebrations.
Park in the Dark
Saturday, October 12, 7:30 p.m. – 10:00 p.m.
Chimney Rock State Park
Celebrate the very beginning of the fall color season in Hickory Nut Gorge by seeing day turn to night from the top of the Rock. Your family will enjoy hands-on activities, nature stations, storytelling around the campfire, and s'mores.
Fall Bird Walk in the Botanical Gardens
Sunday, October 13, 8:30 a.m. – 10:00 a.m.
Botanical Gardens at Asheville
Join Merrill Gilfillan, a longtime birder, poet, and nature writer, who will lead an easy morning bird walk in the Gardens. As you look for, listen to, and enjoy the birds, you'll learn to recognize their songs and calls. Bring binoculars and field guides if you have them. You must pre-register for this event.
Thunderstruck Partnership Hike with Highland Brewing Co.
Sunday, October 13, 9:00 a.m. - 5:00 p.m.
Blue Ridge Parkway – Waterrock Knob Overlook – milepost 451.2
Join the Southern Appalachian Highlands Conservancy and Highland Brewing Company for a moderately difficult hike to enjoy views of Thunderstruck Ridge, for which Highland's next seasonal craft beer is named. Participants will travel over 5 miles of rugged terrain, through mystical red spruce, Fraser firs, red oak forests, and other high elevation trees while occasionally stopping at rock outcroppings for views of Thunderstruck Ridge. This guided hike is free. Wear appropriate shoes, bring plenty of water and snacks, and be prepared for changing weather.
The Asheville Opry
Sunday, October 13, 7:30 p.m.
Isis Restaurant and Music Hall
Enjoy a night of music inspired by local a WNCW radio program called "Country Gold", which features Western North Carolina artists performing classic country tunes from World War II to Watergate. Head out for an evening of Grand Ole Opry Style classic country hits performed by some of Asheville's finest musicians in one of Asheville's best live music venues!
CatFly Halloween Mini Film Fest
Saturday, October 12, 7:00 p.m.
Fleetwood's – West Asheville
Part film festival, part Halloween party  - watch the work of regional filmmakers across the Southeast. Four local films are planned, as well as an open mic and projector for filmmakers to showcase their projects. Live music and a costume party are part of the fun!