Things to Do in Asheville This Weekend -- November 9-11, 2018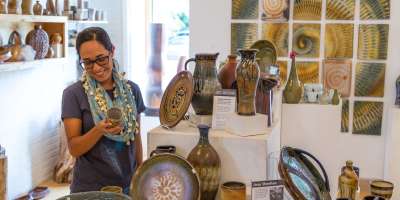 Fall color has really come on strong in Asheville in the past few days. With such beautiful colors throughout the city, and just minutes away on the Blue Ridge Parkway, it's a great weekend for exploring local gardens and taking scenic drives.
Some top spots for autumn hues around Asheville include the gardens at Biltmore (beautiful mums!), the North Carolina Arboretum, and the Botanical Gardens of Asheville. Nearby Asheville, Chimney Rock State Park is also seeing its strongest color of the season. Check out our weekly fall color report (updated Thursday afternoons) for new photos from the mountains and where to see fall color.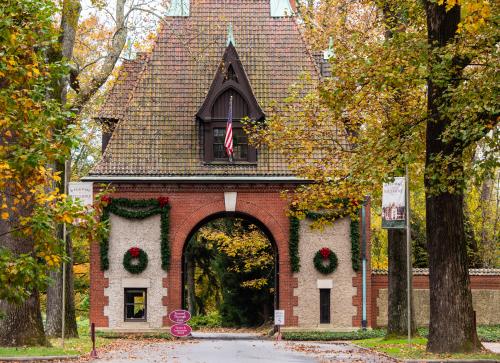 And, it's not just fall in Asheville, it's the "Falliday" season! In other words, you have the unique opportunity to experience both fall and the holidays at the same time now in Asheville! Christmas at Biltmore is already underway with gorgeous decorations. Within the next two weeks, one of Asheville newest traditions, Winter Lights at the North Carolina Arboretum, will begin. See our guide to all the best holiday lights displays in Asheville for more great lights displays in the city.
Soon after Winter Lights begins, the National Gingerbread Competition entries will be on display at The Omni Grove Park Inn and the Grove Arcade in downtown Asheville will begin its Winter Wonderland celebration.
Don't miss your chance to experience this unique and festive time of year! Use our easy-to-use search feature to check room availability and rates at Asheville area accommodations, and check events for any date by using our online events calendar search.
Here's a look at what you can enjoy this weekend in and around Asheville:
Saturday and Sunday (Nov. 10-11), 10 a.m. to 8 p.m.
River Arts District, Asheville
With less than 50 days before Christmas it's a good time to get started on your holiday shopping, and during this weekend's Studio Stroll you'll find many special handmade pieces to put under the tree this year. The Studio Stroll offers a unique opportunity to tour numerous studios and galleries belonging  Asheville's most celebrated artists. Not only can you meet the artists, but you can also get a behind-the-scenes look at how they make their art.
The River Arts District showcases the heart of Asheville's creative community. This mile-long stretch of working studios, galleries and eateries is located in the former industrial section of Asheville along the banks of the French Broad River.
Friday and Saturday (Nov. 9-10), 12 p.m. to 10 p.m.
Highland Brewing Company, Asheville
It's one of the most highly anticipated beer releases of the year in Asheville. Cold Mountain is an annual brew, and the 2018 edition becomes available to its legion of fans this weekend. This legendary spiced ale flies off the shelves each year making it one of most sought after beers in Asheville. Make your way to Highland Brewing Company, known for being the founding brewery of Asheville's ever-growing beer scene. They'll have pints of Cold Mountain, Imperial Cold Mountain, and Coconut Cold Mountain available for purchase, but get there early because they will definitely sell out.
Nov. 3, 2018 - January 6, 2019
Biltmore, Asheville
The Christmas traditions of Biltmore are in full swing. Last week's tree raising event kicked off the season, and now you can tour America's largest home to take in its holiday splendor. In Biltmore House, you'll find more than 55 hand-decorated trees and miles of fresh garland and twinkling lights. Tickets for daytime Christmas at Biltmore celebration are currently available. Make plans early if you want to attend the Candlelight Christmas Evenings as these evening experiences are by reservation only.
Saturday (Nov. 10), 11 a.m. to 7 p.m.
US Cellular Center, Asheville
You'll see some interesting characters walking the streets of downtown Asheville this weekend. While that's a common occurrence on any given day in this bohemian mecca, this Saturday is a bit different. The annual comic expo invites fans of comics, sci-fi, cosplay, and gaming to come together in celebration of their culture and art. Tickets are $15 for adults and kids under 12 are free.
Now through November 11, 7:00 p.m. – 8:30 p.m.
Asheville Outlets
This is your final weekend to experience a unique, Broadway-style circus! Created by former Ringling Bros. ringmaster Kevin Venardos, this animal-free circus showcases an amazing assortment of aerialists, acrobats, juggling, balancing, comedy, daredevilry, magic, and musical production. The big top will be set up in the parking lot of Asheville Outlets. General Admission Tickets are $25 for adults and $15 for youth under 12 years of age.
Sunday (Nov. 10), 7 p.m.
The Orange Peel, Asheville
It's a battle of two music legends, as tribute bands for the Beatles and The Rolling Stones face-off on stage during the Asheville stop of this national tour. This once-in-a-lifetime show is coming to the stage of the Orange Peel, which the Rolling Stone considers one of the top rock clubs in the country.