Things to Do in Asheville This Weekend — November 8-10, 2019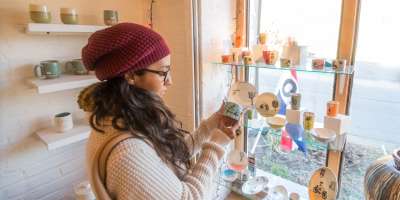 We have entered the Falliday season in Asheville! Each year there's a small window of time when fall exploration and holiday cheer collide in Asheville!
In terms of fall, your best bet to see colorful leaves are the lowest elevations, such as Chimney Rock State Park. Check out our weekly fall color report page for more information (updated Nov. 6).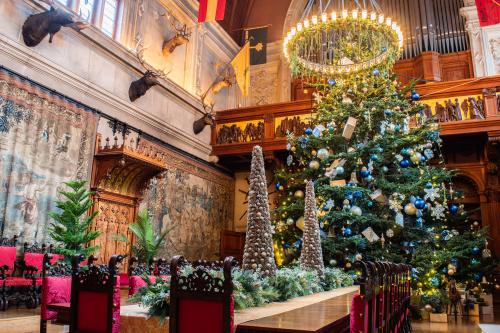 When it comes to the holidays, Christmas at Biltmore is already underway with gorgeous decorations and a 35-foot Fraser fir in the Banquet Hall. Within the next two weeks, one of Asheville newest traditions, Winter Lights at the North Carolina Arboretum, will begin. See our guide to all the best holiday lights displays in Asheville for more great lights displays in the city.
Soon after Winter Lights begins, the National Gingerbread Competition entries will be on display at The Omni Grove Park Inn and the Grove Arcade in downtown Asheville will begin its Winter Wonderland celebration.
Don't miss your chance to experience this unique and festive time of year! Utilize our easy-to-use search to check room availability and rates at Asheville area accommodations, and be sure to check out the special deals and packages. And, you can check events for any date by using our events calendar search.
Don't miss these great events happening this weekend!
Saturday – Sunday, November 9 - 10, 2019, 10:00 a.m. – 5:00 p.m.
River Arts District
The countdown to Christmas is on, making this weekend a good time to get started on your holiday shopping. Find special handmade pieces to put under the tree this year during the Studio Stroll in Asheville's arts and crafts district. The Studio Stroll offers a unique opportunity to tour numerous studios and galleries belonging to Asheville's most celebrated artists. Not only can you meet the artists, but you can also get a behind-the-scenes look at how they make their art.
The River Arts District showcases the heart of Asheville's creative community. This mile-long stretch of working studios, galleries and eateries is located in the former industrial section of Asheville along the banks of the French Broad River.
Downton Abbey: The Exhibition
Friday, November 8, 2019 – April 7, 2020, 9:00 a.m. – 5:00 p.m.
Biltmore
Fans of the popular the global hit television series will love the new exhibit at Biltmore, which offers never-before seen interactive elements that connect you to your favorite characters, as well as the fashions, locations, and historic events of the time period. Showcased in two estate locations, Downton Abbey: The Exhibition pairs seamlessly with the real-life story of the Vanderbilt family. The Exhibition is included with daytime admission, Candlelight Christmas Evenings admission, or an overnight stay that includes daytime admission.
Live Glassblowing Demonstrations
Friday - Sunday, November 8 - 10, 11:00 a.m. – 2:00 p.m.
Mountain Made – Grove Arcade
Since 2010, master scientific glass blower Jason Probstein has been presenting live glassblowing demonstrations in the Grove Arcade, and traditions is happening once again as Jason will be blowing his unique Christmas ornaments at Mountain Made gallery.
Asheville Art Museum Grand Opening Celebration
Saturday, November 9, 2019, 6:00 p.m. – 10:00 p.m.
Downtown Asheville
It's one of the most anticipated openings in downtown Asheville this year. The Asheville Arts Museum has been closed during a massive renovation project, and it's about to open its doors. Enjoy an exclusive preview of the building and its inaugural exhibitions before the Museum opens to the public. Hors d'oeuvres, a specialty cocktail, and dinner with drinks will be served, featuring local chefs. This special evening will not only commemorate an important moment in the city's history, but also celebrate the potential and future of the Asheville Art Museum as the premier art museum of the Southeast.
Intro to Light Backpacking Trip
Saturday, November 9, 9:00 a.m.
Blue Ridge Hiking Company
Get a crash course on lightweight backpacking gear while out hiking on a trail. Your guide will discuss gear and packing concerns related to lightweight backpacking, and then you'll head out for a 3-day, 20-mile backpacking trip. 
15th Annual Fairview Craft and Give Fair
Saturday, November 9, 9:00 a.m. – 2:00 p.m.
Fairview Community Center
Discover the handmade work of 45 local crafters at this community fair. A wide variety of crafts and gifts in all price ranges will be for sale. Lunch and refreshments will be available.
Woodturning Demo
Saturday – Sunday, November 9 - 10, 11:00 a.m. – 5:00 p.m.
Foundation Woodworks
Visit and shop Gallery 17 at Foundation Woodworks, during the Studio Stroll weekend in the River Arts District and watch live lathe woodturning demo with Allen Davis and Mike Juett of Winchester Woodworks, Waynesville, NC.
LIVE ENTERTAINMENT
LaZoom Comedy: Sofiya Alexandra
Friday & Saturday, November 8 - 9, 9:00 p.m. – 11:00 p.m.
LaZoom Room
Sofiya is a writer and comedian who grew up in Odessa, Ukraine, and moved to Los Angeles at the age of 11. Sofiya's written on Amazon's Danger & Eggs, an Emmy-winning animated series starring SNL's Aidy Bryant. She was named one of The Fifty Funniest Women on Twitter by Playboy and one of 18 Funny Women You Should Be Following by Huffington Post.
Dirtwire
Sunday, November 11, 9:00 p.m.
The Grey Eagle Music Hall and Pub
After a headlining appearance at last year's LEAF Festival, Dirtwire returns to Asheville NC to make their Grey Eagle debut. Every live set is a magician's surprise show, an invitation to experience instruments that are usually heard only as samples in electronic music. Future revival, swamptronica, spaghetti-step, electro-twang — whatever you call Dirtwire's music, what matters is that you can dance to it, as sure as a lizard dances in the desert.
Comedy at Fleetwood's: Kelly McInerney and Jon Durnell
Saturday, November 10, 8:00 p.m. – 10:00 p.m.
Fleetwood's
Kelly McInerney has been featured on Funny or Die and at clubs throughout the country and North America including Comedy Works, Improv and Punchline. Jon Durnell has performed in colleges, coffeehouses, dive bars, fancy bars, theaters, comedy clubs, backyards, abandoned/condemned buildings, and skateboard shops across the USA. Jon has appeared on Comedy Central and LATV Network.
Big K.R.I.T.
Saturday, November 10, 8:00 p.m.
The Orange Peel
Big K.R.I.T. is a rapper's rapper—clever with lyrics, nimble with rhyme flows, and generous with food for thought. The former Def Jam recording artist is embarking on a new chapter in a career that's been long beloved for bars and an unapologetically Southern sound.