Things to Do in Asheville This Weekend — November 22-24, 2019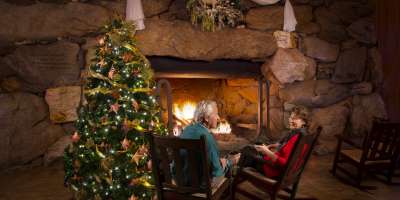 See for yourself why Asheville has been named one of the "Most Festive Cities in America" as many local holiday traditions begin this weekend. Tap into twinkling lights displays, incredible gingerbread houses, and specialty holiday pop-up markets filled with handmade arts and crafts.
For a look at Asheville's many holiday celebrations this season, explore our guide to 8 ways Asheville sparkles for the holidays!
Don't miss your chance to experience this unique and festive time of year! Utilize our easy-to-use search feature to check room availability and rates at Asheville area accommodations, and be sure to check out the special deals and packages. And, you can check events for any date by using our events calendar search.
Don't miss these great events happening this weekend!
Asheville Holiday Parade
Saturday November 23, 11:00 a.m. – 1:00 p.m.
Downtown Asheville
Asheville welcomes the holidays with a spirited parade through downtown! You'll see nearly 100 bands, dance troupes, cheer squads, and festive floats. This year's theme is Appalachian Holiday. Groups in the parade pause to perform at the intersection of Biltmore Ave. and Patton Ave. Be sure to get there early to secure your spot! And, be on the lookout for Santa who will be taking pictures with families in Pack Square.
Friday, November 22, 5:00 p.m. - 7:00 p.m.
Pack Square Park
Be among the first to see Asheville's downtown light up with festive holiday lights. The lights display will feature the beloved "Starflake." Photos with Santa begin at 5:00 p.m. in Pack Square and the lights come on at 6:00 p.m.
Winter Lights at the North Carolina Arboretum
Friday, November 22, 2019 – January 4, 2020, 6:00 p.m. to 10:00 p.m. (Daily)
North Carolina Arboretum, Asheville
One of Asheville's brightest holiday traditions kicks off this weekend at the North Carolina Arboretum. More than half a million lights will be on display as part of this self-guided walking tour through the nationally recognized gardens. Transportation from downtown and Biltmore Village is available every Thursday through Saturday with a special trolley ticket. Listen to the sounds of your favorite holiday tunes and enjoy a cup of holiday-inspired cocoa, cider or beer.
2019 National Gingerbread House Competition Display
Wednesday, November 20, 2019 - Thursday, January 2, 2020, 3:00 p.m.
Omni Grove Park Inn
Asheville's classic gingerbread house competition returns for its 27th year. Stop by this famed resort to see the parade of handmade edible houses all vying for the top spot in this year's contest. As a means to preserve the overall guest experience. The Omni Grove Park Inn invites guests that are not staying overnight at the resort to view the display after 3:00 pm on Sundays or anytime Monday through Thursday.
Fall Arts Fest
Friday, November 22, 9:00 a.m. – 5:00 p.m
University of North Carolina Asheville
Arts Fest is a bi-yearly event taking place on the campus of UNC Asheville that displays the artistic talents of the faculty, staff, and student population at UNC Asheville. This is your opportunity to purchase prints, paintings, glass, sculptures, and more – all crafted by students.
 New Morning Gallery Holiday Open House
Saturday - Sunday, November 23-24, 10:00 a.m. – 7:00 p.m.
Biltmore Village
Enjoy cookies, hot cider and live music while perusing beautiful handmade arts and crafts at New Morning Gallery. The open house features handcrafted ornaments and gifts by over 1,000 American artists.
LaZoom Comedy: Katie Hughes
Friday, November 22, 9:00 p.m. – 11:00 p.m.
LaZoom Room
Originally from Hendersonville, Katie Hughes is back in town for one killer night and you don't want to miss her! Katie Hughes is a perfect combination of snarky and spunky. Her stand-up is delightfully irreverent and aggressively silly. Dogs love her, audiences love her, and you'll be sure to love her.
Asheville's Best Thanksgiving Wine Tasting
Saturday, November 23, 2:00 p.m. – 5:00 p.m.
Table Wine
Sample an exclusive lineup of classic Thanksgiving wines at a free tasting. Mike Tiano of Haw River Wine Man will pour from an extensive lineup. They're breaking out some top-shelf stuff for this one — don't miss it!
Marshall Handmade Market
Saturday - Sunday, November 23-24, 10:00 a.m. – 5:00 p.m.
Marshall High Studios
Pay a visit to one of the most popular holiday shopping events of the season where you'll discover the handmade work of talented makers from across the region. Enjoy coffee and pastries from local artisan bakers and a delicious lunch from the Smashbox Kitchen food truck, as well as music and plenty of seating on the generous back deck.
Comedy at Fleetwood's: Keith Bergman and Kass Smiley
Sunday, November 24, 8:00 p.m. – 10:00 p.m.
Fleetwood's
Keith Bergman tours the country telling stories of mortality, poverty, fatherhood, home fries and getting old in a world gone weird. He's released two albums, been on the Limestone and Whiskey Bear comedy festivals, his comedy has been featured on Funny Or Die and CollegeHumor.com. Kass Smiley is a comedian and ice cream sandwich enthusiast from Anchorage, Alaska. From humble beginnings in the arctic wasteland, she's gone on to record albums of musical comedy, create one-woman shows, and land spots opening for everyone from Doug Stanhope to Eddie Griffin.