Things to Do in Asheville This Weekend -- November 2-4, 2018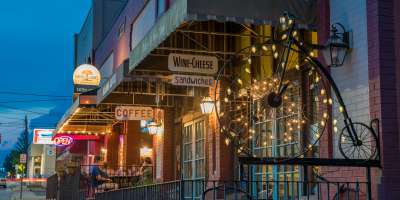 As fall color continues in Asheville and along the Blue Ridge Parkway, this weekend marks the beginning of the transition to the "Falliday" season. In other words, it's a uniquely special time to be in Asheville because you have the rare opportunity to experience fall color and holiday festivities at the same time.
Check our weekly fall color report (published Thursday afternoon) before heading out for information on where to go to find autumn color and to see real-time photos from the mountains.
Asheville's longest-standing holiday tradition, Christmas at Biltmore, gets underway this weekend with grand decorations. It's the first holiday celebration of many that will soon begin in Asheville. See our guide to the best places to see holiday lights this season and the best ways to enjoy the holiday season in Asheville.
It's also a great weekend to enjoy Asheville's neighboring communities such as Weaverville (pictured above), which is hosting a self-guided art safari that'll take you through beautiful countryside.
As you plan your fall getaway, use our easy-to-use search feature to check room availability and rates at Asheville area accommodations. And, you can check events for any date by using our online events calendar search.
Here's a look at what you can enjoy this weekend in and around Asheville:
November 3, 2018-January 6, 2019
Biltmore, Asheville
It's a holiday tradition that dates back more than 120 years. During the two-month-long Christmas at Biltmore celebration, the estate transforms with elegant and stunning decorations that include more than 100 hand-decorated Christmas trees. Among the most beautiful trees is the 35-foot Fraser Fir laden with ornaments and wrapped packages that serves as the centerpiece in the grand Banquet Hall. The Conservatory in the Walled Garden is filled with fresh poinsettias. And, 7,000 globe-shaped ornaments hang from the ceiling of Biltmore Winery, America's most visited winery. A daytime visit to Christmas at Biltmore is included in your admission.
In the evenings, Biltmore glows during Candlelight Christmas Evenings with thousands of twinkling lights and dozens of roaring fireplaces. Step back in time and experience the estate much like the Vanderbilts did during their first Christmas Eve spent at Biltmore in 1895. As you stroll into the estate past luminaries that line the walkway, stop to see the 55-foot Norway spruce sparkling on the front lawn. Candlelight Christmas Evenings do require a reservation and separate admission.
For more information on the daytime and evening celebrations, see our guide to Christmas at Biltmore.  
Saturday and Sunday (Nov. 3-4), 10 a.m. to 5 pm.
Weaverville
The Weaverville Art Safari is one of the original studio tours in the area. The town of Weaverville is just 15 minutes from downtown Asheville. This self-guided, free event offers a unique look at the artists' work in their working environment! The artists' specialties include handmade pottery, glass, photography, sculpture, jewelry, furniture, painting, drawing, fiber art and wood art. Get a sneak peek of all the artists' work together during the Preview Party on Friday, Nov. 2, from 6 to 8 p.m. The party features a silent auction and raffle with the artists' work as prizes. Also enjoy beer, wine and snacks.
First Friday Downtown Asheville Art Walk
Friday, 5-8 p.m.
Downtown Asheville
Visit more than 20 galleries within a half-mile radius of Asheville's city center. Discover the art scene that contributes to Asheville's reputation as "The Paris of the South." Among those galleries, you'll find unparalleled diversity including fine studio crafts, glass, photography, folk, contemporary painting, metalwork, textiles and jewelry.
Exhibition openings include a Veterans Juried Exhibition at the Refinery Creator Space. November is Veterans' Month. The exhibition will highlight the artwork of veterans. Much of the work featured will be by veterans in the Asheville Area Arts Council's Arts and Wellness program. The opening is Friday from 5-8 p.m. The exhibition runs through November 30.
And, the Asheville Gallery of Art hosts the opening of its November exhibition, "Celebration," which will help mark the gallery's 30th anniversary. The opening reception is from 5-8 p.m. The exhibition runs through November 30.
Saturday (Nov. 3), 2-8 p.m.
Burial Beer Co., Asheville
Celebrate the fall harvest season with seasonally-inspired beers from more than 20 breweries at Burnpile Harvest Fest. Burial Beer Co. hosts the festival in its taproom. Many of the beers available will be brewed just for this event. The festival also features a strong lineup of musical performances throughout the day. No matter the ticket you purchase (general admission or VIP), you will receive a unique event glass and tokens for the first two drinks.
Sunday (Nov. 4), 12-3 p.m.
Coxe Avenue (South Slope), Asheville
It's one-part "car-free block party" and one-part "invitation to try out the new and improved Coxe Avenue." The Street Tweaks Team has reimagined four city blocks to be more inviting and safer for pedestrians, cyclists and car traffic. This open-streets-style debut celebration will give you the chance to explore the improvements, as the street will be closed to vehicles. Bike parking will be available in front of Urban Orchard on Buxton Ave.
Sunday (Nov. 4), 8 a.m. to 3 p.m.
Pisgah Brewing Company, Black Mountain
Amazing antiques, art, handmade pieces are what you'll find at this 2nd annual Bonanza event. In addition to the sale, hear live music from 11 a.m. to 2 p.m. Beer and mimosas will be served throughout the event beginning at 10 a.m. To reach the large parking area, put in your GPS: 2948 US Highway 70, Black Mountain.
Performance Arts and Theater
Blindside, Friday (Nov. 2) at 8 p.m., Diana Wortham Theatre – The one-eyed storytelling champion who was recently awarded Most Outstanding Production at the London Fringe Festival, Stephanie Morin-Robert recounts her life as a feisty 7-year-old cancer survivor. She tells about wielding her glass eye as a superpower, a story that has left audiences in side-splitting laughter.
The God Game, Oct. 19- Nov. 4, Black Mountain Center for the Arts – This play by Suzanne Bradbeer follows Tom, an attractive junior Republican Senator from Virginia who is lately questioning his beliefs. When his long-time best friend Matt, an openly gay conservative, approaches Tom with the opportunity of a lifetime, Tom faces a crisis of conviction while his marriage hangs precariously in the balance.
Frost Nixon, Oct. 25- Nov. 2, North Carolina Stage Company – British talk-show host David Frost risks everything to save his career by launching a series of in-depth interviews in order to extract an apology from Richard Nixon. Nixon, however, is equally bent on redeeming himself in the nation's eyes.
Now through November 11
Asheville Outlets
Experience a unique, Broadway-style circus! The circus was created by former Ringling Bros. ringmaster Kevin Venardos and the show is animal-free. You'll see an amazing assortment of aerialists, acrobats, juggling, balancing, comedy, daredevilry, magic, and musical production. The circus has its own custom-made big-top, a classic red-and-white striped tent, with an intimate feel. The big top will be set up in the parking lot of Asheville Outlets. General Admission Tickets are $25 for adults and $15 for youth under 12 years of age.
Saturday (Nov. 3), 8 a.m. to 5 p.m.
Black Mountain
The Seven Sisters are a prominent series of mountain peaks visible from the town of Black Mountain, especially Lake Tomahawk. The Swannanoa Valley Museum and History Center will lead a strenuous, 9.5-mile hike designed for experienced hikers. Along the way, hike leaders will share historical anecdotes about the peaks' nomenclature, social history, geography and ecology. Please contact the Museum (828-669-9566) before registering. Admission is $30 for members, $45 for non-members.
Saturday (Nov. 3), 10 a.m.
Carrier Park, Asheville
Take part in a 5K run at Carrier Park in Asheville. The race is designed to help bring awareness to ADHD. All proceeds from the race go to SOAR's scholarship fund, and directly to the youth and young adults served. Day-of registration is Saturday at 9 a.m. Admission is $30.
Nearby Asheville
WNC Fermenting Festival, Saturday (Nov. 3) from 12-6 p.m., Marshall – Celebrate fermentation, food preservation, farming and food resiliency. All the proceeds from the festival go to the Beacon of Hope Food Bank. There will be free demonstrations on food preservation and fermentation, music, family-friendly activities and crafting vendors.
Tryon Beer Fest, Saturday (Nov. 3) from 12-6 p.m., Tryon – Enjoy local and regional craft beers, oysters, authentic Bavarian food and live music at this 7th annual festival.